Влияние возраста и породы цыплят на результативность проведения у них операции овариэктомии
O. V. Kosenko

Федеральный научный центр «Всероссийский научно-исследовательский и технологический институт птицеводства» Российской академии наук, Сергиев Посад, Россия
Ключові слова:
самки птиц, яичник, операция овариэктомии, возраст и порода цыплят, частота полных удалений яичника
Анотація
Показано влияние возраста и некоторых породных особенностей цыплят на результативность проведения у них операции овариэктомии.
Завантаження
##plugins.generic.usageStats.noStats##
Посилання
Brandt, E. К. (1975). Anatomiya domashnikh ptits. S.-Pb.: Kolos (in Russian).
Brard, E., & Benoit, J. (1969). Sterilization de cailles par les rayons et greffes interraciales de gonads. Bull. Biol. Fr.-Belg., 103(3-4), 313-321.
Domm, L. V. (1927). New experiments on ovariоtomy and the problem of sex- inversion in the fowl. J. Exp. Zool., 48, 31-174.
Grossman, M., & Siegel, P. B. (1966). Orthotopic ovarian transplants in chickens. Poultry Sci., 45(6), 1434-1436.
Guthrie, C. C. (1907). Results of removal and transplantation of ovaries in chicken. Amer. J. Physiol. (Proc.), 19(1), 16-19.
Коsеnkо, О. V. (1991). Effektivnost' nekotorykh sposobov vypolneniya operatsii ovariektomii u tsypliat raznykh vozrastov i porod. Ekonom. i tecknol. aspecty promyshl. ptits-va: Sb. nauch. tr. Vseros. NITI ptits-va, 152-160 (in Russian).
Коsеnkо, О. V. (1998). Sterilizatsiya tsypliat putiem local'nogo oblucheniya yaichnika. Peredovoy nauchno-proizvodstvennyj opyt v ptitsevodstve: Ekspress-informatsia, 2, 12-14 (in Russian).
Коsеnkо, О. V. (2009). Polucheniye kur-retsipientov, fertilnykh za s'chet funktsii transplantata donorskogo yaichnika. (Diss. … kand. biol. nauk). Мoskva (in Russian).
Litovсhenko, L. N. (1971). Morfofunktsional'nyye osobennosti yaichnika i yajtsevoda v svyazi s vozrastom i porodoj kur. (Diss. … kand. vet. nauk). Khar'kov (in Russian).
Masui, K. (1935). Ovariotomy and sex reversal in Brown Leghorn chickens. Botan. Zool. Tokio, 3, 1065-1087.
Scott, H. A. (1974). Follicular development in ovarian transplants in domestic fowl. Br. Poultry. Sci., 15, 235-238.
Shalduga, N. Е. (1967). Kompensatornaya hipertrofiya i reparativnaya regeneratsiya jaichnikov u sel'skokhozyajstvennykh czyvotnych. (Avtoref. diss. … dokt. vet. nauk). Khar'kov (in Russian).
Song, Y., & Silversides, F.G. (2006). The technique of orthotopic ovarian transplantation in the chicken. Poultry Sci., 85(6), 1104-1106.
Vrakin, V. F., & Sidorova, М. V. (1984). Anatomiya i histologiya domashnyej ptitsy. Мoskva: Kolos (in Russian).
Williams, J. B., & Sharp, P. J. (1978). Ovarian morphology and rates of ovarian follicular development in laying broiler breeders and commercial egg producing hens. Brit. Poultry Sci., 19(3), 387-395.
Zavadovskij, М. М. (1926). Biseksual'naya priroda kuritsy i eksperimental'nyj germafroditizm u kur. Sb. trudov lab. eksperiment. biol. Moskovskoho zooparka, 2, 121-179 (in Russian).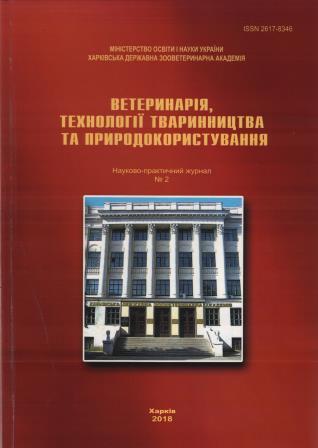 Переглядів анотації: 327 Завантажень PDF: 239
Як цитувати
Kosenko, O. (2018). Влияние возраста и породы цыплят на результативность проведения у них операции овариэктомии. Ветеринарія, технології тваринництва та природокористування, (2), 48-53. https://doi.org/10.31890/vttp.2018.02.13