Білковий та вуглеводно-ліпідний обмін у корів при прив'язному утриманні за результатами диспансеризації
Ключові слова:
лактуючі корови, сухостійні корови, біохімічні показники сироватки крові, обмін речовин
Анотація
Метою наших досліджень було проведення диспансеризації для встановлення метаболічного профілю сироватки крові корів різних фізіологічних груп.
Було встановлено зміни в обмінних процесах (білковому та ліпідному) у корів чорно-рябої породи у віці 3-5 років в залежності від стадії лактації.
У тварин періоду роздою рівень загального білка в сироватці крові був знижений на 7,9 % у порівнянні з нормою. Вміст альбумінів був знижений у лактуючих тварин періоду роздою та періоду шість місяців після отелення на 19,5 % та 20,9 %, відповідно. Також, в сироватці крові корів періоду роздою був знижений вміст холестеролу на 34,9 %.
Завантаження
##plugins.generic.usageStats.noStats##
Посилання
Chaudhary, S. S., Singh, V. K., Upadhyay, R. C., Puri, G., Odedara, A. B., & Patel, P. A. (2015). Evaluation of physiological and biochemical responses in different seasons in Surat Buffaloes. Veterinary World, 8 (6), 727-731. DOI: 10.14202/vetworld.2015.727-731.
Couch, C. E., Movius, M. A., Jolles, A. E., Gorman, M. E., Gorman, M. E., Rigas, J. D,. & Beechler, B. R. (2017). Serum biochemistry panels in African buffalo: Defining reference intervals and assessing variability across season, age and sex. PLoS One, 4 (12), 15. DOI:10.1371/journal.pone. 0176830.eCollection.
Cozzi, G., Ravarotto, L., Gottardo, F., Stefani, A. L., Contiero, B., Moro, L., Brscic, M., & Dalvit, P. (2011). Reference values for blood parameters in Holstein dairy cows: Effects of parity, stage of lactation, and season of production. J Dairy Sci, 94 (8), 3895-3901. DOI: 10.3168/jds.2010-3687.
Ding, H. R., Wang, J. L., Ren, H. Z., & Shi, X. L. (2018). Lipid metabolism and glycose metabolism in liver Diseases. Hindawi Boi Med Research international. DOI: 10.1155/2018/1287127.
Du, X., Shen, T., Wang, H., Qin, X., Xing, D., Ye, Q. … Li, X. (2018). Adaptations of hepatic lipid metabolism and mitochondria in dairy cows mild fatty liver. J Dairy Sci, 101 (10), 9544-9558. DOI: 10.3168/jds.2018.14546.
Garcia, C. A. C., Prado, F. M. G., Calicia, L. L., & Borderas, T. F. (2017). Reference values for biochemical analytes in Mexican dairy farms: interactions and adjustments between production groups. Arg. Bras. Med. Vet. Zootec, 69 (2), DOI:10.1590/1678-4162-9114.
Gross, J. J., Schwarz, F. J., Eder, K., van Dorland, H. A., & Bruckmaier, R. M. (2013). Liver fat content and lipid metabolism in dairy cows during early lactation and during a mid-lactation feed restriction. J Dairy Sci, 96 (8), 5008-5017. DOI: 10.3168/jds.2012-6245.
Kessler, E. S., Gross, J. J., Bruckmaier, R. M., & Albrecht, C. (2014). Cholesterol metabolism, transport, and hepatic regulation in dairy cows during transition and early lactation. Journal of Dairy Science. 97(9), 5481-5490. DOI:10.3168/jds.2014-7926.
Koreyba, L. V., & Duda, Y. V. (2020). Age dynamics of hematological indices in dry cows. Scientific messenger of Lviv National University of Veterinary Medicine and Biotechnologies. Series: Veterinary sciences, 20(98). 42-45. DOI 10.32718/nvlvet9807.
Kumar, B., & Pauchaura, S. P. (2000). Haematological profile of crossbred dairy cattle to monitor heard health status at medium elevation in central Himalayas. Res. Vet. Sci., 69, 141-145. DOI: 10.1053/rvsc.2000.0400.
Le Blanc, S. (2010). Monitoring metabolic health of dairy cattle in the transition period. J. Reprod Dev, 56, 29-35. DOI: 10.1262/jrd.1056s29.
Otomaru, K., Shiga, H., Kanome, J., & Yanagita, K. (2015). Blood biochemical values in Japanese Black breeding cows in Kagoshima Prefecture, Japan. J Med Sci, 77(8), 1021-1023. DOI: 10.1292/jvms.15-0001.
Piccione, G., Messina, V., Schembari, A., Casella, S., Giannetto, C. & Alberghina, D. (2011). Pattern of serum protein fractions in dairy cows during different stages of gestation and lactation. J Dairy Res, 78 (4), 42-45. DOI: 10.1017/ s002202911000562.
Prado, R. M., Palin, M. F., Prado, I. N., Santos, G. T., Benchaar, C., & Petit, H. V. (2016). Milk yield, milk composition, and hepatic lipid metabolism in transition dairy cows fed flaxseed of linola. J Dairy Sci, 99 (1), 8831-8846. DOI:10.3168/jds.2016-11003.
Puppel, K., & Kuczyńska, B. (2016). Metabolic profiles of cow's blood; a review. J Sci Food Agric, 96(13), 4321-4328. DOI: 10.1002/jsfa.7779.
Sepulveda-Varas, P., Weary, D. M., Noro, M., & Keyserling, M.A.G. (2015). Transition diseases in grazing dairy cows are related to serum cholesterol and other analytes. PLoS, 25, 10 (3). DOI: 10.1371/journal.pone.0122317.
Shabalina, T., Yin, T., & König, S. (2020). Influence of common health disorders on the length of productive life and stayability in German Holstein cows. J Dairy Sci, 103(1), 583-596. DOI: 10.3168/jds.2019-16985.
Tian, H., Wang, W., Zheng, N., Cheng, J., Li, S., Zhang, Y., & Wang J. (2015). Identification of diagnostic biomarkers and metabolic pathway shifts of heat-stressed lactating dairy cows. J Proteomics, 1, 125, 17-28. DOI: 10.1016/j.jprot.2015.04.014.
Weber, C., Losand, B., Tuchscherer, A., Rehbock, F., Blum, E., Yang, W. … Hammon, H. M. (2015). Effect of dry period length on milk production, metabolites and hepatic glucose metabolism in dairy cows. J Dairy Sci, 98 (3), 1772-1786. DOI: 10.3168/jds.2014-8598.
Weber, C., Schäff, C. T., Kautzsch, U., Börner, S., Erdmann, S., Görs, S. … Hammon, H. M. (2016). Insulin-dependent glucose metabolism in dairy cows with variable fat mobilization around calving. J Dairy Sci, 99(8), 6665-6679. DOI: 10.3168/jds.2016-11022.
Youssef, M., & El-Ashker, M. (2017). Significance of insulin resistance and oxidative stress in dairy cattle with subclinical ketosis during the transition period. Trop Anim Health Prod, 49(2), 239-244. DOI: 10.1007/s11250-016-1211-6.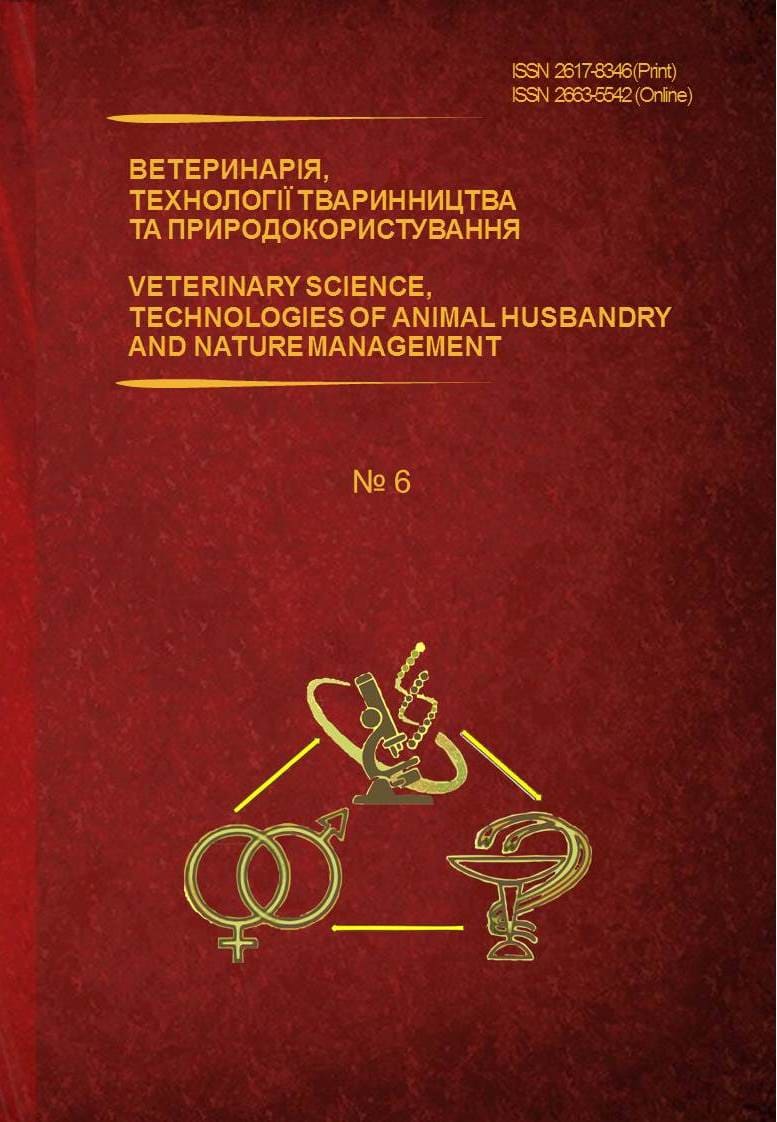 Переглядів анотації: 206 Завантажень PDF: 116
Як цитувати
Schepetilnicov, Y., Maslak, Y., Matsenko, O., Pasichnik, V., & Mogilovsky, V. (2020). Білковий та вуглеводно-ліпідний обмін у корів при прив'язному утриманні за результатами диспансеризації. Ветеринарія, технології тваринництва та природокористування, (6), 118-122. https://doi.org/10.31890/vttp.2020.06.21