Оцінка ефективності препарату «АкароKILL» проти іксодових кліщів
Ключові слова:
собаки, «АкароKILL», іксодові кліщі, індекс рясності, екстенсефективність
Анотація
Топікальне нанесення препарату «АкароKILL» (краплі протипаразитарні), виробництва «ПрАТ «ВНП «Укрзооветпромпостач», у рекомендованих виробником дозах, кратності та способі застосування, сприяло загибелі іксодових кліщів, які нападали на собак дослідної групи вже через добу після його застосування. Тривалість акарицидної дії становила 30 діб.
Завантаження
##plugins.generic.usageStats.noStats##
Посилання
Arisov, M. V., & Arhipov, I. A. (2018). Metody opredelenija jeffektivnosti insekticidov, akaricidov, reguljatorov razvitija i repellentov pri jektoparazitozah plotojadnyh zhivotnyh. Rossijskij parazitologicheskij zhurnal, 12, 1, 81–97. [in Russian]
Baylis, M. (2017). Potential impact of climate change on emerging vector-borne and other infections in the UK. Environ Health, 16, 112. DOI: 10.1186/s12940-017-0326-1.
Becskei, C., Fias, D., Mahabir, S. P., & Farkas, R. (2020). Efficacy of a novel oral chewable tablet containing sarolaner, moxidectin and pyrantel (Simparica Trio™) against natural flea and tick infestations on dogs presented as veterinary patients in Europe. Parasit Vectors, 13(1), 72. DOI: 10.1186/s13071-020-3946-1.
Beugnet, F, & Chalvet-Monfray, K. (2013). Impact of climate change in the epidemiology of vector-borne diseases in domestic carnivores. CIMID, 36, 559–566. DOI: 10.1016/j.cimid.2013.07.003.
Beugnet, F., & Franc, M. (2012). Insecticide and acaricide molecules and/or combinations to prevent pet infestation by ectoparasites. Trends Parasitol., 28, 267–279. DOI: 10.1016/j.pt.2012.04.004.
Beugnet, F., Halos, L., Larsen, D., Labuschagné, M., Erasmus, H., & Fourie, J. (2014). The ability of an oral formulation of afoxolaner to block the transmission of Babesia canis by Dermacentor reticulatus ticks to dogs. Parasit Vectors, 7, 283. DOI: 10.1186/1756-3305-7-283.
Brites-Neto, J., Duarte, K. M. R., & Martins, T. F. (2015). Tick-borne infections in human and animal population worldwide. Vet. World, 8, 301–315. DOI: 10.14202/vetworld.2015.301-315.
Coles, T. B., & Dryden, M. W. (2014). Insecticide/acaricide resistance in fleas and ticks infesting dogs and cats. Parasites Vectors, 7, 8. DOI: 10.1186/1756-3305-7-8.
Dantas-Torres, F., Chomel, B.B. & Otranto, D. (2012). Ticks and tick-borne diseases: A one health perspective. Trends Parasitol., 28 (10), 437-446. DOI: 10.1016/j.pt.2012.07.003.
Day, M. J. (2016). Arthropod-borne Infectious Diseases of the Dog and Cat, 2nd Edition. Taylor & Francis Group, LLC, 209.
Foil, L. D., Coleman, P., Eisler, M., Fragoso-Sanchez, H., Garcia-Vazquez, Z., Guerrero, F. D., Jonsson, N. N., Langstaff, I. G., Li, A. Y., & Machila, N. (2004). Factors that influence the prevalence of acaricide resistance and tick-borne diseases. Vet. Parasitology, 125(1-2), 163–181. DOI: 10.1016/j.vetpar.2004.05.012.
Georg, G., Duschera, M., Leschnikb, H.-P., & Fuehrera, A. J. (2015). Wildlife reservoirs for vector-borne canine, feline and zoonotic infections in Austria International. Journal for Parasitology: Parasites and Wildlife, 4 (1), 88–96. DOI: 10.1016/j.ijppaw.2014.12.001.
Khan, M. (2015). Important vector-borne diseases with their zoonotic potencial: present situation and future perspective. Bangl. J. Vet. Med., 13 (2), 1–14. DOI: 10.3329/bjvm.v13i2.26614.
Nepoklonov, A. A., & Talanov, G. A. (1973). Metodicheskie ukazanija po ispytaniju pesticidov, prednaznachennyh dlja bor'by s jektoparazitami zhivotnyh. Moskva. [in Russian]
Pfister, K, & Armstrong, R. (2016). Systemically and cutaneously distributed ectoparasiticides: a review of the efficacy against ticks and fleas on dogs. Parasit Vectors, 9(1), 436. DOI: 10.1186/s13071-016-1719-7.
Piesman, J, & Eisen, L. (2008). Prevention of tick-borne diseases. Annu Rev Entomol, 53, 323–343. DOI: 10.1146/annurev.ento.53.103106.093429.
Rohdich, N., Roepke, R. K., & Zschiesche, E. (2014). A randomized, blinded, controlled and multi-centered field study comparing the efficacy and safety of Bravecto™ (fluralaner) against Frontline™ (fipronil) in flea- and tick-infested dogs. Parasites Vectors, 7, 83. DOI: 10.1186/1756-3305-7-83.
Solano-Gallego, L., Sainz, Á., Roura, X., Estrada-Peña, A., & Miró, G. (2016). A review of canine babesiosis: the European perspective. Parasit Vectors, 9, 336. DOI: 10.1186/s13071-016-1596-0.
Varloud, M., Liebenberg, J., & Fourie, J. (2018). Early Babesia canis transmission in dogs within 24 h and 8 h of infestation with infected pre-activated male Dermacentor reticulatus ticks. Parasites Vectors, 11, 41. DOI: 10.1186/s13071-018-2637-7.
Zając, V., Wójcik-Fatla, A., Sawczyn, A., Cisak, E., Sroka, J., Kloc, A., Zając, Z., Buczek, A., Dutkiewicz, J., & Bartosik K. (2017). Prevalence of infections and co-infections with 6 pathogens in Dermacentor reticulatus ticks collected in eastern Poland. Ann Agric Environ Med., 24, 26–32. DOI: 10.5604/12321966.1233893.
Zhang, Z.-Q. (2013). Phylum Arthropoda, Animal Biodiversity: An Outline of Higher-level Classification and Survey of Taxonomic Richness Zootaxa, 3703, 1, 1–82. DOI: 10.11646/zootaxa.3703.1.6.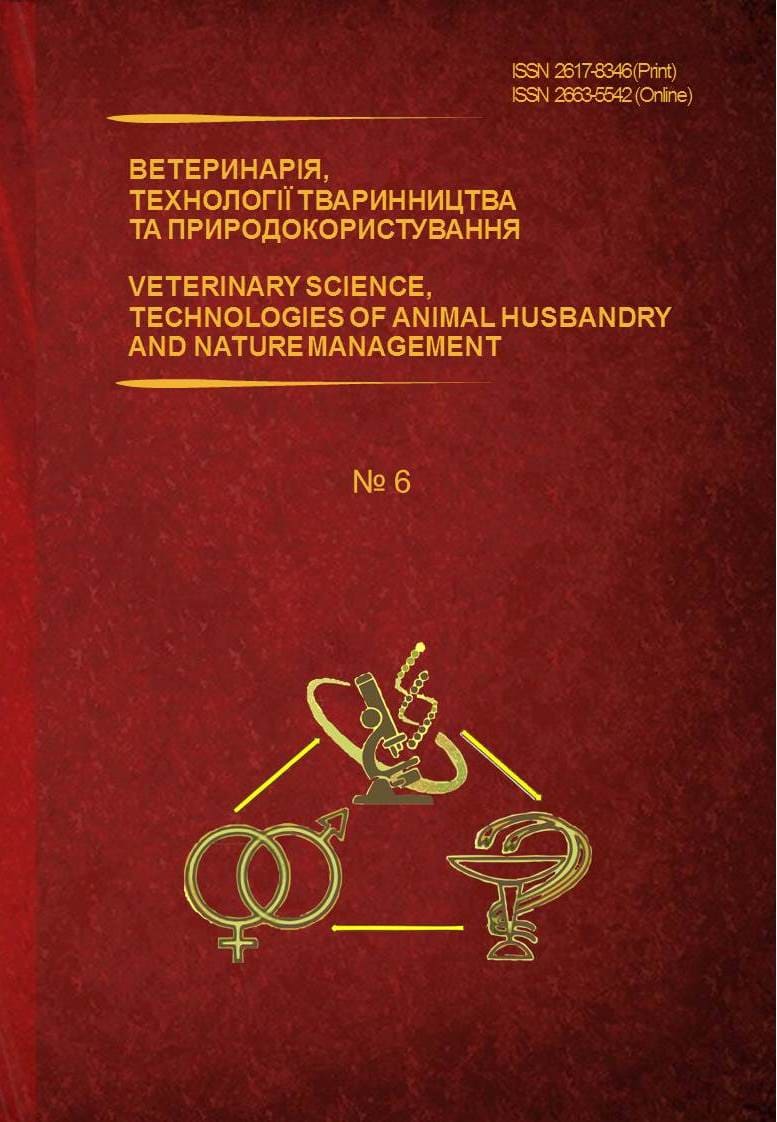 Переглядів анотації: 213 Завантажень PDF: 173
Як цитувати
Fedorova, O., Prykhodko, Y., Mazannyy, O., Nikiforova, O., & LіulinP. (2020). Оцінка ефективності препарату «АкароKILL» проти іксодових кліщів. Ветеринарія, технології тваринництва та природокористування, (6), 102-105. https://doi.org/10.31890/vttp.2020.06.18