Морфологічна характеристика волосяної кутикули клінічно здорових свійських котів та собак
Ключові слова:
свійські коти, собаки, площа видимої поверхні лусочок волосяної кутикули
Анотація
Проведено визначення площі видимої поверхні лусочок волосяної кутикули, або кутикулярного індексу у 20 клінічно здорових свійських котів та 18 собак. Результати досліджень можуть бути використані в якості контрольних під час проведення діагностичних заходів за різних варіантів внутрішньої патології даних видів тварин як додаткові діагностичні тести.
Завантаження
##plugins.generic.usageStats.noStats##
Посилання
Ahmed, Y. A, Ali, S., & Ghallab, A. (2018). Hair histology as a tool for forensic identification of some domestic animal species. EXCLI J, 6(17), 663-670. DOI: 10.17179/excli2018-1478.
Aralova, M. E., & Dovgan', N. B. (2016). Sravnitel'naya kharakteristika metodov identifikatsii volos zhivotnykh i cheloveka: analiticheskiy obzor. Sovremennye tendentsii razvitiya nauki i proizvodstva, 392-394. [in Russian]
Brunner, H., & Coman, B. J. (1974). The identification of mammalian hair. Inkata press. DOI: 10.1177/002580247601600317.
Chernova, O. F. (2003). Arkhitektonika i diagnosticheskoe znachenie kory i serdtseviny volos. Izvestiya Rossiyskoy akademii nauk. Seriya biologicheskaya, (1), 63-73. [in Russian]
Chernova, O., & Tselikova, T. (2018). Atlas volos mlekopitayushchikh. Tonkaya struktura ostevykh volos i igl v skaniruyushchem elektronnom mikroskope. Litres. [in Russian]
Cornally, A., & Lawton, C. (2016). A guide to the identification of Irish mammal hair. National Parks and Wildlife Service, Department of the Arts, Heritage, Regional, Rural and Gaeltacht Affairs. No. 92. Retrieved from https://www.npws.ie/sites/default/files/publications/pdf/IWM92.pdf
Cortellini, V., Carobbio, A., Brescia, G., Cerri, N., & Verzeletti, A. (2019). A comparative study of human and animal hairs: Microscopic hair comparison and cytochrome c oxidase I species identification. Journal of Forensic Science and Medicine, 5(1), 20. DOI: 10.4103/jfsm.jfsm_49_18.
Davis, A. (2010). A technique for rapidly quantifying mammal hair morphology for zoological research. Folia Zoologica, 59, 87-92. DOI: 10.25225/fozo.v59.i2.a2.2010.
De Marinis, A. M., & Asprea, A. (2006). Hair identification key of wild and domestic ungulates from southern Europe. Wildlife Biology, 12(3), 305-320. DOI: 10.2981/0909-6396(2006)12[305:HIKOWA]2.0.CO;2.
Debelica, A., & Thies, M. L. (2009). Atlas and key to the hair of terrestrial Texas mammals. Special publications. Museum of Texas Tech University, 55. DOI: 10.5962/bhl.title.142652.
Deedrick, D. W., & Koch, S. L. (2004). Microscopy of hair part 1: a practical guide and manual for human hairs. Forensic science communications, 6(1),1–32.
Dry, F. (1959). Mammalian Hair. Nature, 183, 851–852. DOI: 10.1038/183851b0.
Huffman, J. E., & Wallace, J. R. (2012). Wildlife forensics: methods and applications. John Wiley & Sons. DOI: 10.1002/9781119953142 .
Ivasyshyn, T. M. (2005). Volossia yak obiekt sudovo-biolohichnoi ekspertyzy. (Dys. na zdob. kand. biol. nauk: 03.00.11). Kyiv. [in Ukrainian]
Kisin, M. V., & Mitrichev, V. S. (2001). Sudebno-biologicheskaya ekspertiza volos zhivotnykh. Moskva: RFTsSE. [in Russian]
Knecht, L. (2012). The Use of Hair Morphology in the Identification of Mammals. Wildlife Forensics (eds J. E. Huffman & J. R. Wallace). DOI:10.1002/9781119953142.ch8 .
Kotsiumbas, H. I. (2010). Morfolohichni osoblyvosti shkiry ta volossia riznykh vydiv tvaryn ta liudyny u aspekti sudovoveterynarnoi ekspertyzy. Lviv, TzOV VF «Afisha».[in Ukrainian]
Moyo, T., Bangay, S., & Foster, G. (2006). The identification of mammalian species through the classification of hair patterns using image pattern recognition. Proceedings of the 4th international conference on Computer graphics, virtual reality, visualisation and interaction in Africa, 177-181. DOI: 10.1145/1108590.1108619 .
Naumov, S. Iu., & Sokolov, I. D. (2004). Dosvid vykorystannia tsyfrovykh prystroiv u biolohii. Naukovyi visnyk Volynskoho derzhavnoho universytetu im. L. Ukrainky, 4, 76-79. [in Ukrainian]
Naumova, I. A., Naumov, S. Yu., & Sokolov, I. D. (2003). Opredelenie ploshchadi listovoy poverkhnosti s pomoshch'yu komp'yuternoy tekhniki. Byul. Nikit. botan. Sada, 87, 31-34. [in Russian]
Senthilkumar, S., Gnanadevi, R., Kannan, T. A., Arunaman, C. S., & Ramesh, G. (2018). Microanatomical observations of hair in domestic animals. A comparative study, 6(5), 1925-1929.
Strepetova, O. A. (2013). Volosy zhivotnykh kak ob"ekt ekspertizy. Tekhnicheskie nauki–ot teorii k praktike, 18. [in Russian]
Tumiłowicz, P., Goliszewska, A., Arct, J., Pytkowska, K., & Szczepanik, M. (2018). Preliminary study of guard hair morphology in four dog breeds. Veterinary Dermatology, 29(4), 332-e116. DOI: 10.1111/vde.12656 .
Tymoshenko, O. P., Palii, A. P., Rodionova, K. O., Papieta, H. A., Snopenko, O. S., & Skrypova, K. V. (2020). Patent Ukrainy na korysnu model №142349 «Sposib diahnostyky khvorob tvaryn za ploshcheiu volosianoi kutykuly». Kyiv: Derzhavne patentne vidomstvo Ukrainy. [in Ukrainian]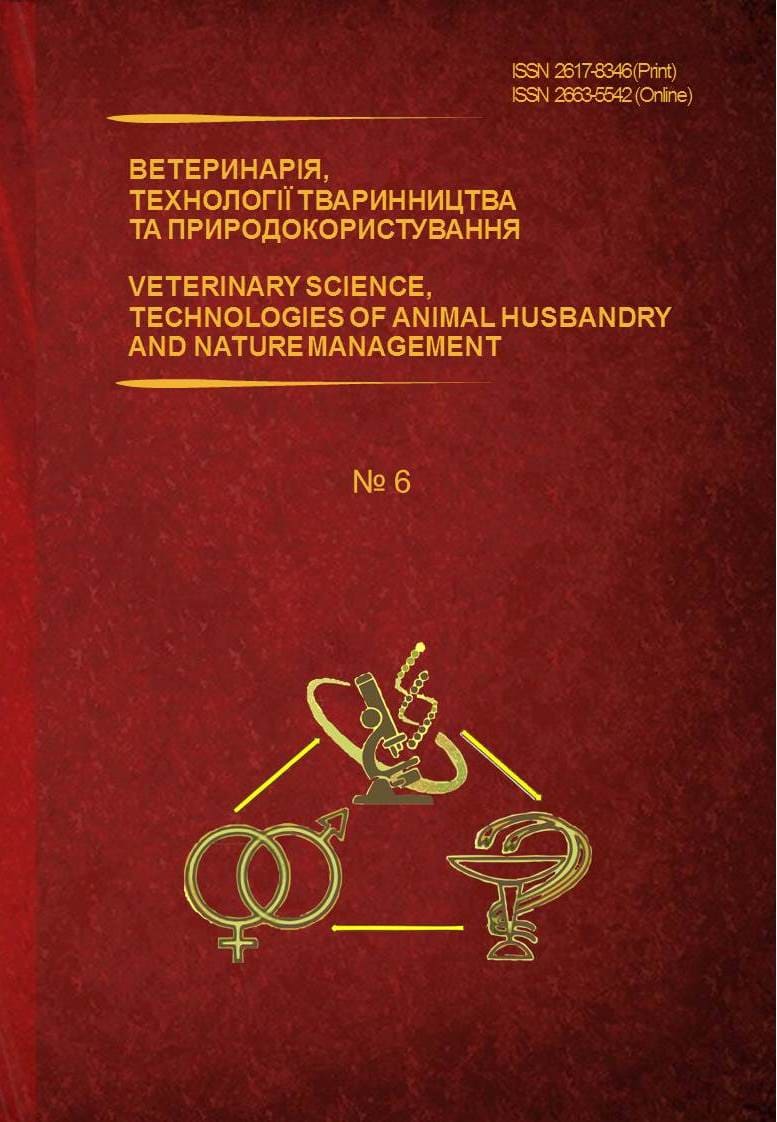 Переглядів анотації: 205 Завантажень PDF: 111
Як цитувати
Tymoshenko, O., Snopenko, O., Papeta, G., Vikulina, G., Borovkov, S., & Korenev, M. (2020). Морфологічна характеристика волосяної кутикули клінічно здорових свійських котів та собак. Ветеринарія, технології тваринництва та природокористування, (6), 90-95. https://doi.org/10.31890/vttp.2020.06.16