Стан системи антиоксидантного захисту у гепатопанкреасі коропів за асоційованої інфекції аеромонозу з сапролегніозом
Ключові слова:
короп, коінфекція, аеромоноз, сапролегніоз, каталаза, супероксиддисмутаза, перекисне окиснення ліпідів
Анотація
Результати проведених досліджень показали, що захворювання коропів аеромонозом з нашаруванням сапролегніозу призводить до активації процесів пероксидного окиснення ліпідів (ПОЛ), особливо первинного продукту ПОЛ. Водночас констатовано інгібуючий вплив патогенних чинників цього захворювання на активність ензимної ланки системи антиоксидантного захисту.
Завантаження
##plugins.generic.usageStats.noStats##
Посилання
Austin, B. (2019). Methods for the diagnosis of bacterial fish diseases. Marine Life Science & Technology, 1-9. DOI: 10.1007/s42995-019-00002-5.
Baldissera, M. D., Souza, C. F., Abbad, L. B., da Rocha, M. I. U., da Veiga, M. L., da Silva, A. S., & Baldisserotto, B. (2020). Oxidative stress in liver of grass carp Ctenopharyngodon idella naturally infected with Saprolegnia parasitica and its influence on disease pathogenesis. Comparative Clinical Pathology, 1-6. DOI: 10.1111/are.14567 .
Bradford, M. M. (1976). A rapid and sensitive method for the quantitation of microgram quantities of protein utilizing the principle of protein-dye binding. Analytical biochemistry, 72(1-2), 248-254.
Carraschi, S. P., Garlich, N., Souza-Pollo, A., Pereira, D. I. B., da Cruz, C., & Ranzani-Paiva, M. J. T. (2018). Isolation of Saprolegnia aenigmatica oomycetes and protocol for experimental infection of pacu (Piaractus mesopotamicus). Acta Scientiarum. Biological Sciences, 40, e38186-e38186. DOI: 10.4025/actascibiolsci.v40i1.38186.
Chandrarathna, H. P. S. U., Nikapitiya, C., Dananjaya, S. H. S., Wijerathne, C. U. B., Wimalasena, S. H. M. P., Kwun, H. J., ... & De Zoysa, M. (2018). Outcome of co-infection with opportunistic and multidrug resistant Aeromonas hydrophila and A. veronii in zebrafish: Identification, characterization, pathogenicity and immune responses. Fish & shellfish immunology, 80, 573-581. DOI: 10.1016/j.fsi.2018.06.049.
Chang, P. H., Wu, T. P., Chung, H. Y., & Chien, C. Y. (2002). Aeromonas hydrophila and Saprolegnia australis isolated from Ayu, Plecoglossus altivelis with ulcerative skin disease in Taiwan. Bulletin european association of fish pathologists, 22(6), 393-399.
Dinçtürk, E., Tanrikul, T. T., & Çulha, S. T. (2018). Fungal and Bacterial Co-Infection of Sea Bass (Dicentrarchus labrax, Linnaeus 1758) in a Recirculating Aquaculture System: Saprolegnia parasitica and Aeromonas hydrophila. Aquatic Sciences and Engineering, 33(3), 67-71. DOI: 10.26650/ASE201811.
Dubinina, E. E., Salnikova, L. Ya., Efimova, L. Ya. (1983). Aktivnost i izofermentnyj spektr SOD eritrocitov. Laboratornoe delo, 10, 30–33. [in Russian]
Goodfellow, M., Kämpfer, P., Busse, H. J., Trujillo, M. E., Suzuki, K. I., Ludwig, W., & Whitman, W. B. (Eds.). (2012). Bergey's Manual® of Systematic Bacteriology. Springer New York. DOI: 10.1007/978-0-387-21609-6.
Korobejnikova, Ye. N. (1989). Modifikaciya opredeleniya produktov perekisnogo okisleniya lipidov v reakcii s tiobarbiturovoj kislotoj. Laboratornoe delo, 7, 8–9. [in Russian]
Korolyuk, M. A., Majorova, I. G., & Tokarev, V. E. (1988). Metod opredeleniya aktivnosti katalazy. Laboratornoe delo, 1, 16–18. [in Russian]
Kusdarwati, R., Kismiyati, Sudarno, Kurniawan H., & Prayogi, Y.T. (2017). Isolation and identification of Aeromonas hydrophila and Saprolegnia sp. on catfish (Clarias gariepinus) in floating cages in Bozem Moro Krembangan Surabaya. IOP Conference Series: Earth and Environmental Science, 55(1), 012038. DOI: 10.1088/1755-1315/55/1/012038.
Loboiko, Y. V., & Danko, M. M. (2015). Content of products of lipid peroxidation and activity of antioxidant enzymes in tissues of carp with mixed infestaton by ectoparasites. Scientific Messenger of LNU of Veterinary Medicine and Biotechnologies. Series: Veterinary Sciences, 17(1), 90-95. Retrieved from https://nvlvet.com.ua/index.php/journal/article/view/225. [in Ukrainian]
Lobova, T. I., Yemelyanova, E., Andreeva, I. S., Puchkova, L. I., & Repin, V. Y. (2015). Antimicrobial resistance and plasmid profile of bacterial strains isolated from the urbanized Eltsovka-1 River (Russia). Microbial Drug Resistance, 21(4), 477-490. DOI: 10.1089/mdr.2014.0203.
Modesto, K. A., & Martinez, C. B. (2010). Effects of Roundup Transorb on fish: hematology, antioxidant defenses and acetylcholinesterase activity. Chemosphere, 81(6),781-787. DOI: 10.1016/j.chemosphere.2010.07.005.
Roberts, R. J. (2012). Fish pathology. John Wiley & Sons. DOI: 10.1002/9781118222942 .
Silva, D. C., Serrano, L., Oliveira, T. M., Mansano, A. S., Almeida, E. A., & Vieira, E. M. (2018). Effects of parabens on antioxidant system and oxidative damages in Nile tilapia (Oreochromis niloticus). Ecotoxicology and environmental safety, 162, 85-91. DOI: 10.1016/j.ecoenv.2018.06.076 .
Stalnaya, I. D. (1977). Metod opredeleniya dienovoj konyugacii nenasyshennyh vysshih zhirnyh kislot. Sovremennye metody v biohimii. Moskva: Medicina. 63. [in Russian]
Tushnicka, N. J., Yanovich, V. G., & Matviyenko, N. M. (2006). Antioksidantnij status koropa pri zahvoryuvanni asocijovanoyu formoyu krasnuhi. Nauk.-tehn. byul. Inst. biol. tvar. ta DNDKI vetprep. i korm. dob., 7. 182-186. [in Ukrainian]
Vinodhini, R., & Narayanan, M. (2009). Biochemical changes of antioxidant enzymes in common carp (Cyprinus carpio L.) after heavy metal exposure. Turkish Journal of Veterinary and Animal Sciences, 33(4), 273-278. DOI: https://doi.org/10.3906/vet-0711-18.
Yuan, L., Li, M., Meng, F., Gong, Y., Qian, Y., Shi, G., & Wang, R. (2017). Growth, blood health, antioxidant status, immune response and resistance to Aeromonas hydrophila of juvenile yellow catfish exposed to di-2-ethylhexyl phthalate (DEHP). Comparative Biochemistry and Physiology Part C: Toxicology & Pharmacology, 202, 79-84. DOI: 10.1016/j.cbpc.2017.08.004.
Zou, J., Bird, S., & Secombes, C. (2010). Antiviral sensing in teleost fish. Current Pharmaceutical Design, 16(38), 4185-4193. DOI: 10.2174/138161210794519093.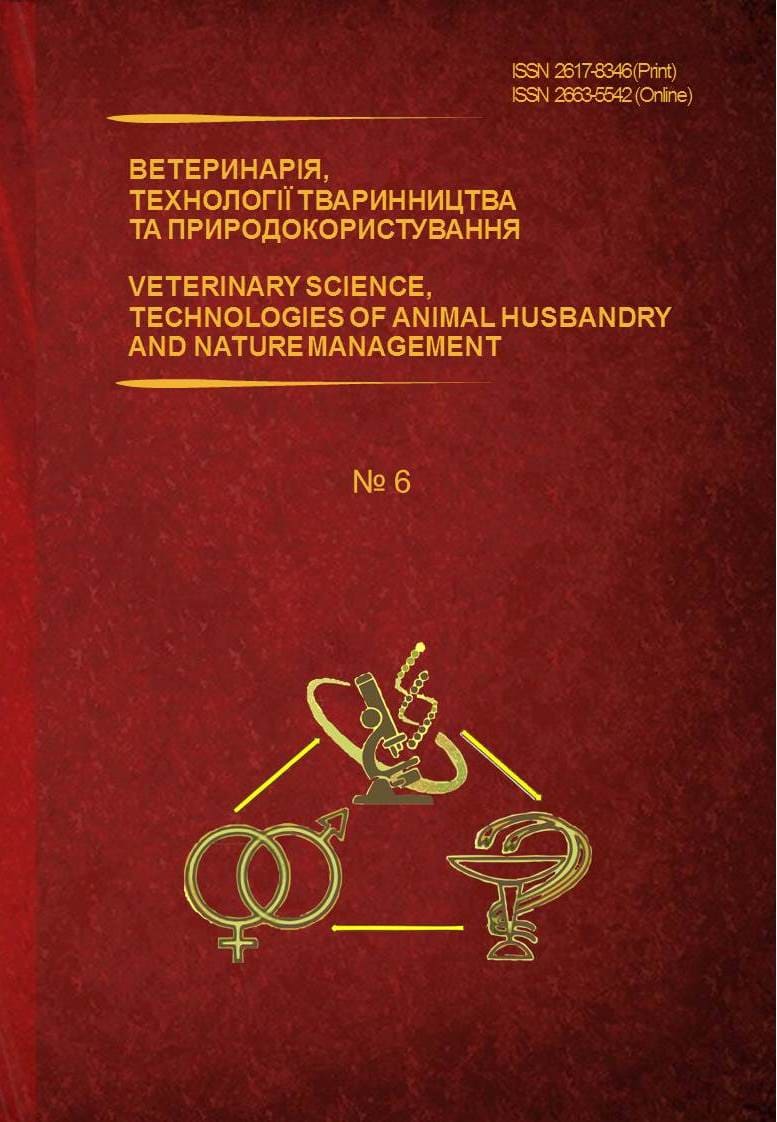 Переглядів анотації: 258 Завантажень PDF: 130
Як цитувати
Solopova, K., Vishchur, O., Korylyak, M., & Solovodzinska, I. (2020). Стан системи антиоксидантного захисту у гепатопанкреасі коропів за асоційованої інфекції аеромонозу з сапролегніозом. Ветеринарія, технології тваринництва та природокористування, (6), 85-89. https://doi.org/10.31890/vttp.2020.06.15