Функціональний стан печінки курчат-бройлерів за застосування мультиферментного препарату «Natuzyme»
Ключові слова:
курчата-бройлери, печінка, препарат «Natyzyme», біохімічні і гістологічні показники
Анотація
Викладено результати дослідження застосування мультиферментного препарату «Natyzyme» курчатам-бройлерам з метою забезпечення максимального перетравлення корму шляхом профілактики захворювань органів травного апарату, підвищення інтенсивності росту птиці і корекції фізіологічних характеристик гомеостазу.
На підставі гістологічних досліджень печінки встановлено позитивний вплив мультиферментного препарату на організм курчат-бройлерів. На відміну від печінки курчат контрольної групи, де було виявлено наявність дискомплексації печінкових балок у складі часточок і жирову дистрофію гепатоцитів, у курчат дослідної групи такі особливості мікроскопічної будови були відсутніми.
Використання препарату «Natyzyme» сприяло більшій інтенсивності росту і збереженості курчат-бройлерів, зменшенню затрат корму на 1 кг приросту птиці, збільшенню ЄПВ вирощування птиці, мало позитивний вплив на функціональний стан печінки, про що свідчили результати біохімічних показників крові та дані гістологічних досліджень, що вказує на доцільність його використання у годівлі курчат-бройлерів.
Завантаження
##plugins.generic.usageStats.noStats##
Посилання
Alagawany, M., Farag, M. R., Abd El-Hack, M. E., & Dhama, K. (2015). The practical application of sunflower meal in poultry nutrition. Adv. Anim. Vet. Sci, 3(12), 634-648. DOI: 10.14737/journal.aavs/2015/3.12.634.648.
Awad, W. A., Hess, C., & Hess, M. (2017). Enteric pathogens and their toxin-induced disruption of the intestinal barrier through alteration of tight junctions in chickens. Toxins (Basel), 9(2), 60. DOI: 10.3390/toxins9020060.
Cowieson, A. J., Hruby, M., & Pierson, E. E. (2006). Evolving enzyme technology: impact on commercial poultry nutrition. Nutrition Research Reviews, 90–103. DOI:10.1079/NRR2006121.
Dietert, R. R., Golemboski, A. A., & Austic, R. E. (1994). Environment immune interaction. Poultry Science, 73, 1062–1076. DOI:10.3382/ps.0731062.
Ducatelle, R., Goossens, E., De Meyer, F., Eeckhaut V., Antonissen, G., Haesebrouck, F., & Van Immerseel, F. (2018). Biomarkers for monitoring intestinal health in poultry: present status and future perspectives. Veterinary Research, 49, 43. DOI: 10.1186/s13567-018-0538-6 .
Ficken, M. D., & Wages, D. P. (1997). Necrotic enteritis. In: Diseases of Poultry, 10. Diseases of Poultryth edn. (Calnek B.W., Barnes H.J., Beard C.W. McDougald L.R. Saif Y.M, Eds.), 261–264 Mosby-Wolfe Ames, IA.
Fijalovych, L., Kyryliv, Y., & Paskevych, G. (2019). Features of providing broiler chickens with exchange energy and protein as important indicators of productivity and quality of the obtained products. Scientific Messenger of LNU of Veterinary Medicine and Biotechnologies. Series: Agricultural Sciences, 21(91), 60–64. DOI:10.32718/nvlvet-a9110 .
Fisinin, V. (2002). Polnotsennoe pitanie ptytsy – kachestvo i rentabelnost produktsii. Kombikorma, 1, 42–45. [in Russian]
Horalskyi, L. P., Khomych, V. T., & Kononskyi, O. I. (2011). Osnovy histolohichnoi tekhniky i morfo funktsionalni metody doslidzhen u normi ta pry patolohii. Zhytomyr : Polissia, 288 s. [in Ukrainian]
Hurieva, A. H., Semerak, Ya. V., & Anatskyi, A. S. (2016). Analysis of the application efficiency of the enzyme preparation Ladozim Proxy in the poultry industry. Visnyk Dnipropetrovskoho universytetu. Biolohiia, medytsyna, 7(2), 101–105. DOI: 10.15421/021618.
Hutchison, T.W.S., & Riddell, C. (1990). A study of hepatic lesions in broiler chickens at processing plants. Saskatchewan Canadian Veterinary Journal, 31, 20–25. Retrieved from https://www.ncbi.nlm.nih.gov/pmc/articles/PMC1480612/.
Johnson, C. N., Hashim, M. M., Bailey, C. A., James, A. B., Kogut, M. H., & Arsenault, R. J. (2020). Feeding of yeast cell wall extracts during a necrotic enteritis challenge enhances cell growth/survival and immune signaling in the jejunum of broiler chickens. Poultry Science, 99(6), 2955-2966. DOI: 10.1016/j.psj.2020.03.012.
Kavtarashvili, A. Sh., & Golubev, I. I. (2013). Opredelenie effektivnosti proizvodstva ptitsevodcheskoy produktsii ekspress-metodami. Suchasne ptakhivnytstvo, 2, 6–9. [in Russian]
Kelly, L. M. & Alworth, L. C. (2013). Techniques for collecting blood from the domestic chicken. Laboratory animals, 42, 359–361. DOI:10.1038/laban.394.
Lee, K. W., Choi, Y. I., Moon, E. J., Oh, S. T., Lee, H. H., Kang, C. W., & An, B. K. (2014). Evaluation of dietary multiple enzyme preparation (natuzyme) in laying hens. Asian-Australia's Journal Animal Science, 27(12), 1749–54. DOI: 10.5713/ajas.2014.14294.
Levchenko, V. I., Shevchuk, P. F., & Prudeus, N. P. (1987). Issledovanie krovi zhivotnyih i klinicheskaya interpritatsiya poluchennyih rezultatov : Metodicheskie rekomendatsii dlya studentov veterinarnogo fakulteta. Belaya Tserkov, 40 s. [in Russian]
Lovland, A. & Kaldhusdal, M. (1999). Liver lesions seen at slaughter as an indicator of necrotic enteritis in broiler flocks. FEMS Immunology & Medical Microbiology, 24, 345-351. DOI:10.1111/j.1574-695X.1999.tb01304.x.
Mehdi, Y., Létourneau-Montminy, M. P., Gaucher, M. L., Chorfi, Y., Suresh, G., Rouissi, T., Brar, S. K., Côté, C., Ramirez, A. A., & Godbout, S. (2018). Use of antibiotics in broiler production: Global impacts and alternatives. Animal nutrition, 4(2), 170–178. DOI: 10.1016/j.aninu.2018.03.002.
Murugesan, G. R., Ledoux, D. R., Naehrer, K. & Berthiller, F. (2015). Prevalence and effects of mycotoxins on poultry health and performance, and recent development in mycotoxin counteracting strategies. Poultry Science, 94(6), 1298–1315. DOI:10.3382/ps/pev075 .
Nasonov, I. V., Buyko, N. V., Lizun, R. P., Volyihina, V. E., Zaharik, P. V., & Yakubovskiy, S. M. (2014). Metodicheskie rekomendatsii po gematologicheskim i biohimicheskim issledovaniyam u kur sovremennyih krossov. Minsk, 32 s. [in Russian]
Ostapkevych, V. (2005). Osoblyvosti hodivli indykiv vazhkykh krosiv. Efektyvne ptakhivnytstvo, 1, 23–26. [in Ukrainian]
Plys, V. M., Kolbasina, T. V., & Martynenko, H. N. (2003). Analiz vplyvu yakosti kormiv na fiziolohichnyi stan vysokoproduktyvnykh krosiv ptytsi u Dnipropetrovskomu rehioni. Veterynarna medytsyna, 97, 464–466. [in Ukrainian]
Sunday, A. A., & Opeyemi, C. O. (2019). Optimizing Gastrointestinal Integrity in Poultry: The role of nutrients and feed additives. Veterinary Sciences, 31. DOI: 10.3389/fvets.2018.00348.
Wallace, R. J., Oleszek, C., Franz, I., Hahn, K. H., & Baser, A. (2010). Dietary plant bioactives for poultry health and productivity. British Poultry Science, 27, 461–487. DOI:10.1080/00071668.2010.506908.
Yegan, M. & Korver, D. R. (2008). Factors affecting intestinal health in poultry. Poultry Science, 87(10), 2052–63. DOI: 10.3382/ps.2008-00091.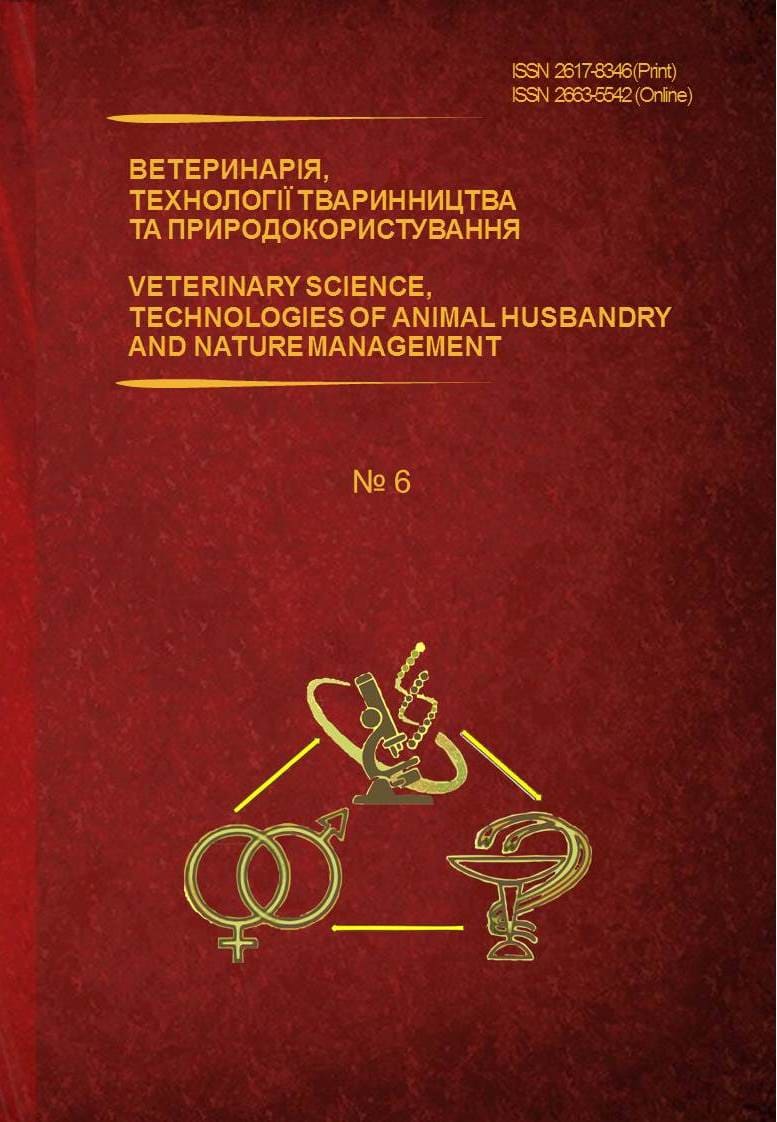 Переглядів анотації: 229 Завантажень PDF: 120
Як цитувати
Matsenko, O., Kusch, L., & Maslak, Y. (2020). Функціональний стан печінки курчат-бройлерів за застосування мультиферментного препарату «Natuzyme». Ветеринарія, технології тваринництва та природокористування, (6), 64-69. https://doi.org/10.31890/vttp.2020.06.11