Діуретична активність похідного метилксантину фуроксану за одноразового та тривалого застосування на функцію видільної системи щурів на тлі спонтанного діурезу
Ключові слова:
фуроксан, салуретическое действие, спонтанный диурез, гидрохлортиазид, водно-солевой обмен
Анотація
В статті наведені результати експериментальних досліджень щодо впливу фуроксану за тривалого застосування на функціональний стан нирок у щурів. Встановлено, що фуроксан володіє салуретичною дією, збільшує спонтанний діурез, концентрацію іонів натрію в сечі, може мати пролонговану дію.
Завантаження
##plugins.generic.usageStats.noStats##
Посилання
Andersson, K. E., Soler, R., & Füllhase, C. (2011). Rodent models for urodynamic investigation. Neurourology and Urodynamics, 30(5), 636-646. DOI: 10.1002/nau.21108.
Barja‐Fidalgo, C., Fierro, I. M., Lima, A. C. B., Da Silva, E. T., Câmara, C. D. A., & Barreiro, E. J. (1999). Anti‐inflammatory Profile of N‐Phenylpyrazole Arylhydrazone Derivatives in Rats. Journal of Pharmacy and Pharmacology, 51, 703-707. DOI:10.1211/0022357991773005.
Belovol, A. N., & Knyaz`kova, I. I. (2009). Rol` vazopressina v patogeneze serdechnoj nedostatochnosti . Serce і sudini, 3, 87-92. [in Russian]
Berxin, E. B. (1977). Metody` izucheniya vliyaniya novy`x ximicheskix soedinenij na funkciyu pochek. Ximiko-farmacevticheskij zhurnal, 5(11), 3-11. [in Russian]
Berxin, E. B., & Ivanov, Y. I. (1972). Metody` e`ksperimental`nogo issledovaniya pochek i vodno-solevogo obmena. Moskva: Medicina. [in Russian]
Bhasin, B., & Velez, J. C. Q. (2016). Evaluation of Polyuria: The Roles of Solute Loading and Water Diuresis. Am J Kidney Dis., 67(3), 507-511. DOI: 10.1053/j.ajkd.2015.10.021.
Bogolepova, A. E., & Natochin, Y. V. (2005). Fiziologicheskij analiz funkcii pochki pri razlichny`x tipax diureza . Nefrologiya, 2(9), 9-15. [in Russian]
Bolda Mariano, L. N., Boeing, T., Cechinel-Filho, V., Niero, R., Mota da Silva, L., & de Souza, P. (2020). The acute diuretic effects with low-doses of natural prenylated xanthones in rats. European Journal of Pharmacology, 884, 173432. DOI: 10.1016/j.ejphar.2020.173432.
Bolda Mariano, L. N., Boeing, T., da Silva, R.C.M.V.A.F, Cechinel-Filho,V., Niero, R., Mota da Silva, L., de Souza, P., & Faloni de Andrade, S. (2019). 1,3,5,6-Tetrahydroxyxanthone, a natural xanthone, induces diuresis and saluresis in normotensive and hypertensive rats. Chem Biol Interact., 25(311), 108778. DOI: 10.1016/j.cbi.2019.108778.
Brandes, A., Oehlke, O., Schümann, A., Heidrich, S., Thévenod, F., & Rousa, E. (2007). Adaptive redistribution of NBCe1-A and NBCe1-B in rat kidney proximal tubule and striated ducts of salivary glands during acid-base disturbances. Am J Physiol Regul Integr Comp Physiol., 293(6), 2400-2411. DOI: 10.1152/ajpregu.00208.2007.
Brater, D. (2000). Pharmacology of Diuretics. The American Journal of the Medical Sciences, 319(1), 38-50. DOI: 10.1097/00000441-200001000-00004.
Fitzharris, G., & Baltz, J. (2009). Regulation of intracellular pH during oocyte growth and maturation in mammals. Reproduction, 11, 98-111. DOI: 10.1530/REP-09-0112.
Gozhenko, A. I., & Zhigalina–Gricenyuk, M. S. (2012). Preventivny`e mexanizmy` regulyacii vodno-solevogo obmena skvoz` prizmu teorii funkcional`ny`x sistem. Bukovins`kij medichnij vіsnik, 3(63), 16(2), 80-83. [in Russian]
Jin, L. H., Andersson, K. E., Kwon, Y. H., Park, C. S., Yoon, S. M., & Lee, T. (2009). Substantial detrusor overactivity in conscious spontaneously hypertensive rats with hyperactive behaviour. Scand J Urol Nephrol., 43(1), 3-7. DOI: 10.1080/00365590802468750.
Karabaeva, A. Z. (2006). Al`dosteron, serdechno-sosudistaya sistema i pochki. Nefrologiya, 1(10), 25-33. [in Russian]
Koeppen, B. M. (2009). The kidney and acid-base regulation. Adv. Physiol. Educ., 33(40), 275-281. DOI: 10.1152/advan.00054.2009.
Lang, F. (2006). Mechanisms аnd significance of cell volume regulation. (Switzerland): Ed. S. Karger AG . DOI: 10.1080/07315724.2007.10719667.
Lapach, S. N., Chubenko, A. V., & Babich, P. N. (2002). Statistika v nauke i biznese. Kiev: Morion.[ in Russian]
Natochin, Y. V. (2010). Fiziologiya cheloveka: pochka. Fiziologiya heloveka, 5(36), 9-18. [in Russian]
Oehlke, O., Sprysch, P., Rickmann, M., & Roussa, E. (2006). Na+/H+ exchanger isoforms are differentially regulated in rat submandibular gland during acid/base disturbances in vivo. Cell Tissue Res., 323(2), 253-262. DOI: 10.1007/s00441-005-0055-6.
Pogorelov, M. V., Bumejster, V. І., & Tkach, G. F. (2009). Suchasnі uyavlennya pro vodno-sol`ovij obmіn . Vіsnik problem bіologії і medicini, 8-14. [in Ukrainian]
Robben, J. H., Knoers, N. V., & Deen, P. N. (2004). Regulation of the vasopressin V2 receptor by vasopressin in polarized renal collecting duct cells. Mol. Biol. Cell., 15(12), 5693-5699. DOI: 10.1091/mbc.E04-04-0337.
Shtrygol', S. Yu., Tovchiga, O. V., Koyro, O. O., Shchekina, E. G., Shtrygol', V. S., Bondarev, E. V., & Domar, N. A. (2012). Novye perspektivy nefroprotektsii. Bukovins'kiy medichniy vіsnik, 3 (63), 2, 35-37. [in Russian]
Stefanov, O. V. (2001). Doklіnіchnі doslіdzhennya lіkars`kix zasobіv: metodichnі rekomendaczії. Kiїv: Avіcena. [in Ukrainian]
Yu, W., Ackert-Bicknell, C., Larigakis, J. D., MacIver, B., Steers, W. D., Churchill, G. A., Hill, W. G., & Zeidel, M. L. (2014). Spontaneous voiding by mice reveals strain-specific lower urinary tract function to be a quantitative genetic trait. American Journal of Physiology-Renal Physiology, 306(11), F1296-F1307. DOI: 10.1152 / ajprenal.00074.2014.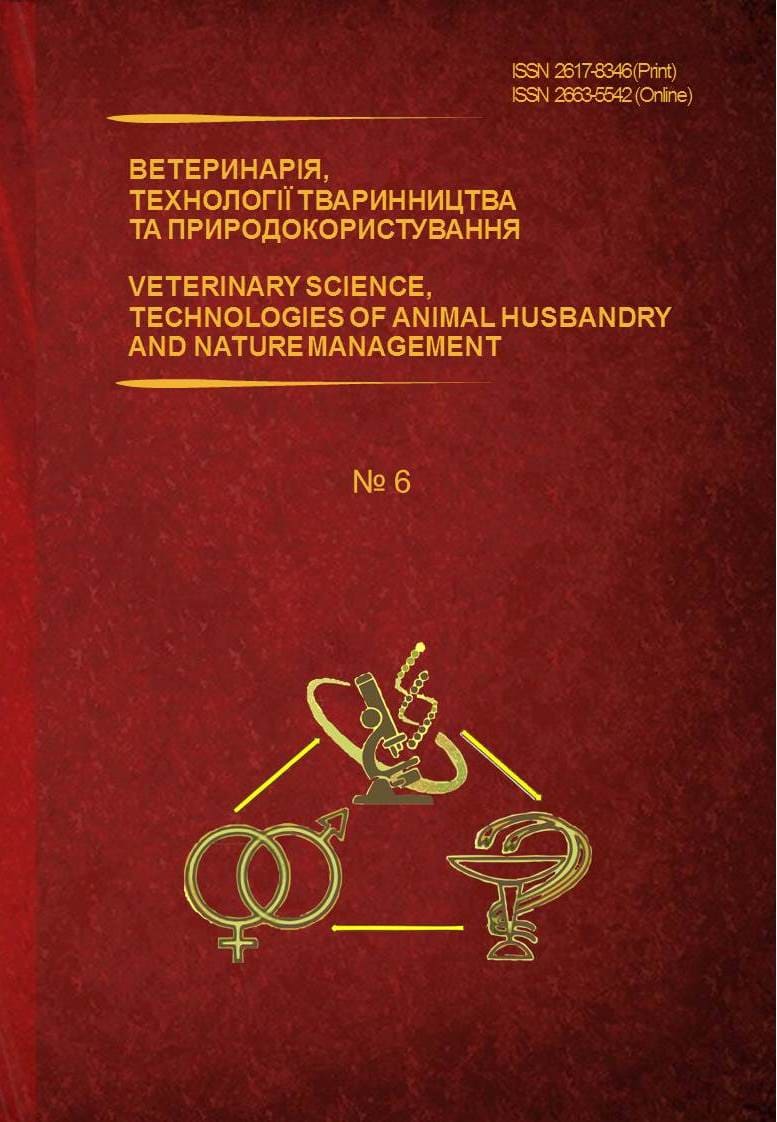 Переглядів анотації: 205 Завантажень PDF: 126
Як цитувати
Kornienko, V., Ladohubets, E., Harkusha, I., Ponomarenko, O., Duchenko, E., & Khomenko, M. (2020). Діуретична активність похідного метилксантину фуроксану за одноразового та тривалого застосування на функцію видільної системи щурів на тлі спонтанного діурезу. Ветеринарія, технології тваринництва та природокористування, (6), 36-39. https://doi.org/10.31890/vttp.2020.06.06