Жирнокислотний склад м'яса забійних тварин за оброблення мийно-дезінфікуючими засобами
Ключові слова:
яловичина, свинина, баранина, козлятина, безпечність, якість, експресні методики, фальсифікація, жирні кислоти, мийно-дезінфікуючі засоби
Анотація
За виробництва та обігу безпечного та якісного м'яса забійних тварин необхідно здійснювати державними інспекторами ветеринарної медицини ризик-орієнтований контроль за виявленням мийно-дезінфікуючих засобів внаслідок порушення умов та термінів реалізації при використанні запатентованих експресних методик, які мають достовірність до 99,9 %. Дослідженнями встановлено жирнокислотний склад м'яса забійних тварин різних якостей, зокрема за оброблення мийно-дезінфікуючими засобами,  за вмістом НЖК, ННЖК, співвідношеннями ННЖК/НЖК, Σ ω-6/Σ ω-3, цис- і трансізомерів жирних кислот та індексом м'якості.
Завантаження
##plugins.generic.usageStats.noStats##
Посилання
Amaral, A. B., da Silva, M. V., & Lannes, S. C. (2018). Lipid oxidation in meat: mechanisms and protective factors – a review. Food Science Technology, 38(1), 1–15. DOI: 10.1590/fst.32518.
Barnes, K., Collins, T., Dion, S., Reynolds, H., Riess, H., Stanzyk, A., Wolfe, A., Lonergan, S., Boettcher, P., Charrondiere, U. R., & Stadlmayr, B. (2012). Importance of cattle biodiversity andits influence on the nutrient composition of beef. AnimFront, 2(4), 54–60. DOI:10.2527/af.2012-0062.
Bohatko, N. M. (2019). Kontrol bezpechnosti m'iasa zabiinykh tvaryn pry vstanovlenni falsyfikatsii za ekspresnymy metodykamy: naukovo-metodychni rekomendatsii. Bila Tserkva, 24. [in Ukrainian].
Codex Alimentarius Commission. Procedural Manual. Joint FAO/WHO Food Standards Programme 2016 Twenty-fifth edition, 253. Retrieved from https://fssai.gov.in/upload/uploadfiles/files/Codex_Working_Procedural_Manual_25_Edition_16_08_2018.pdf.
Codex Alimentarius Recommended International Code of Hygienic Practice for meat (CAC/RCP58-2005). Retrieved from http://files.foodmate.com/2013/files_1877.html
Codex Alimentarius (2004). Code of practice for the prevention and reduction of lead contamination in foods (CAC/RCP 56-2004). Rome, Italy: World Health Organization/Food and Agriculture Organization of the United Nations. Retrieved from http://www.codexalimentarius.org/download/standards/10099/CXP_056e.pdf
Derzhavni hihiienichni pravyla i normy
«Rehlament maksymalnykh rivniv okremykh zabrudniuiuchykh rechovyn u kharchovykh produktakh» Nakaz MOZ Ukrainy vid 22.05.2020 r. № 1238. Retrieved from http://search.ligazakon.ua/l_doc2.nsf/link1/RE34967.html [in Ukrainian].
Estevez, M. (2015). Oxidative damage to poultry: from farm to fork. Poultry Science, 94(6), 1368–1378. DOI: 10.3382/ps/pev094.
Faustman, C., Sun, Q.R., Mancini, R., & Suman, S.P. (2010). Myoglobin and lipid oxidation interactions: mechanistic bases and control. Meat Science, 86 (1), 86–94. DOI: 10.1016 / j.meatsci.2010.04.025.
Folch, J.A., Leez, M., & Stanley, G.H.S. (1957). Simple Method for the Isolation and purification of Total Lipides from Animal Tissues. Journal of biological Chemistry, 226(2), 497–501.
Gallo, M., Ferracane, R., & Naviglio, D. (2012). Antioxidant addition to prevent lipid and protein oxidation in chicken meat mixed with supercritical extracts of Echinacea angustifolia. The Journal of Supercritical Fluids, 72, 198–204. DOI:10.1016/j.supflu.2012.08.006.
Givens, D.I. (2005). The role of animal nutrition in improvingthe nutritive value of animal-derived foods in relation to chronic disease. Proc Nutr Soc, 64(3), 395–402. DOI: 10.1079/pns2005448.
Heneralnyi Dyrektorat z pytan zdorov'ia ta zakhystu spozhyvachiv. Zahalni nastanovy stosovno pravyl YeS shchodo importu ta tranzytu zhyvykh tvaryn i produktiv tvarynnoho pokhodzhennia z tretikh krain a takozh «Naibilsh poshyreni pytannia», 2010, 63. Retrieved from www.ifdcsms.com.ua/files/window/nastanovi_2.pdf. [in Ukrainian]
Kolesnyk, S. D. (2013). Diialnist Natsionalnoi komisii Ukrainy z Kodeksu Alimentarius u 2011–2012 rr. Zhurnal Prolemy kharchuvannia, 49–53. Retrieved from http://medved.kiev.ua/web_journals/arhiv/nutrition/2012/3-4_12/str49.pdf. [in Ukrainian]
Kosenko, Yu.M., Kalynovska, L.V., & Pavliuk, I.V. (2018). Osoblyvosti farmatsevtychnoi rozrobky veterynarnykh preparativ v Ukraini. Naukovo-tekhnichnyi prohres i optymizatsiia tekhnolohichnykh protsesiv stvorennia likarskykh preparativ: materialy VII nauk.-prakt. konf. z mizhnar. uchastiu (27–28 veresnia 2018 r.), 306–307. Retrieved from https://repository.tdmu.edu.ua/handle/123456789/10978. [in Ukrainian]
Ladyka, L.N., & Kyselev, A.B. (2019). Zhyrnokyslotnyi sostav miasa kozlykov pryrazlychnoi yntensyvnosty rosta. Sbornyk nauchnykh trudov Belorusskoi HSA «Aktualnye problemy yntensyvnoho razvytyia zhyvotnovodstva», 22(2), 153–159. [in Belorussyia]
Li, Y., & Liu, S. (2012). Reducing lipid peroxidation for improving color stability of beef and lamb: on-farm considerations. Journal of the Science of Food and Agriculture, 92(4), 719–726. http://dx.doi.org/10.1002/jsfa.4715. PMid:22102139.
Lorenzo, J.M., Crecente, S., Franco, D., Sarriés, M.V., & Gómez, M. (2014). The effect of livestock production system andconcentrate level on carcass traits and meat quality offoals slaughtered at 18 months of age. Animal, 8(3), 494–503. DOI:10.1017/S175173111300236X .
Matsuishi, M., Igeta, M., Takeda, S., & Okitani, A. (2004). Sensory factors contributing to the identification of the animal species of meat. J. Food Science, 69, S218–S220. DOI: 10.1111/j.1365-2621.2004.tb11008.x.
Min, B., Nam, K.C., Cordray, J., & Ahn, D. U. (2008). Endogenous factors affecting oxidative stability of beef loin, pork loin, and chicken breast and thigh meats. Journal of Food Science, 73(6), 439–446. DOI: 10.1111/j.1750-3841.2008.00805.x.
Peña, M.A., Mėndez O.I., Guerra M.A., & Peña, S.A. (2015). Desarrollo de productors cărnicos funcionales: utilizaciôn de harina de quinua. Alimentos, ciencia e Investigaciôn, 23 (1), 21–36. Retrieved from https://repositorio.uta.edu.ec/bitstream/123456789/24023/2/Alimentos_23_1_2015.pdf.
Pravyla peredzabiinoho veterynarnoho ohliadu tvaryn i veterynarno-sanitarnoi ekspertyzy m'iasa ta m'iasoproduktiv, zatverdzheni nakazom Holovy Derzhdepartamentu veterynarnoi medytsynyza №28 vid 7.06. 2002 r. Ta zareiestrovani v Miniusti Ukrainy 21.06. 2002 r. za №524/6812. Retrieved from https://zakon.rada.gov.ua/laws/show/z0524-02#Text . [in Ukrainian]
Red Meat and Processed Meat. IARCMONOGRAPHS. (2018). This publication represents the views and expertopinions of an IaRc Working Group on theevaluation of carcinogenic Risks to Humans,which met in Lyon, 6–13 october 2015, 114, 150. Retrieved from https://monographs.iarc.fr/wp-content/uploads/2018/06/mono114.pdf.
Rehlament Komisii YeS №37/2010 vid 22.12.2009 r. shchodo farmakolohichno aktyvnykh rechovyn i yikh klasyfikatsii vidnosno maksymalnykh mezh zalyshkiv v kharchovykh produktakh tvarynnoho pokhodzhennia. Retrieved from https://fsvps.gov.ru/fsvps-docs/ru/laws/eu/37-2010.pdf [in Ukrainian]
Rehlament (YeS) № 470/2009 Yevropeiskoho Parlamentu ta Rady vid 6.05.2009 roku shcho vstanovliuie protsedury Spivtovarystva dlia vstanovlennia limitu zalyshkiv farmakolohichno aktyvnykh rechovyn u produktakh kharchuvannia tvarynnoho pokhodzhennia, skasovuie Rehlament Rady (IeES) № 2377/90 ta vnosyt zminy do Dyrektyvy 2001/82/IeS Yevropeiskoho Parlamentu ta Rady ta Rehlament (IeS) № 726/2004 Yevropeiskoho Parlamentu ta Rady. Retrieved from http://www.milkiland.nl/upload/pdf/laws/es/ES_470-2009_ukr.pdf. [in Ukrainian]
Resconi, V.C., Escudero, A., Campo, M.M. (2013). The Development of Aromas in Ruminant Meat. Molecules, 18, 6748–6781. DOI:10.3390/molecules18066748.
Sabow, A.B., Sazili, A.Q., Aghwan, Z.A., Zulkifli, I., Goh, Y.M. & Adeyemi, K.D., (2016). Changes of microbial spoilage, lipid‐protein oxidation and physicochemical properties during post mortem refrigerated storage of goat meat. Nihon Chikusan Gakkaiho, 87 (6), 816−826. DOI: 10.1111/asj.12496.
Sharma, H., Giriprasad, R., & Goswami, M. (2013). Animal fat-processing and its quality control. Journal of Food Processing & Technology, 2013, 4(8), 252. DOI: 10.4172/2157-7110.1000252.
Stelzleni, A.M., & Johnson, D.D. (2008). Effect of days on concentrate feed on sensory off-flavor score, off-flavor descriptor and fatty acid profiles for selected muscles from cull beef cows. Meat Science, 79, 382–393. DOI: 10.1016/j.meatsci.2007.10.023.
Teixeira, A., Silva, S., Guedes, C., & Rodrigues, S. (2020). Sheep and Goat Meat Processed Products Quality: A Review. Foods, 9(7), 960. DOI:10.3390/foods9070960.
Tsehmistrenko, S. I., & Tsehmistrenko, O. S. (2014). Biochemistry of meat and meat products: pidruchnyk. Bila Tserkva, 192. [in Ukrainian]
Wood, J. D., Enser, M., Richardson, R. I., & Whitington, F. M. (2007). Fatty acids in meat and meat products. Research Gate, 2007, 87–107. DOI: 10.1201/9781420006902.
Wood, J. D., Richardson, R. I., Nute, G. R., Fisher, A. V., Campo, M. M., Kasapidou, E., Sherard, P. R, & Enser, M. (2009). Effects of fatty acids on meat and meat quality: a review. Meat Science, 66(1), 21–32. DOI: 10.1016/S0309-1740(03)00022-6.
Zmiievska, T. M., Usatenko, N. F. (2014). Zastosuvannia vtorynnoi syrovyny pid chas vyhotovlennia restrukturovanykh formovanykh produktiv. Materialy druhoi mizhnarodnoi naukovo-tekhnichnoi konferentsii «Tekhnichni nauky: stan, dosiahnennia i perspektyvy rozvytku m'iasnoi, oliiezhyrovoi ta molochnoi haluzei», 25–26 bereznia 2014r. Kyiv:NUKhT, 25–26. Retrieved from http://old.nuft.edu.ua/page/51adaed39c2a2/files/[in Ukrainian]
Zhyry ta olii tvarynni i roslynni. Analizuvannia metodom hazovoi khromatohrafii metylovykh efiriv zhyrnykh kyslot. DSTU ISO 5508–2001 (ISO 5508:1990, IDT) [chynnyi z 2003-01-01]. Derzhspozhyvstandart, Kyiv, 2002, 9.
Zhyry tvarynni i roslynni ta olii. Pryhotuvannia metylovykh efiriv zhyrnykh kyslot. DSTU ISO 5509–2002 (ISO 5509:2000 IDT) [chynnyi z 2003-01-10]. Derzhspozhyvstandart, Kyiv, 2003, 27.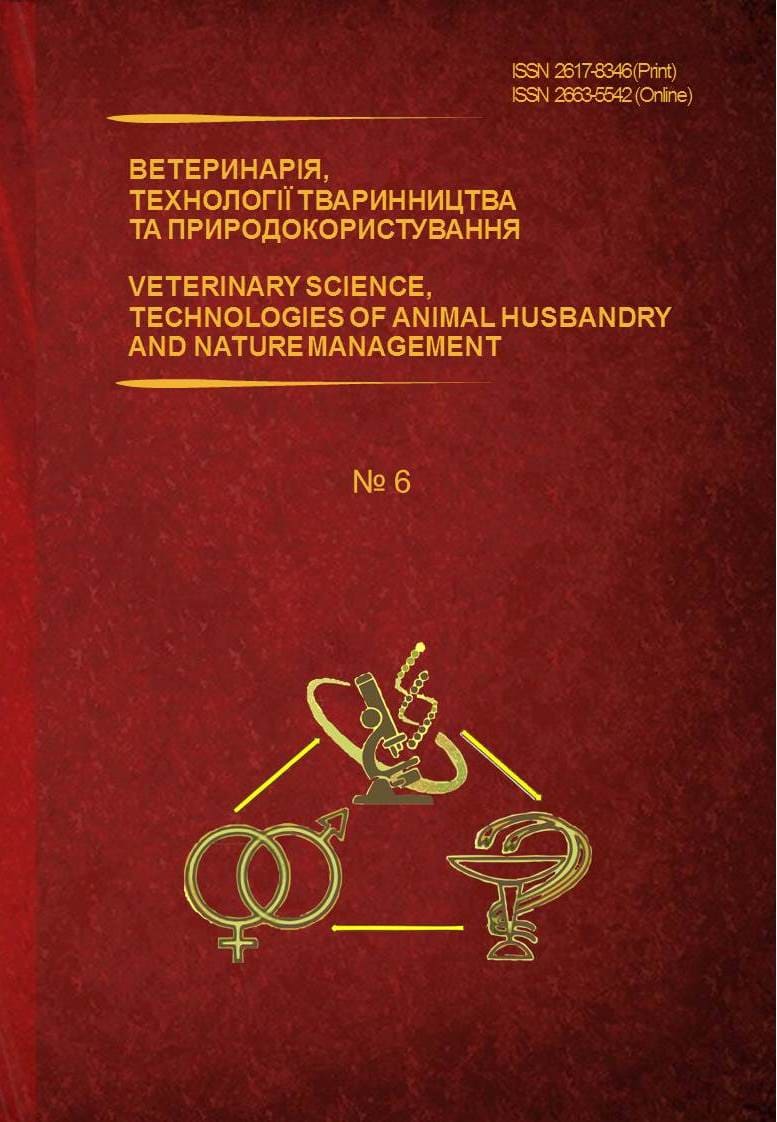 Переглядів анотації: 281 Завантажень PDF: 155
Як цитувати
Bogatko, N. (2020). Жирнокислотний склад м'яса забійних тварин за оброблення мийно-дезінфікуючими засобами. Ветеринарія, технології тваринництва та природокористування, (6), 5-17. https://doi.org/10.31890/vttp.2020.06.01