Особливості прооксидантно-антиоксидантного гомеостазу у спермі кнурів-плідників за корекції мінерального живлення
Ключові слова:
сперма, пероксидація, мікроелементи, каталаза, вітаміни, ТБК-активні комплекси, наноаквахелати
Анотація
Встановлено, що додаткове згодовування лактатів цинку, селену, міді і заліза кнурам-плідникам в дозі на 10 % більше норми стимулює у спермі активність антиоксидантних ензимів, збільшує концентрацію низькомолекулярних антиоксидантів, а в дозі 20 % прискорює процеси пероксидації та знижує вміст вітаміну А, вітаміну Е і аскорбінової кислоти.
Завантаження
##plugins.generic.usageStats.noStats##
Посилання
Brusov, O. S., Herasymov, A. M., & Panchenko, L. F. (1976). Vlyianye pryrodnіkh ynhybytorov radykalnikh reaktsyi na avtookyslenye adrenalyna. Biulleten eksperymentalnoi byolohyy y medytsyni, 1, 33-35. [in Russian]
Gączarzewicz, D., Udała, J., Piasecka, M., Bbłaszczyk, B., & Stankiewicz, T. (2015). Storage temperature of boar semen and its relationship to changes in sperm plasma membrane integrity, mitochondrial membrane potential, and oxidoreductive capability. Turk J. Biol. 39. 582-594. DOI:10.3906/biy-1412-76
Havrylov, V. B., & Melkorudnaia, M. Y. (1983). Spektrofotometrycheskoe opredelenye soderzhanyia hydroperekysei lypydov v plazme krovy. Laboratornoe delo, 3, 33-36. [in Russian]
Jelezarsky, L., Vaisberg, Ch., Chaushev, T., & Sapundjiev, E. (2008). Localization and characterization of glutathione peroxidase (GPx) in boar accessory sex glands, seminal plasma, and spermatozoa and activity of GPx in boar semen. Theriogenology, 69(2), 139-45. DOI: 10.1016/j.theriogenology.2007.08.016
Kaidashev, I. P. (1996). Posibnyk z eksperymentalno–klinichnykhdoslidzhen z biolohii ta medytsyny. Poltava. 123-128. [in Ukrainian]
Kankofer, M., Kolm, G., Aurich, J., & Aurich, C. (2005). Activity of glutathione peroxidase, superoxide dismutase and catalase and lipid peroxidation intensity in stallion semen during storage at 5 degrees C. Theriogenology, 63 (5), 1354-65. DOI: 10.1016/j.theriogenology.2004.07.005
Kim, S., Lee,Y., Kang, T. & Kim, Y. (2011). The reduction of hydrogen peroxide in viable boar sperm cryopreserved in the presence of catalase. Journal of Veterinary Clinics, 28(1), 13-19.
Koroliuk, M. A., Yvanova, L. Y., Maiorova, Y. H., & Tokarev, E. V. (1988). Metod opredelenyia aktyvnosty katalazі. Laboratornoe delo, 1, 16-19.[in Russian]
Kovalenko, V. F, Shostia, A. M., & Usenko, S. O. (2004). Pat. Ukraina 67054A MPK A61V5/00. [in Ukrainian]
Kovalenko, V. F., Shostia, A. M., & Usenko, S. O. (2005). Metodyka vyznachennia vitaminiv A, E i zahalnoho kholesterynu v riznykh tkanynakh svynomatok plodiv. Suchasni metody v svynarstvi. Poltava. 114–118. [in Ukrainian]
Kumaresan, A., Kadirvel, G., Bujarbaruah, K. M., Bardoloi, R. K., Das, A., & Naskar, S. (2009). Preservation of boar semen at 18 °C induces lipid peroxidation and apoptosis like changes in spermatozoa. Animal Reproduction Science, 110(1–2), 162-171. DOI: 10.1016/j.anireprosci.2008.01.006
Liu, Т., Han, Y., Zhou, T., Zhang, R., Chen, Н., Chen, S. & Zhao, Н. (2019). Mechanisms of ROS-induced mitochondria-dependent apoptosis underlying liquid storage of goat spermatozoa. Aging (Albany NY), 11(18), 7880–7898. DOI: 10.18632/aging.102295
Nenkova, G., Petrov, L., & Alexandrova, А. (2017) Role of Trace Elements for Oxidative Status and Quality of Human Sperm. Balkan Med J, 34(4), 343–348. DOI:10.4274/balkanmedj.2016.0147
Pagl, R., Aurich, C., & Kankofer, M. (2006). Anti-oxidative status and semen quality during cooled storage in stallions. J. Vet. Med. A Physiol. Pathol. Clin. Med., 53(9), 486-9. DOI: 10.1111/j.1439-0442.2006.00879.x
Peters, J. C., Mahan, D. C, Wiseman, T. G., & Fastinger, N. D. (2010). Effect of dietary organic and inorganic micromineral source and level on sow body, liver, colostrum, mature milk, and progeny mineral composition over six parities. Journal of Animal Science, 88. 626–637. DOI: 10.2527/JAS.2009-1782
Pipan, M. Z.,Mrkun, J., Strajn, B. J., Vrtač, K. P., Kos, J., Pišlar, A., & Zrimšek, P. (2017). The influence of macro- and microelements in seminal plasma on diluted boar sperm quality. Acta Vet Scand., 59(1), 11. DOI: 10.1186/s13028-017-0279-y
Pipan, Z. М., Mrkun, J., Kosec, М., Nemec Svete, А., & Zrimšek, Р. (2014). Superoxide Dismutase: A Predicting Factor for Boar Semen Characteristics for Short-Term Preservation. Biomed Res Int. DOI: 10.1155/2014/105280
Shabunyn, S. V. (2010). Metodycheskye polozhenyia po yzuchenyiu protsessov svobodnoradykalnoho okyslenyia v systeme antyoksydantnoi zashchytы orhanyzma. Voronezh. 36-37; 51-52. [in Russian]
Shostia, A. M., Rokotianska, V. O., Tsybenko, V. H., Sokyrko, M. P., Hyria, V.M., Nevidnychyi, O. S., Kaplunenko, V. H., & Pashchenko, A. H. (2018). Vplyv nanoakvakhelativ na yakist spermoproduktsii u knuriv-plidnykiv. Visnyk Sumskoho natsionalnoho ahrarnoho universytetu. Seriia: Tvarynnytstvo, 7(35), 156-160. [in Ukrainian]
Sutovsky, P., Kerns, K., Zigo, M., & Zuidema, D. (2019). Boar semen improvement through sperm capacitation management, with emphasis on zinc ion homeostasis. Theriogenology, 1(137), 50-55.
Yinghui, Wu., Zihui, Liu L., Wei, H., Zhou, Y., Tan, J., Sun, H., Li, Sh., & Jiang, S. (2019) Microelements in seminal and serum plasma are associated with fresh semen quality in Yorkshire boars. Theriogenology, 132, 1, 88-94. DOI: 10.3390/ani9121004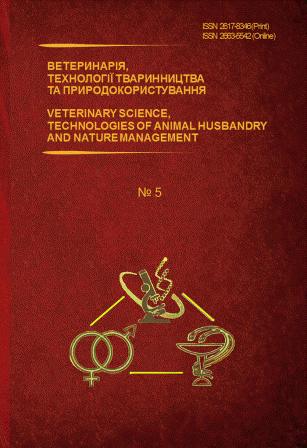 Переглядів анотації: 374 Завантажень PDF: 324
Як цитувати
Usenko, S., Shostya, A., Birta, G., Slynko, V., & Chukhlib, Y. (2020). Особливості прооксидантно-антиоксидантного гомеостазу у спермі кнурів-плідників за корекції мінерального живлення. Ветеринарія, технології тваринництва та природокористування, (5), 198-205. https://doi.org/10.31890/vttp.2020.05.35