Порівняльна оцінка санітарно-бактеріологічних показників коров'ячого і козиного молока
Ключові слова:
санітарно–бактеріологічні показники молока, козине молоко, коров'яче молоко, соматичні клітини, коліформи і кишкова паличка Escherichia coli
Анотація
Метою статті є викладення результатів досліджень з визначення порівняльної оцінки санітарно-бактеріологічних показників коров'ячого і козиного молока.
Встановлена більш висока економічна ефективність методу визначення мікробіологічної чистоти молока і молочних продуктів за допомогою пластин «Петрі-фільм» в порівнянні з використанням чашок Петрі.
Встановлено, що козине молоко містить меншу кількість сторонньої (МАФАМ, коліформи і кишкової палички Escherichia coli) мікрофлори, а також кількість соматичних клітин, що свідчить про його більш високу харчову безпеку в порівнянні з коров'ячим молоком. Тому воно визнано придатним для промислової переробки на питне молоко та ферментовані молочні продукти.
Завантаження
##plugins.generic.usageStats.noStats##
Посилання
Alhussien, M., & Dang., A. (2018). Milk somatic cells, factor sin fluencing their release, future prospects and practical utility in dairy animals: An overview. VETERINARY WORLD, 11(5), 562-577. DOI: 10.14202 / vetworld.2018.562-577
Andriani A., & Suwito, W. (2018). The prevalence of pathogenic bacteria and antimicrobial resistance in milk of Ettawa Grade Goat. JOURNAL OF THE INDONESIAN TROPICAL ANIMAL AGRICULTURE, 42 (2), 140-148. DOI: https://doi.org/10.14710/jitaa.43.2.140-148
Bogdanovičová, K., Vyletělová-Klimešová, M., Babák, V., Kalhotka, L., Koláčková, I., & Karpíšková, R. (2016). Microbiological quality of raw milk in the Czech Republic. CZECH J. FOOD SCI, 34, 189-196. DOI: https://doi.org/10.17221/25/2016-CJFS
Boutinaud, M., & Jammes, H. (2002). Potential uses of milk epithelial cells. REPRODUCTION NUTRITION DEVELOPMENT, 42 (2): 133-147. DOI: https://doi.org/10.1051/rnd:2002013
Cak, B., Yilmaz, O., & Ocak, E. (2017). Physical-chemical composition of milk and M Fiber Quality in hair goats and the phenotypic correlations between milk composition and fiber traits. PAKISTAN VETERINARY JOURNAL, 37(1), 2538318. Retrieved from http://www.pvj.com.pk/pdf-files/37_1/35-38.pdf
Clark, S., & Mora, G. M. (2017). A 100-year review: Advances in goat milk research. JOURNAL OF DAIRY SCIENCE, 100 (12): 10026-10044. DOI: 10.3168/jds.2017-13287
Dalgado-Pertines M., Alcalde M. J., Guzmán-Guerrero, J.L., Castel, J.M., Mena, Y., & Caravaca, F. (2003). Effect of hygiene-sanitary management on goat milk quality in semi-extensive systems in Spain. SMALL RUMINANT RESEARCH, 47 (1), 51-61. DOI: 10.1016/S0921-4488(02)00239-0.
Hunt, K., Williams, J., Shafii, B., Hunt, M., Behre, R., Ting, R., & McGuire, M. (2013). Mastitis Is Associated with Increased Free Fatty Acids, Somatic Cell Count, and Interleukin-8 Concentrations in Human Milk. BREASTFEEDING MEDICINE, 8 (1), 105-110. DOI: http://doi.org/10.1089/bfm.2011.0141.
Leclair, R., McLean, S., Dunn, L., Meyer, D., & Palombo, E. (2019). Investigating the Effects of Time and Temperature on the Growth of Escherichia coli O157:H7 and Listeria monocytogenes in Raw Cow's Milk Based on Simulated Consumer Food Handling Practices. INTERNATIONAL JOURNAL OF ENVIRONMENTAL RESEARCH AND PUBLIC HEALTH, 16 (15), 2691. DOI: https://doi.org/10.3390/ijerph16152691
Lima, By M. J. R., Teixeira-Lemos E., Oliveira J., Teixeira-Lemos L. P., Monteiro, A., & Costa , X.M. (2018). Nutritional and health profile of goat products: Focus on health benefits of goat milk. SUBMITTED: December 9th 2016Reviewed: July 5th 2017Published: December 20th 2017. DOI: 10.5772 / intechopen.70321.
Moloko i molochni produkti. Metod pidrahuvannya kilkosti koli–form ta kishkovoyi palichki (E. coli) za dopomogoyu plastin (DSTU 7090 : 2009) – [Chinnij vid 2012−01−01]. – K. Derzhspozhivstandart Ukrayini, 2010. – 7 s. – (Nacionalni standarti Ukrayini).
Moloko i molochni produkti. Metodika pidrahunku kilkosti MAFAnM, drizhdzhiv ta plisenevih gribiv za dopomogoyu plastin (DSTU 7089 : 2009).[Chinnij vid 2011 – 07 − 01]. – K. Derzhspozhivstandart Ukrayini, 2010. – 7 s. – (Nacionalni standarti Ukrayini).
Olechnowicz, J., & Jaskowski, J. (2012). Somatic Cells Count in Cow's Bulk Tank Milk. JOURNAL OF VETERINARY MEDICAL SCIENCE, 74 (6), 681-686. DOI: 10.1292 / jvms.11-0506
Quigley, L., O'Sullivan, O., Stanton, C., Beresford, T. P., Ross, R. P., Fitzgerald, G. F., & Cotter P. D. (2013). The complex microbiota of raw milk. FEMS MICROBIOLOGY REVIEWS, 37 (5): 664–698. DOI: https://doi.org/10.1111/1574-6976.12030
Raynal-Ljutovac, K., Gaborit, P., & Lauret, A. (2005). The relationship between quality criteria of goat milk, its technological properties and the quality of the final products. SMALL RUMINANT RESEARCH, 60(1-2): 167-177. DOI: https://doi.org/10.1016/j.smallrumres.2005.06.010
Sandrucci, A., Tamburini, A., Gislon, G., Bava, L., & Zucali, M. (2019). Management practices and milk quality in dairy goat farms in Northern Italy. ITALIAN JOURNAL OF ANIMAL SCIENCE, 18 (1), 1-12. DOI: https://doi.org/10.1080/1828051X.2018.1466664
Schwarz, D., Lipkens, Z., Piepers, S., & De Vliegher, S. (2019). Investigation of differential somatic cell count as a potential new supplementary indicator to somatic cell count for identification of intramammary infection in dairy cows at the end of the lactation period. PREVENTIVE VETERINARY MEDICINE, 172, 104803. DOI: 10.1016/j.prevetmed.2019.104803
Sharma, N., Singh, N., & Bhadwal, M. (2011). Relationship of Somatic Cell Count and Mastitis. ASIAN-AUSTRALASIAN JOURNAL OF ANIMAL SCIENCES, 24(3), 429-438. DOI: 10.5713/ajas.2011.10233
Souza., F.N., Blagitz, M.G., Penna, C.F.A.M., la Libera, A.M.M.P., Heinemann, M.B.,& Cerqueira, M.M.O.P. (2012) Somatic cell count in small ruminants: friend or foe? SMALL RUMIN RES, 107, 65–75. DOI: https://doi.org/10.1016/j.smallrumres.2012.04.005
Stepanenko, I. (2007). Invacionnye resheniya v oblasti mikrobiologicheskogo kontrolya na predpriyatiyah molochnoj promyshlennosti. PERERABOTKA MOLOKA, 3, 14 – 15.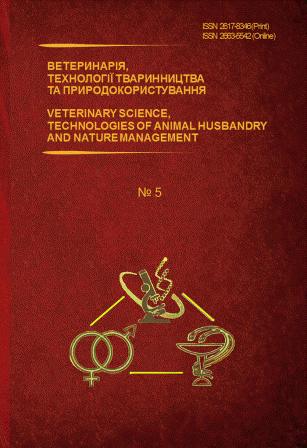 Переглядів анотації: 351 Завантажень PDF: 319
Як цитувати
Ryzhkova, T., Goncharova, I., & Heida, I. (2020). Порівняльна оцінка санітарно-бактеріологічних показників коров'ячого і козиного молока. Ветеринарія, технології тваринництва та природокористування, (5), 151-157. https://doi.org/10.31890/vttp.2020.05.27