Використання м΄ясної бельгійської блакитної породи худоби у промисловому схрещуванні в східному регіоні України
Ключові слова:
молочне скотарство, виробництво яловичини,промислове схрещування, ріст, розвиток, молодняк, м'ясна бельгійська блакитна порода, продуктивність
Анотація
У статті наведено результати досліджень щодо росту та розвитку помісного молодняку від промислового схрещування корів української чорно-рябої молочної та м'ясної бельгійської блакитної порід в умовах молочного господарства ДПДГ «Гонтарівка» Вовчанського району Харківської області.
Завантаження
##plugins.generic.usageStats.noStats##
Посилання
Artimonova, I. (2018). Justification of scripts of further development of agriculture in aspect of security of food safety. Bulletin of Agricultural Science, (96), 2, 72-80. DOI:10.31073/agrovisnyk201802-12 [in Ukrainian]
Chigrinov, Y., Kravchuk, O., Syromiatnykova, N., & Getmanets, O. (2018). Efficiency of mixed bulls growing in case of crossing cows of ukrainian red dairy breed with bulls of meat breeds. Veterinary Science, Technologies of Animal Husbandry and Nature Management, 2, 147-150. DOI:10.31890/vttp.2018.02.38 [in Ukrainian]
Cuvelier, C., Cabaraux, J., Dufrasne, I., & Clinquart, A. (2006). Performance, slaughter characteri stics and meat quality of young bulls from Belgian Blue, Limousin and Aberdeen Angus breeds fattened with a sugar beet pulp or a cereal - based diet. Animal Science,125-132. DOI: 10.1079/ASC20057
De Smet, S. (2004). Double-Muscled Animals. Encyclopedia of Meat Sciences. 396–402. DOI:10.1016/B0-12-464970-X/00260-9.
Dorotyuk, E. M. (2006). Myasne skotarstvo – dzherelo vysokoyakisnoyi yalovychyny ta shkiryanoyi syrovyny [Meat cattle breeding is a source of high quality beef and leather raw materials]. Xarkiv. Vydav.ZAT «Tyrazh 51» [in Ukrainian]
Gladiy, M., Polupan, Yu., Kostenko, А., Kovtun, S., Kuzebniy, S., Kopylov, K. … Rieznykova, N. (2018). Scientific and organizational problems of breeding, genetics and biogeotechnology in animal husbandry. Bulletin of Agricultural Science, (96), 11, 71-79. DOI: 10.31073/agrovisnyk201811-10 [in Ukrainian]
Gokirmakli, C., & Bayram, M. (2017). Future of meat industry. MOJ Food Process Technol., 5(1), 232-238. DOI:10.15406/mojfpt.2017.05.00117
Herring, A. (2014). Beef cattle production systems. Texas A & M University, College Station, Texas, USA. DOI: 10.1079/9781780645070.0001
Hladii, M., & Sychevskyi, M. (2018). Meat-processing industry of Ukraine in global food system. Bulletin of Agricultural Science, (96), 5, 5-11. DOI: 10.31073/agrovisnyk201805-01 [in Ukrainian]
Keadya, S. M., Watersa, S. M., Hamillb, R. M., Dunneb, P. G., Keanea, M. G., Richardsonc, R. I., Kennya, D. A., & Moloney, A. P. (2017). Compensatory growth in crossbred Aberdeen Angus and Belgian Blue steers: Effects on the colour, shear force and sensory characteristics of longissimus muscle. Meat Science, 125, 128-135. DOI: 10.1016/j.meatsci.2016.11.020
Kolisnyk, O. I., Prudnikov, V. G., & Kryvoruchko, Yu. I. (2018). Monitoring and evaluation of the meat diseases of the Aberdeen-Angus breed in Ukraine. Bulletin of Poltava State Agrarian Academy, 3, 127-130, DOI 10.31210/visnyk2018.03.19 [in Ukrainian]
Kriukova, L. (2018). Cherez yakisnu henetyku do vysokoi produktyvnosti. Tvarynnytstvo, veterynariia, 9, 46-49. [in Ukrainian]
Kunets, V. V., Kamyshan, N. V., Panchenko, O. M., & Pomitun, L. I. (2019). AGRICULTURAL MANUFACTURING OF THE EASTERN REGION OF UKRAINE RESOURCE POTENTIAL DEVELOPMENT. The Scientific and Technical Bulletin of the Institute of Animal Science NAAS of Ukraine, 122, 118-130. DOI: 10.32900/2312-8402-2019-122-118-130 [in Ukrainian]
Mirose, V. V., Zolotareva, S. A., Vasilets, V. G., Berestovaya, L. E., Kovtun, S.В. (2019). RATIONAL USE OF GENETIC RESOURCES ON THE EXAMPLE OF SIMMENTAL BREEDS OF CATTLE. The Scientific and Technical Bulletin of the Institute of Animal Science NAAS of Ukraine, 121, 163-170. DOI: 10.32900/2312-8402-2019-121-163-170 [in Ukrainian]
Prudnikov, V. H, Baranovskyi, D. I., Lysenko, H. L., Vasylieva, Yu. O., Fediaiev, V. A., Kolisnyk, O. I., Kryvoruchko, Yu. I., & Popova, V. O. (2015). Tekhnolohiia vyrobnytstva yalovychyny: navchalnyi posibnyk. Kharkiv. 256. [in Ukrainian]
Prudnikov, V. H., Kryvoruchko, Yu. I., & Kolisnyk, O. I. (2019). Gene pool of meat cattle in Ukraine. Bulletin of Poltava State Agrarian Academy, 1, 161 – 168. DOI: 10.31210/visnyk2019.01.15 [in Ukrainian]
Reznikova, Y. M. (2016). Comparative characteristics of ukrainian grey cattle and some specialized beef breeds by economically valuable traits. Animal Breeding and Genetics, 52, 221-227. DOI: 10.31073/abg.52.29 [in Ukrainian]
Tsukanova, M. (2019). Dynamics of growth, development and reproductive ability of heifers of different lines of the znamyansky type poliska meat breed. Veterinary science, technologies of animal husbandry and nature management, 3, 59 – 65. DOI: 10.31890/vttp.2019.03.09 [in Ukrainian]
Vdovychenko, Yu., Iovenko, V., Zharuk, L., Zharuk, P., Yakovchuk, V., Dudok, А. … Fursa, N. (2018). Priorities and scientific achievements in branch of animal husbandry of South of Ukraine. Bulletin of Agricultural Science, (96), 11, 100-112. DOI: 10.31073/agrovisnyk201811-14 [in Ukrainian]
Vlasova, K. (2015). Current Development of Meat - Processing Industry in Ukraine: Tendencies, Problems and Strategies for Solution. European Researcher, 98, 637-646. DOI: 10.13187/er.2015.98.637 [in Ukrainian]
Voitenko, S. L., Porkhun, M. G., Sydorenko, O. V., & Ilnytska, T. Y. (2019). GENETIC RESOURCES OF AGRICULTURAL ANIMALS OF UKRAINE AT THE BEGINNING OF THE THIRD MILLENNIUM. Animal Breeding and Genetics, 58, 110-119, DOI: 10.31073/abg.58.15 [in Ukrainian]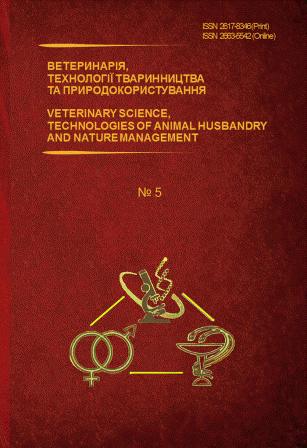 Переглядів анотації: 401 Завантажень PDF: 231
Як цитувати
Nosok, S., Kryvoruchko, Y., & Zandaryan, V. (2020). Використання м΄ясної бельгійської блакитної породи худоби у промисловому схрещуванні в східному регіоні України. Ветеринарія, технології тваринництва та природокористування, (5), 110-115. https://doi.org/10.31890/vttp.2020.05.20