Патоморфологічна характеристика інтестинальних патологій за генералізованого туберкульозу фазанів
L. M. Lyakhovich

Харківська державна зооветеринарна академія, Харків, Україна

https://orcid.org/0000-0003-4738-602X

A. U. Ulyanizka

Харківська державна зооветеринарна академія, Харків, Україна

https://orcid.org/0000-0003-2098-891X

A. V. Zakharyev

Національний фармацевтичний університет, Харків, Україна

https://orcid.org/0000-0002-5703-1073

L. O Logachova

Харьковская государственная зооветеринарная академия, Харьков, Украина

Z. M. Drebot

ВГУЗУ «Украинская медицинская стоматологическая академия», Полтава, Украина

https://orcid.org/0000-0002-2200-4059
Ключові слова:
фазани, туберкульоз птиці, кишечник, патоморфологічна характеристика
Анотація
Наведені дані патоморфологічного дослідження кишкової стінки фазанів за генералізованого туберкульозу. Діагностовано змішані форми кишкових туберкульозних пошкоджень (вузликово-вузлувато-виразкова, в т.ч., із цикатризацією та стенозом; вузликові – із абсцесоподібними екстра- та інтрамуральними утвореннями) та вузликова їх  моноформа.
Завантаження
##plugins.generic.usageStats.noStats##
Посилання
AbuAli, A. M., Mokhtar, D. M., Ali, R. A., Wassif, Е. Т. & Abdalla, К. Е. Н. (2019). Cellular elements in the developing caecum of Japanese quail (Coturnix coturnix japonica): morphological, morphometrical, immunohistochemical and electron-microscopic studies. Sci Rep 9, 16241. DOI:10.1038/s41598-019-52335-x
AL-Harbi, А., AL-Jahdali, Н., AL-Johani, S., Baharoon, S., Bin Salih, S., & Khan, М. (2016). Frequency and clinical significance of respiratory isolate s of non-tuberculous mycobacteria in Riyadh, Saudi Arabia. Clin Respir J, 10(2), 198-203. DOI: 10.1111/crj.12202
Álvarez, P.P., Moroni, M., & Verdugo, C. (2017). Avian tuberculosis in a Lady Amherst's pheasant Chrysolophus. Austral J. Vet. Sci., 49(3), 213-215. DOI: 10.4067/S0719-81322017000300213
Auguste, B. L., Patel, A. D, & Siemieniuk, R. A. (2018). Mycobacterium avium complex infection presenting as persistent ascites. CMAJ, 190(13), 394-397. DOI: 10.1503/cmaj.170823
Azar, М., Zimbric, М., Shedden, К., & Caverly, L. J. (2019). Distribution and outcomes of infection of Mycobacterium avium complex species in cystic fibrosis. J Cyst Fibros. DOI: 10.1016/j.jcf.2019.07.007
Bazzi, А. М., Abulhamayel, Y., Rabaan, А. А.,& Al-Tawfiq, J. A. (2020). The impact of the coexistence of mycobacterium avium with mycobacterium tuberculosis on the result of GeneXpert and MGIT susceptibility test. Journal of Infection and Public Health, 6, 827-829. DOI: 10.1016/j.jiph.2020.01.006
Bénard, A., Sakwa, I., Schierloh, P., Colom, A., Mercier, I., Tailleux, L. … Hudrisier, D. (2017). B cells producing type I interferon modulate macrophage polarization in tuberculosis. Am J Respir Crit Care Med, 197(6), 801-813. DOI: 10.1164/rccm.201707-1475OC
Berg, R. D., Levitte, S., O'Sullivan, M. P., O'Leary, S. M., Cambier, C. J., Cameron, J., ... Ramakrishnan, L. (2016). Lysosomal disorders drive susceptibility to tuberculosis by compromising macrophage migration. Cell. 165, 139–52. DOI:10.1016/j.cell.2016.02.034
Biasato, І., Ferrocino, І., Biasibetti, Е., Grego, Е., Dabbou, S., Sereno, А.,... Capucchio, М. Т. (2018). Modulation of intestinal microbiota, morphology and mucin composition by dietary insect meal inclusion in free-range chickens. BMC Veterinary Research, 14, 383. DOI: 10.1186/s12917-018-1690-y
Brighenti, S., Bergman, P., & Martineau, A. R. (2018). Vitamin D and tuberculosis: where next? (Review Symposium). J Intern Med, 284, 145–162. DOI: 10.1111/joim.12777
Butler, R. E., Smith, А. А., Mendum, Т. А., Chandran, А., Wu, Н., Lefrançois, L. … Stewart, G. R. (2020). Mycobacterium bovis uses the ESX-1 Type VII secretion system to escape predation by the soil-dwelling amoeba Dictyostelium discoideum. The ISME Journal. DOI: 10.1038/s41396-019-0572-z
Danelishvili, L., Rojony, R., Carson, K. L., Palmer, A. L., Rose, S.J. & Bermudez, L. E. (2018). Mycobacterium avium subsp. hominissuis effector MAVA5_06970 promotes rapid apoptosis in secondary-infected macrophages during cell-to-cell spread. Virulence, 9, 1, 1287-1300. DOI: 10.1080/21505594.2018.1504559
Dobin, M. A., & Kokurichev, P. I. (1963). Praktikum po veterinarnoy patologicheskoy anatomii i vskrytiyu. L.-M., Sel'khozizdat, 240. [in Russian]
Garcia-Marcos, P. W., Plaza-Fornieles, M., Menasalvas-Ruiz, A., Ruiz-Pruneda, R., Paredes-Reyes, P., & Miguelez, S. A. (2017). Risk factors of non-tuberculous mycobacterial lymphadenitis in children: a case-control study. Eur J Pediatr. 176(5), 607–613. DOI: 10.1007/s00431-017-2882-3
Goring, S. M., Wilson, J. B., Risebrough, N. R., Gallagher, J., Carroll, S., Heap, K. J., ... Diel, R. (2018). The cost of Mycobacterium avium complex lung disease in Canada, France, Germany, and the United Kingdom: a nationally representative observational study. BMC Health Serv Res, 18(1), 700. DOI: 10.1186/s12913-018-3489-8
Griffith, D. E., & Aksamit, T. R. (2018). Mycobacterium avium Complex and Bronchiectasis. There's Something Happening Here . . . Am. J. Respir. Crit. Care Med, 198(10), 1252-1253. DOI: 10.1164/rccm.201807-1243ED
Hattа, М., Tabrі, N. A., Muis, Е., & Safriadi, S. (2019). Intestinal tuberculosis: Case series of three patients. Respiratory Medicine Case Reports. 29, 100942. DOI: 10.1016/j.rmcr.2019.100942
Hwang, J. A., Kim, S., Jo, K. W., & Shim, TS. (2017). Natural history of Mycobacterium avium complex lung disease in untreated patients with stable course. Eur Respir J. 49(3), 1600537. DOI: 10.1183/13993003.00537-2016
Jaffré, J., Aubry, A., Maitre, T., Morel, F., Brossier, F., Robert, J., Sougakoff, W., Veziris, N. & CNR-MyRMA (Centre National de Référence des Mycobactéries et de la Résistance des Mycobactéries aux Antituberculeux). (2020). Rational Choice of Antibiotics and Media for Mycobacterium avium Complex Drug Susceptibility Testing. Front. Microbiol. 11, 81. DOI: 10.3389/fmicb.2020.00081
Kovtun, M. F., & Harchenko, L. P. (2005). Limfoidnyie obrazovaniya pischevaritelnoy trubki ptits: harakteristika i biologicheskoe znachenie. Vestnik zoologii, 39(6), 51–60. [in Russian]
Krajewska, М., Czujkowska, А., Weiner, М., Lipiec, М., & Szulowski, К. (2015). Avian tuberculosis in a captive cassowary (Casuarius casuarius). Bull Vet Inst Pulawy, 59, 483-487. DOI: 10.1515/bvip-2015-0072
Kreutz-Rodrigues, L., & Bakri, K. (2019). Tenosynovitis Due to Mycobacterium avium Complex. N Engl J Med, 381, 2461. DOI: 10.1056/NEJMicm1901520
Lande, L., Alexander, D. C., Wallace, R. J., Kwait, R., Iakhiaeva, Е., Williams, М. ... Falkinham, J. O. (2019). Mycobacterium avium in Community and Household Water, Suburban Philadelphia, Pennsylvania, USA, 2010–2012. EID Journal, 25(3). DOI: 10.3201/eid2503.180336
Lande, L., George, J., & Plush, T. (2018). Mycobacterium avium complex pulmonary disease: new epidemiology and management concepts. Curr. Opin. Infect. Dis, 31(2), 199-207. DOI: 10.1097/QCO.0000000000000437
Ledwoń, A., Augustynowicz-Kopeć, E., Parniewski, P., Bonecka, J., Ostrzeszewicz M., Dolka, B., & Szeleszczuk, P. (2018). Mycobacteriosis in peafowl: Analysis of four cases. Med. Weter,74(12), 772-776. DOI: 10.21521/mw.6001
Ledwoń, A., Napiórkowska, A., Augustynowicz-Kopeć, E., & Szeleszczuk, P. (2018). Drug Susceptibility of Non-tuberculous Strains of Mycobacterium Isolated from Birds from Poland. Polish Journal of Microbiology, 67(4), 487-492. DOI: 10.21307/pjm-2018-057
Liakhovych, L., Shchetynskyi, I., Zakhariev, A., Ulianytska, A., Martiemianova, A., & Tkachova, K. (2018). Tuberkuloz fazaniv ta pavychiv: aspekty tanatohenezu. Veterynariia, tekhnolohii tvarynnytstva ta pryrodokorystuvannia, (2), 56-58. DOI:10.31890/vttp.2018.02.08 [inUkrainian]
Liakhovych, L., Shchetynskyi, I., Zakhariev, A., Ulianytska, A., Martiemianova, A., Lyulin, P., & Kostyuk, I. (2019). Heparalni patolohii za tuberculosu fasaniv: patomorfolohichnyi analiz. Veterynariia, tekhnolohii tvarynnytstva ta pryrodokorystuvannia. (3), 37-45. DOI: 10.31890/vttp.2019.03.06 [in Ukrainian]
Mabelebele, M., Norris, D., Brown, D., Ginindza, M. M., & Ngambi, J.W. (2017). Breed and Sex Differences in the Gross Anatomy, Digesta pH and Histomorphology of the Gastrointestinal Tract of Gallus Gallus Domesticus. Brazilian Journal of Poultry Science. Revista Brasileira de Ciência Avícola 19(2), 339-346. DOI: 10.1590/1806-9061-2016-0275
Mahmud, M. A., Shaba, P., Shehu, S. A., & DAbdussalam, W. (2015). Gross morphological and Morphometric Studies on Digestive Tracts of Three Nigerian Indigenous Genotypes of Chicken with Special Reference to sexual Dimorphism. J. World's Poult. Res, 5(2), 32-41. Retrieved from http://jwpr.science-line.com
Mitrushkina, V. I., Smerdin, S.V., Stavitskaya, N.V., Lapyreva, I. A., & Lazebny, S.V. (2019). Klinicheskoe nablyudenie porazheniya kozhi Mycobacterium avium u bolnogo tuberkulezom organov dyihaniya. Vestnik dermatologii i venerologii, 95(6), 61-67. DOI: 10.25208/0042-4609-2019-95-6-61-67 [in Russian]
Mohar, S. M., Saeed, S., Ramcharan, A., & Depaz, H. (2017). Small bowel obstruction due to mesenteric abscess caused by Mycobacterium avium complex in an HIV patient: a case report and literature review. Journal of Surgical Case Reports, 7. DOI: 10.1093/jscr/rjx129
Ndlovu, H., & Marakalala, M. J. (2016). Granulomas and Inflammation: Host-Directed Therapies for Tuberculosis. Front. Immunol., 24. DOI: 10.3389/fimmu.2016.00434
Olmedo-Reneaum, А., Molina-Jaimes, А., Conde-Vazquez, Е., & Montero-Vazquez, S. (2020). Rosai-Dorfman disease and superinfection due to Salmonella enterica and Mycobacterium avium complex in a patient living with HIV. IDCases, 19, e00698. DOI: 10.1016/j.idcr.2020.e00698
Oshitani, Y., Kitada, S., Edahiro, R., Tsujino, К, Kagawa, Н., Yoshimura, К. ... & Kida, Н. (2020). Characteristic chest CT findings for progressive cavities in Mycobacterium avium complex pulmonary disease: a retrospective cohort study. Respir Res, 21, 10. DOI:10.1186/s12931-020-1273-x
Pagán, A. J., Yang, C.-T., Cameron, J., Swaim, L. E., Ellett, F., Lieschke, G. J., & Ramakrishnan, L. (2015). Myeloid Growth Factors Promote Resistance to Mycobacterial Infection by Curtailing Granuloma Necrosis through Macrophage Replenishment. Cell Host Microbe, 18(1), 15–26. DOI: 10.1016/j.chom.2015.06.008
Pandit, K., Dhote, B. S., Mahanta, D., Sathapathy, S., Tamilselvan, S., Mrigesh, М. & Mishra, S. (2018). Gross and Ultra-Structural Studies on the Large Intestine of Uttara Fowl. Int. J. Curr. Microbiol. App. Sci, 7(3), 1464-1476. DOI:10.20546/ijcmas.2018.703.175
Parisa, B., Khojaste, B., & Mahdi, S. (2019). Morpho-histology of the alimentary canal of pheasant (Phasianus colchicus). Onl J Vet Res, 23(6), 615-627.
Parvandar, K., Mayahi, M., Mosavari, N., & Pajoohi, R. (2015). Drug susceptibility testing of Mycobacterium avium subsp. avium isolates from naturally infected domestic pigeons to avian tuberculosis. Iran J Microbiol, 7(5), 260–264.
Polaček V., & Aleksić-Kovačević, S. (2016). Mycobacteriosis in pigs – an underrated threat. Acta Veterinaria-Beograd, 66(4), 429-443. DOI: 10.1515/acve-2016-0037
Rivas, A. E., Hollinger, C., Oehler, D. A., Robbe-Austerman, S, & Paré, J. A. (2019). Diagnosis and management of mycobacteriosis in a colony of little penguins (Eudyptula minor). Journal of Zoo and Wildlife Medicine, 50(2), 427-436. DOI: 10.1638/2018-0190
Rivero-Perez, N., Ocampo-López, J., Valladares-Carranza, B., de Anda, F. R., Jiménez, F. J., Juárez, V. M., & Zaragoza-Bastida, A. (2020). Molecular isolation and identification of Mycobacterium avium subsp. hominissuis in Didelphis virginiana from Hidalgo, Mexico. Asian Pac J Trop Med, 13, 131-6. http://www.apjtm.org/text.asp?2020/13/3/131/278098
Sahu, K. K., Mishra, A. K., Lal, A., & Abraham, G. M. (2020). Mycobacterium Avium complex: A rare cause of pancytopenia in HIV infection. J Microsc Ultrastruct, 8, 27-30. http://www.jmau.org/text.asp?2020/8/1/27/271971
Slany, M., Ulmann, V., & Slana, I. (2016). Avian mycobacteriosis: still existing threat to humans. Biomed Res Int, 4387461. DOI: 10.1155/2016/4387461
Srivastava, V., Dahiya, A., Singh, S. V., & Kulshreshtha, S. (2017). Diagnostic approaches to avian tuberculosis. World's Poultry Science Journal, 73(4), 857-871. DOI: 10.1017/S0043933917000836
Taira, N., Kawasaki, H., Takahara, S., Chibana, K., Atsumi, E., & Kawabata T. (2018). The Presence of Coexisting Lung Cancer and Non-Tuberculous Mycobacterium in a Solitary Mass. Am J Case Rep, 26(19), 748-751. DOI: 10.12659/AJCR.908090
Todoriko, L. D., & Shevchenko, O. S. (2016). Suchasni aspekty lehenevoho mikobakteriozu (analitychnyi ohliad). Aktualnaia ynfektolohyia, 4(13), 13-21. DOI: 10.22141/2312-413x.4.13.2016.91449. [in Ukrainian]
Tzou, C. L., Dirac, M. A., Becker, A. L., Beck, N. K., Weigel, K. M., Meschke, J. S., & Cangelosi, G. A. (2020). Association between Mycobacterium avium Complex Pulmonary Disease and Mycobacteria in Home Water and Soil. Ann Am Thorac Soc, 17(1), 57-62. DOI: 10.1513/AnnalsATS.201812-915OC
Udoumoh, A. F., Igwebuike, U. M., & Ugwuoke, W. I. (2016). Morphological features of the distal ileum and ceca of the common pigeon (Columba livia). J Exp Clin Anat, 15, 27-30. DOI: 10.4103/1596-2393.190827
Vlachogianni, P., Volosyraki, M., Stefanidou, M., Krueger-Krasagakis, S., Evangelou, G., Haniotis. V. ... Krasagakis, K. (2016). Mycobacterium Avium Auricular Infection in an Apparent Immunocompetent Patient: a Case Report. Folia Medica, 58(2), 131-135. DOI: 10.1515/folmed-2016-0012
Whiteside, М. А., van Horik, J. O., Langley, E. J. G., Beardsworth, C. E., & Madden, J. R. (2018). Size dimorphism and sexual segregation in pheasants: tests of three competing hypotheses. PeerJ, 6, e5674. DOI: 10.7717/peerj.5674
Wilkinson, N., Dinev, I., Aspden, W. J., Hughes, R. J., Christiansen, I., Chapman, J., ... Stanley, D. (2018). Ultrastructure of the gastro intestinal tract of healthy Japanese quail (Coturnix japonica) using light and scanning electron microscopy. Animal Nutrition, 4(4), 378-387. DOI: 10.1016/j.aninu.2018.06.006
Yatsenko, I. V., Bohatko, N. M., Biben, I. A., Busol, L. V., Binkevych,V. Ia., Zazharska, N. M. ... Kyrychenko, V. M. (2015). Atlas veterynarno-sanitarnoho inspektuvannia produktiv zaboiu tvaryn. Kharkiv : RVV Kharkivskoi derzhavnoi zooveterynarnoi akademii, 274-276. [in Ukrainian]
Zikovitz, Е., Andrea, J., Bicknese, E., & Pye, W. (2018). Resolution of a Localized Granuloma Caused by Mycobacterium avium-intracellulare Complex on the Cere of a Bruce's Green Pigeon (Treron waalia). Journal of Avian Medicine and Surgery, 32(4), 322-327. DOI: 10.1647/2016-218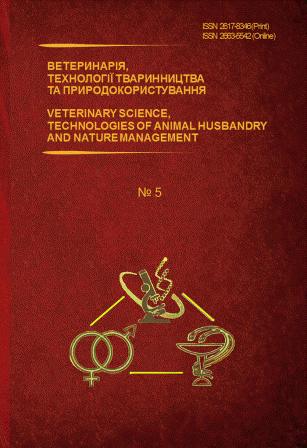 Переглядів анотації: 540 Завантажень PDF: 328
Як цитувати
Lyakhovich, L., Ulyanizka, A., Zakharyev, A., Logachova, L., & Drebot, Z. (2020). Патоморфологічна характеристика інтестинальних патологій за генералізованого туберкульозу фазанів. Ветеринарія, технології тваринництва та природокористування, (5), 85-90. https://doi.org/10.31890/vttp.2020.05.16