Вплив абіотичних факторів на життєздатність і розвиток екзогенних стадій – ооцист еймерій птахів
Ключові слова:
кури, ооцисти еймерій, абіотичні фактори
Анотація
Наведені результати експерементальних досліджень in vitro впливу абіотичних факторів (тумператури, вологості) на розвиток і життєздатність ооцист еймерій курей. При знижені вологості фекалій на 31,97% ± 1,24% та 41,67 ± 0,47% гине відповідно від 65,8 ± 0,7 до 80,6 ± 0,9% ооцист еймерій, а при втратах вологи 65,48 ± 1,35% и 70,9 ± 1,2% гинее від 91,4 ± 0,7% до 100% ооцист еймерій.
Завантаження
##plugins.generic.usageStats.noStats##
Посилання
Ahmadab, T. A., El-Sayed, B. A., & El-Sayed, L. H. (2016). Development of immunization trials against Eimeria spp. Trials in Vaccinology, 5, 53-60. DOI: 10.1016/j.trivac.2016.02.001
Dantán-González, E., Quiroz-Castañeda, R, E., Cobaxin-Cárdenas, M., Valle-Hernández, J., Gama-Martínez, Y., Tinoco-Valencia, J. R., Serrano-Carreón, L., & Ortiz-Hernández, L. (2015). Impact of Meyerozyma guilliermondii isolated from chickens against Eimeria sp. protozoan, an in vitro analysis. BMC Veterinary Research,11(1), 1-11. DOI: 10.1186/s12917- 015-0589-0
Dovidnyk likaria veterynarnoi medytsyny. (2004). Kyiv : Urozhai.
Dubey, J. P., & Jenkins, M. C. (2018). Re-evaluation of the life cycle of Eimeria maxima Tyzzer, 1929 in chickens (Gallus domesticus). Parasitology, 145(8) 1051-1058. DOI: 10.1017/S0031182017002153
Great, E. A. M., Henken, A. M., Ploeger, H. W., Noordhuizen, J. P. T. M., & Vertommen, M. H. (1994). Rate and course of sporulation of oocysts of Eimeria acervulina under different environmental conditions. Parasitology, 108(5), 497-502. DOI: 10.1017/s0031182000077350
Haug, A., Gjevre, A. G., Thebo, P., Mattsson, J. G., & Kaldhusdal, M. (2008). Coccidial infections in commercial broilers: epidemiological aspects and comparison of Eimeria species identification by morphometric and polymerase chain reaction techniques. Avian Pathology, 37, 161-170. DOI: 10.1080/03079450801915130
Kirillov, A. I., & Kadnikova, G. F. (1988). Chemicals for the destruction of oocysts of coccidia of hens in the environment and assessment of their coccidia activity. Modern means and methods of combating infectious diseases of agricultural birds, 103-108. [in Ukrainian]
Kociumbas, I. Y., Sergienko, O. I., & Kovalchik, L. M. (2010). Suchasni zasoby veterynarnoi dezinfekcii [Modern veterinary disinfection]. Veterynarna medycyna Ukrainy, 1, 36-38 [in Ukrainian]
Kovalenko, V. L., Yakubchak, O. M., Adamenko, L. V., & Yaschenko, M. F. (2010). Veterynarna dezinfektsiya. Instruktsiya ta metodychni rekomendatsiy [Veterinary disinfection. Instruction and methodical recommendations]. Kiev: Bioprom [in Ukrainian]
Mai, K, Sharman, P. A., Walker, R. A., Katrib, M., Souza, D., McConville, … Smith, N. C. (2009). Oocyst wall formation and composition in coccidian parasites. Memórias do Instituto Oswaldo Cruz, 104(2), 281-289. DOI: 10.1590/S0074-02762009000200022
Marshalkina, T. V., Zaikina, H. V., & Kovalenko, I. I. (2010). Monitorynh invaziinykh khvorob sviiskoi ptytsi v hospodarstvakh Stepovoi zony Ukrainy. Mizhvidomchyi tematychnyi medytsyna, 93, 271-275. [in Ukrainian]
Paliy, A. P., & Zavhorodnii, A. I. (2011). Suchasni problemy dezinfektolohii ta shliakhy yikh vyrishennia [Modern problems of disinfectology and ways of their solution]. Naukovyi visnyk Luhanskoho natsionalnoho ahrarnoho universytetu. Seriia: Veterynarni nauky – Scientific herald of the Lugansk National Agrarian University. Series: Veterinary Science, 31, 110-113. [in Ukrainian]
Paliy, A. P., Ishchenko, K. V., Marchenko, M. V., Paliy, A. P. & Dubin, R. A. (2018). Effectiveness of aldehyde disinfectant against the causative agents of tuberculosis in domestic animals and birds. Ukrainian Journal of Ecology, 2018, 8(1), 845–850. DOI: 10.15421/2018_283
Paliy, A. P., Zavgorodniy, A. I., Stegniy, B. T., & Gerilovych, A. P. (2015). 'A study of the efficiency of modern domestic disinfectants in the system of TB control activities'. Agricultural Science and Practice, 2(2), 26-31. DOI: 10.15407/ agrisp2.02.026
Polyakov, A. A. (1960). Veterinarnaya dezinfektsiya [Veterinary disinfection]. Moscow: Stäte publishing house of agricultural literature [in Russian]
Quiroz-Castañeda, R. E., & Dantán-González, E. (2015). Control of avian coccidiosis: Future and present natural alternatives. BioMed Research International, 11. Article ID: 430610. DOI: 10.1155/2015/430610
Remmal, A., Achahbar, S., Bouddine, L., Chami, F., & Chami, N. (2013). Oocysticidal effect of essential oil components against chicken Eimeria oocysts. International Journal of Veterinary Sciences and Medicine, Article ID: 599816. DOI: 10.5171/2013.599816
Wallach, M., Smith, N. C., Petracca, M., Miller, C.,M.,D., Eckert, J., & Braun, R. (1995). Eimeria maxima gametocyte antigens: Potential use in a subunit maternal vaccine against coccidiosis in chickens. Vaccine, 13(4), 347-354. Retrieved from http://www.sciencedirect.com/science/article/pii/0264410X95982559
Williams, R. B. (2002). Anticoccidial vaccines for broiler chickens: Pathways to success. Avian Pathology, 1, 31(4), 317-353. DOI: 10.1080/ 03079450220148988
Yatusevich, A. I. (1992). Recommendations for the fight against eimeriosis and isosporosis of animals. Moskva.
Zavgorodniy, A. I., Pavlenko, S. V., & Lutsenko, L. (2005). Testing and application of disinfection and disinfestation in veterinary medicine.
Zavgorodniy, A. I., Stegniy, B. T. & Paliy, A. P. (2013). Naukovi ta praktychni aspekty dezinfektsii u veterinarniy medytsyni [Scientific and practical aspects of disinfection in veterinary medicine]. Kharkiv: FOP O.V. Brovin. [in Ukrainian]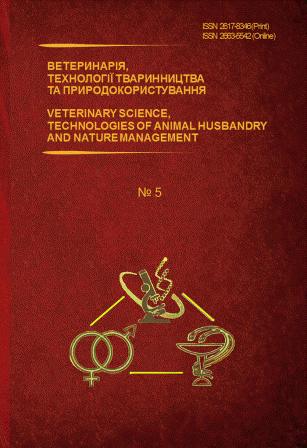 Переглядів анотації: 478 Завантажень PDF: 260
Як цитувати
Lulin, P. (2020). Вплив абіотичних факторів на життєздатність і розвиток екзогенних стадій – ооцист еймерій птахів. Ветеринарія, технології тваринництва та природокористування, (5), 81-84. https://doi.org/10.31890/vttp.2020.05.15