Діагностика дерматофітозів домашніх тварин у м. Запоріжжя
Ключові слова:
домашні тварини, дерматофітози, методи діагностики
Анотація
Хворі на дерматофітози тварини становлять не лише епізоотичну небезпеку, але й порушують епідеміологічний спокій та загрожують біобезпеці довкілля. Система існуючих протиепізоотичних заходів щодо дерматофітозів не може викорінити трихофітію і мікроспорію дрібних домашніх тварин. Суттєві недоліки мають і традиційні методи діагностики дерматофітозів, особливо в умовах клінік ветеринарної медицини.
Протягом 2019 року у м. Запоріжжя нами було досліджено на дерматофітози понад 160 голів котів та собак, у тому числі 59 голів - з позитивним результатом. Використовуючи культуральний метод з вирощуванням збудників на селективному середовищі DSM Dermakit та метод прямої мікроскопії, ми не лише підтверджували діагноз на мікози і встановлювали видову належність збудників, але й виключали лишаї у випадках дермальних патологій не встановленого генезу.
Завантаження
##plugins.generic.usageStats.noStats##
Посилання
Boehm, T. M. S. A., & Mueller, R. S. (2019). Dermatophytosis in dogs and cats - an update. Tierarztl Prax Ausg K Kleintiere Heimtiere, 47(4), 257-268. DOI: 10.1055/a-0969-1446
Chung, T. H., Park, G. B., Lim, C. Y., Park, H. M., Choi, G. C., Youn, H. Y., Chae, J. S., & Hwang, C. Y. (2010). A rapid molecular method for diagnosing epidemic dermatophytosis in a racehorse facility. Equine Veterinary Journal, 42, 73-78. DOI:10.2746/042516409X475337
Dong, C., Angus, J., Scarampella, F., & Neradilek, M. (2016). Evaluation of dermoscopy in the diagnosis of naturally occurring dermatophytosis in cats. Vet Dermatol., 27(4), 275-e65. DOI: 10.1111/vde.12333
Favrot, C., Steffan, J., Seewald, W., & Picco, F. (2010). A prospective study on the clinical features of chronic canine atopic dermatitis and its diagnosis. Veterinary Dermatology, 21: 23-31. DOI: 10.1111/j.1365 -3164. 2009.00758.x
Hill, P. B., Lo, A., Eden, C. A., Huntley, S., Morey, V., Ramsey, S., Richardson, C., Smith, D. J., Sutton, C., Taylor, M. D., Thorpe, E., Tidmarsh, R., & Williams, V. (2006). Survey of the prevalence, diagnosis and treatment of dermatological conditions in small animals in general practice. Vet Rec., 22, 158(16), 533-539. DOI: 10.1136/vr.158.16.533
Hobi, S., Linek, M., Marignac, G., Olivry, T., Beco, L., Nett, C., Fontaine, J., Roosje, P., Bergvall, K., Belova, S., Koebrich, S., Pin, D., Kovalik, M., Meury, S., Wilhelm, S., & Favrot, C. (2011). Clinical characteristics and causes of pruritus in cats: a multicentre study on feline hyper- sensitivity-associated dermatoses. Vet Dermatology, 22, 406–413.
Jacobson, L.S., McIntyre, L., & Mykusz, J. (2018). Comparison of real-time PCR with fungal culture for the diagnosis of Microsporum canis dermatophytosis in shelter cats: a field study. J Feline Med Surg., 20(2), 103-107. DOI: 10.1177/1098612X17695899
Łagowski, D., Gnat, S., Nowakiewicz, A., Osińska, M., & Zięba, P. (2019). The prevalence of symptomatic dermatophytoses in dogs and cats and the pathomechanism of dermatophyte infections. Postępy Mikrobiologii - Advancements of Microbiology, 58(2), 165-176. DOI: 10.21307/PM-2019.58.2.165
Marsella, R., Ahrens, K., Wilkes, R., Trujillo, A., & Dorr, M. (2020). Comparison of various treatment options for canine atopic dermatitis: a blinded, randomized, controlled study in a colony of research atopic beagle dogs. Vet Dermatol. DOI: 10.1111/vde.12849
Meason Smith, C., Diesel, A., Patterson, A. P., Older, C. E., Johnson, T. J., Mansell, J. M., Suchodolski, J. S., & Rodrigues Hoffmann, A. (2017). Characterization of the cutaneous mycobiota in healthy and allergic cats using next generation sequencing. Vet Dermatol, 28: 71-e17. DOI: 10. 1111/vde.12373
Moriello, K. (2019). Dermatophytosis in cats and dogs: a practical guide to diagnosis and treatment. In Practice, 41(4), 138-147. DOI:10.1136/inp.l1539
Moriello, K. A., Coyner, K., Paterson, S. & Mignon, B. (2017). Diagnosis and treatment of dermatophytosis in dogs and cats. Vet Dermatol, 28, 266-268. DOI:10.1111/vde.12440
Peano, A. (2019). Dermatophytosis of the dog and cat: Old and new diagnostic tools. Veterinaria, 33(3), 125-139.
Rodrigues Hoffmann A, Patterson A P, Diesel A, Lawhon S D, Ly H J, Stephenson, C.E., … Suchodolski, J. S. (2014). The Skin Microbiome in Healthy and Allergic Dogs. Plos one, 9(1), e83197. DOI: 10.1371/journal.pone.0083197
Russell, E. B., & Courtman, N. F. (2019). Unique cytologic and histologic features of a suspected cutaneous xanthoma in a dog. Veterinary Clinical Pathology, 48 (4), 716-720. DOI: 10.1111/vcp.12804
Scarampella, F., Zanna,G., & Peano, A. (2016). Dermoscopic features in canine dermatophytosis: some preliminary observations. Veterinary Dermatology, 28 (2), 255-256. DOI: 10.1111/vde.12407
Shin, J. H., Sung, J. H., Park, S. J., Kim, J. A., Lee, J. H., Lee, D. Y., Lee, E. S., & Yang, J. M. (2003). Species identification and strain differentiation of dermatophyte fungi using polymerase chain reaction amplification and restriction enzyme analysis. J. Am. Acad. Dermatol., 48 (6), 857-65. DOI: 10.1067/mjd.2003.491
Spesso, M. F., Nuncira, C. T., Burstein, V. L., Masih, D. T., Dib, M. D., & Chiapello, L. S. (2013). Microsatellite-primed PCR and random primer amplification polymorphic DNA for the identification and epidemiology of dermatophytes. Eur. J Clin. Microbiol. Infect. Dis., 32, 1009–1015. DOI: 10.1007/s10096-013-1839-3
Tartor, Y. H., El Damaty, H. M., & Mahmmod, Y. S. (2016). Diagnostic performance of molecular and conventional methods for identification of dermatophyte species from clinically infected Arabian horses in Egypt. Veterinary Dermatology, 27, 5, 401-e 102. DOI: 10.1111 /vde.12372
Vogelnest, L. (2001). Cutaneous xanthomas with concurrent demodicosis and dermatophytosis in a cat. Aust. Vet J., 79, 470–475. DOI: 10.1111/j.1751-0813.2001. tb13015.x
Yamada, S., Anzawa, K., & Mochizuki, T. (2019). An Epidemiological Study of Feline and Canine Dermatophytoses in Japan. Med Mycol J., 60 (2), 39-44. DOI: 10.3314/mmj.19.001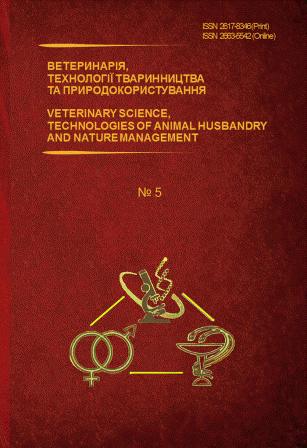 Переглядів анотації: 501 Завантажень PDF: 283
Як цитувати
Ivanchenko, I., Severyn, R., & M. I. Chupryna, M. (2020). Діагностика дерматофітозів домашніх тварин у м. Запоріжжя. Ветеринарія, технології тваринництва та природокористування, (5), 55-59. https://doi.org/10.31890/vttp.2020.05.10