Ідентифікація м'яса забійних тварин за експресними методиками
Ключові слова:
яловичина, свинина, баранина, козлятина, якість, безпечність, ідентифікація, інтенсивність кольору, пігменти, еластин
Анотація
Встановлено ідентифікацію м'яса забійних тварин (яловичини, свинини, баранини, козлятини) при використанні експресних методик за інтенсивністю кольору (вірогідність методу 99,0–99,6 %), за вмістом пігментів (вірогідність методу 98,5–99,6 %) фотометричними методами та за вмістом еластину (вірогідність методу 98,9 %). Встановлені показники інтенсивності кольору, загальнго вмісту пігментів, вмісту еластину у м'ясі забійних тварин за експресними методиками можна застосовувати за ветеринарно-санітарного інспектування м'яса забійних тварин – яловичини, свинини, баранини і козлятини для підтвердження їх якості та безпечності, а також видової та вікової належності на усьому харчовому ланцюзі від виробництва, зберігання до реалізації.
Завантаження
##plugins.generic.usageStats.noStats##
Посилання
Aida, A. A, Che Man, Y. B, Wong, CMVL, Raha, A. R., & Son, R. (2005). Analysis of raw meats and fats of pigs using polymerasechain reaction for Halal authentication. Meat Science, 69, 47–52. DOI : 10.1016/j.meatsci.2004.06.020
Aksu, M. I., Kaya, M., & Ockerman, H. W. (2005). Effect of modified atmosphere packaging and temperature on the shelf life of sliced pastirma produced from frozen/thawed meat. Journal of Muscle Foods, 16 (3), 192–206. DOI: 10.1111 / j.1745-4573.2005.08404.x
Alahakoon, A. U., Faridnia, F., Bremer, P. J., Silcock, P., & Oey, I. (2016). Pulsed electric fields on meat tissue quality and functionality. Handbook of Electroporation. 21 p. DOI:10.1007/978-3-319-26779-1_179-1.
Amaral, J., Meira, L., Oliveira, M., & Mafra, I. (2016). Advances in authenticity testing for meat speciation. Advances in Food Authenticity Testing, 369–403. Retrieved from https://repositorio-aberto.up.pt/bitstream/10216/111141/2/257827.pdf.
Bohatko, N. M. (2019). Identyfikatsiia m'iasa zabiinykh tvaryn za rozroblenymy ekspresnymy metodykamy: naukovo-metodychni rekomendatsii. Bila Tserkva. 26. [in Ukrainian].
Carr, C. C., Scheffer, J. M., & Johnson, D. D. (2017). Categori sing processing via the meat science lexicon. Animal Frontiers, 7 (4), 19–24. DOI: 10.2527/af.2017.0438
Dubost, А., Micol, D., Meunier, В., Lethias, С., & Listrat, А. (2013). Relationships between structural characteristics of bovine intramuscular connective tissue assessed by image analysis and collagen and proteoglycan content. Meat Science, 93 (3), 378–386. DOI: 10.1016/j.meatsci.2012.09.020
Egan, A. F., Eustace, I. J., & Shay, B. J. (1988). Meat packaging-maintaining the quality and prolonging the storage life of chilled beef, pork and lamb. In Proceedings of Industry Day: 34th International Congress of the Meat Science and Technology, 68–75, Brisbane, Australia, August 1988. Retrieved from http://hdl.handle.net/102.100.100/264777?index=1
Faustman, C., Sun, Q. R., Mancini, R., & Suman, S. P. (2010). Myoglobin and lipid oxidation interactions: mechanistic bases and control. Meat Science, 86 (1), 86–94. DOI: 10.1016 / j.meatsci.2010.04.025
Herman, B. L. (2001). Determination of the animal origin of raw food by-species-specific PCR. J. Dairy Res, 68, 429–436. DOI: 10.1017/S0022029901004940
Koppel, R., Zimmerli, F., & Breitenmoser, A. (2009). Heptaplex real-time PCR for the identification and quantification of DNA from beef, pork, chicken, turkey, horsemeat, sheep and goat. European Food Res. Technol, 230, 125–133. DOI: 10.1007/s00217-009-1154-5
La Neve, F., Civera, T., Mucci, N., & Bottero, M. T. (2008). Authentication of meat fromgame and domestic species by Sna P shot mini sequencing analysis. Meat Science, 80, 216–224. DOI: 10.1016/j.meatsci.2007.11.027
Listrat, A., Lebret, B., Louveau, I., Astrus, T. & Bugeon, J. (2016). How muscle structure and composition influence meat and flesh quality. The Scientific World Journal, 39. 14 p. DOI: 10/1155/2016/3182746
Ma, Q., Hamid, N., Oey, I., Kantono, K., Faridnia, F., Yoo, M., & Farouk, M. (2016). Effect of chilled and freezing pre-treatments prior to pulsed electric field processing on volatile profile and sensory attributes of cooked lamb meats. Innovative Food Sci Emerg Technol. DOI:10.1016/j.ifset.2016.04.009
Manning, L. & Soon, J. (2014). Developing systems to control food adulteration. Food Policy, 49 (1), 23–32. DOI: 10.1016/j.foodpol.2014.06.005
Matsunaga, T., Chikuni, K., Tanabe, R., Muroya, S., Nakai, H., Shibata, K., Yamada, J., & Shinmura, Y. (1998). Determination of mitochondrial cytochrome b gene sequence for red deer (Cervuseleaphus) and differentiation of closely relateddeer meats. J. Meat Sci, 49 (4), 379–385. DOI: 10.1016/S0309-1740(97)00145-9
Mayada, R. Farag, Khlood, M. El Bohi, Samah, R. Khalil, Mahmoud, Alagawany & Kuldeep, Dhama (2020). Forensic applications of mitochondrial cytochrome B in the identification of domestic and wild animal species. J. of Experimental Biology and Agricultural Sciences. 8 (1),1–8. DOI: 10,18006 / 2019,8 (1).1.8
Mayada, Ragab Faкag, Mahmoud, Alagawany, MohaMed, Ezzat Abd El-Hack, Ruchi, Tiwari, & Kuldeep, Dhama (2015). Identification of different аnimal species in meat and meat products: trends and advances. Advances in Animal and Veterinary Sciences, 3 (6), 334–346. DOI: 10.14737/journal.aavs/2015/3.6.334.346
Milios, K., Drosionos, E., & Zoiopoulos, P. (2012). Factors influencing HACCP implementation in the food industry. Journal of Hellenic Veterinary Medical Society, 63, 283–290. DOI: 10.12681/jhvms.15442
Monohan, F. J., Schmidt, O., & Moloney, A. P. (2018). Meat provenance: Authentication of geographical origin and dietary background of meat. Meat science, 144, 2–14. DOI: 10.1016/j.meatsci.2018/05/008
Montowska, M., & Pospiech, E. (2012). Myosin light chain isoformsretain theispecies-specific electrophoretic mobility afterprocessing, which enabledifferentiation between six species :2-DE analysis of minced meat and meaproducts made frombeef, pork and poultry. Proteomics, 12, 2879–2889. DOI: 10.1002/pmic.201200043
Muela, E. I., Sañudo, C., Campo M. M., Medel, I., & Beltrán, J. A (2012). Effect of freezing method and frozen storage duration on lamb sensory quality. Meat Science, 90 (1), 209–215. DOI: 10.1016/j.meatsci.2011.07.003
Partis, L., Croan, D., Guo, Z., Clark, R., Coldham, T., & Murby, J. (2000). Evaluation of a DNA fingerprinting method for determining the species origin of meats. Meat Science, 54, 369–376. DOI: 10.1016/S0309-1740(99)00112-6
Peter, C., Brunen-Nieweler, C., Cammann, K., & Borchers, T. (2004). Differentiation of animal species in food by oligonucleotide microarray hybridization. Euro. Food Res. Technol. 21, 286–293. DOI: 10.1007/s00217-004-0958-6
Pravyla peredzabiinoho veterynarnoho ohliadu tvaryn i veterynarno-sanitarnoi ekspertyzy m'iasa ta m'iasoproduktiv, zatverdzheni nakazom Holovy Derzhdepartamentu veterynarnoi medytsynyza №28 vid 7.06. 2002 r. Ta zareiestrovani v Miniusti Ukrainy 21.06. 2002 r. za №524/6812. zakon.rada.gov.ua/laws/show/z0524-02. [in Ukrainian]
Realini, С.Е., Vénien, А., Gou, Р. et al. (2013). Characterization of Longissimus thoracis, Semitendinosus and Masseter muscles and relationships with technological quality in pigs. Meat Science, 94 (3), 408–416.
Renyu, Zhang, Michelle, J.Y. Yoo, & Farouk, Mustafa M. (2019). Quality and acceptability of fresh and long-term frozen in-bag dry-aged lean bull beef. Journal of Food Quality, Vol. 2019, Article ID 1975264, 15 p. DOI: 10.1155/2019/1975264
Stibel', V., & Sіmonov, M. (2018). Upravlіnnja bezpechnіstju produktіv harchuvannja: praktichnij posіbnik. L'vіv, Tzov: Galic'ka vidavnicha spіlka, 230. [in Ukrainian]
Yatsenko, I. V., Binkevych, V. Ya., & Mykytyn, L. Ye. (2015). Kharchova tsinnist baranyny, yak perspektyvnoho ta neobkhidnoho produktu kharchuvannia. Problemy zooinzhenerii ta veterynarnoi medytsyny, 30 (2), 276–280. Retrieved from http://nbuv.gov.ua/UJRN/pzvm_2015_30(2)__71. [in Ukrainian]
Zasiekin, D. A. (2011). Fizyko-khimichni ta biokhimichni osnovy prerobky m′iasa: navchalnyi posibnyk. Kyiv: ТОV «NVP INTERSRVIS», 16
[in Ukrainian]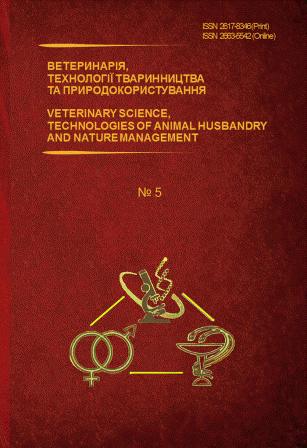 Переглядів анотації: 416 Завантажень PDF: 247
Як цитувати
Bogatko, N. (2020). Ідентифікація м'яса забійних тварин за експресними методиками. Ветеринарія, технології тваринництва та природокористування, (5), 11-17. https://doi.org/10.31890/vttp.2020.05.02