Морфологічні особливості селезінки гусей
Ключові слова:
гуси, селезінка, біла пульпа, периартеріальні лімфоїдні піхви, периеліпсоїдні лімфоїдні піхви, лімфоїдні вузлики
Анотація
Встановлено морфологічні особливості селезінки гусей 2-місячного віку великої сірої породи. Визначено компартменти білої пульпи селезінки, у складі яких були переважно периартеріальні і периеліпсоїдні лімфоїдні піхви. Лімфоїдні вузлики виявлено в кількості 6-8 на площі зрізу органу.
Завантаження
##plugins.generic.usageStats.noStats##
Посилання
Bingöl, S., Gülmez, N., Deprem, T., Tasci, S., & Aslan, Ş. (2014). Histologic and histometric examination of spleen in geese (Anser anser). Atatürk Üniversitesi Veteriner Bilimleri Dergisi, 9(3), 157–162. DOI:10.17094/avbd.56463
Cheng, H. W., Onder, L., Novkovic, M., Soneson, C., Lütge, M., Pikor, N., … Ludewig, B. (2019). Origin and differentiation trajectories of fibroblastic reticular cells in the splenic white pulp. Nature communications, 10(1), 1739. DOI:10.1038/s41467-019-09728-3.
Dunaevska, O. F. (2016). Morfological features of the warm-blooded animals' spleen. Biological Bulletin of Bogdan Chmelnitskiy Melitopol State Pedagogical University, 6(3), 399–406. DOI:10.15421/2016110.
Dunaevska, O. F. (2018). Anatomo-morfometrichni kriteriyi selezinki statevozrilih Gallus gallus, forma domestica L., Columbia livia G., Coturnix coturnix L.. Innovativ Biosystems & Bioenginering, 2(4), 221–231. [in Ukrainian] DOI:10.20535/ibb.2018.2.3.151572
Ganusov, V. & Tomura, M. (2018). Experimental and mathematical approaches to quantify recirculation kinetics of lymphocytes. bioRxiv 268326. DOI: 10.1101/268326
Gumati, M., Magyar, A., Nagy, N., Kurucz, E., Felföldi, B., & Oláh, I. (2003). Extracellular matrix of different composition supports the various splenic compartments of guinea fowl (Numida meleagris). Cell and Tissue Research, 312(3), 333–43. DOI:10.1007/s00441-003-0736-y
Guralska, S.V. (2016). Іmmunohistochemical characterization of lymphocyte subpopulations in the spleen of chickens after vaccination against infectious bronchitis. Scientific Messenger of Lviv National University of Veterinary Medicine and Biotechnologies. Series: Veterinary Sciences. 18(3), 62–6. DOI:10.15421/nvlvet7014
Hartwig, H. & Hartwig, H. G. (1985). Structural characteristics of the mammalian spleen indicating storage and release of red blood cells. Aspects of evolutionary and environmental demands. Experientia 41(2), 159–163. DOI:10.1007/BF02002608
Hashimoto, Y., & Sugimura, M. (1977). Histological and quantitative studies on the postnatal growth of the duck spleen. Japanese Journal of Veterinary Research, 25(3-4), 71–82. DOI:10.14943/jjvr.25.3-4.71
Horalskyi, L., Khomych, V., & Kanonskyi, O. (2011). Osnovy histolohichnoi tekhniky i morfofunktsionalni metody doslidzhen u normi ta pry patolohii. Zhytomyr, Ukrainа: Polissia. [in Ukrainian]
Igyártó, B.-Z., Magyar, A., & Olah, I. (2007). Origin of follicular dendritic cell in the chicken spleen. Cell and Tissue Research, 327(1), 83–92. DOI: 10.1007/s00441-006-0250-0
John, J. (1994). The avian spleen: a neglected organ. The Quarterly Review of Biology, 69(3), 327–351. DOI:10.1086/418649
Kannan, T., Ramesh, G., Ushakumari, S., Dhinakarraj, G., & Vairamuthu, S. (2017). Age related changes in T cell subsets in thymus and spleen of layer chicken (Gallus domesticus). International Journal of Current Microbiology and Applied Sciences. 6(1), 15–19. DOI:10.20546/ijcmas.2017.601.002
Kasai, K., Nakayama, A., Ohbayashi, M., Nakagawa, A., Ito, M., Saga, S., & Asai, J. (1995). Immunohistochemical characteristics of chicken spleen ellipsoids using newly established monoclonal antibodies. Cell and Tissue Research, 281(1), 135–141. DOI:10.1007/BF00307967
Krasnikov, G., & Kolousova, N. (1989). Metodicheskie rekomendatsii po gistomorfologicheskoy otsenke immunokompetentnyih organov tsyiplyat v norme i pri immunodefitsitah. Kharkov: UNIIEV. [in Russian]
Olah, I., & Glick, B. (1982). Splenic white pulp and associated vascular channels in chicken spleen. American Journal of Anatomy, 165(4), 445–480. DOI:10.1002/aja.1001650408
Oláh, I., Nagy, N., & Vervelde, L. (2014). Structure of the avian lymphoid system. In K. Schat, B. Kaspers & P. Kaiser (Eds.), Avian Immunology (pp. 11–44). Academic Press in the United States of America.
Onyeanusi, B. I. (2006). The guinea fowl spleen at embryonic and posthatching periods. Anatomia, Histologia, Embryologia , 35(3), 140–143. Retrieved from DOI:10.1111/j.1439-0264.2005.00641.x.
Seleznev, S., Krotova, E., Vetoshkina, G., Kulikov, E., & Buryikina, L. (2015). Osnovnyie printsipy strukturnoy organizatsii immunnoy sistemyi perepelov. Vestnik Rossiyskogo universiteta druzhbyi narodov. Seriya: Agronomiya i zhivotnovodstvo, (4), 66–73. [in Russian]
Staines, K., Young, J. R., & Butter, C. (2013). Expression of chicken DEC205 reflects the unique structure and function of the avian immune system. PloS one, 8(1), e51799. DOI:10.1371/journal.pone.0051799
Stojanovskyj, V., Garmata, L., &Kolomijets, I. (2016). Functioning of the quail immune system at different periods of postnatal ontogenesis. Scientific Messenger of Lviv National University of Veterinary Medicine and Biotechnologies. Series: Veterinary Sciences.18(3), 36–39. DOI:10.15421/nvlvet7009
Zhang, Q., Chen, B., Yang, P., Zhang, L., Liu, Y., Ullah, S., … Chen, Q. (2015). Identification and structural composition of the blood–spleen barrier in chickens. The Veterinary Journal, 204(1), 110–116. DOI:10.1016/j.tvjl.2015.01.013
Zhang, Q., Waqas, Y., Yang, P., Sun, X., Liu, Y., Ahmed, N., … Chen, Q. (2017). Cytological study on the regulation of lymphocyte homing in the chicken spleen during LPS stimulation. Oncotarget, 8(5), 7405–7419. DOI:10.18632/oncotarget.14502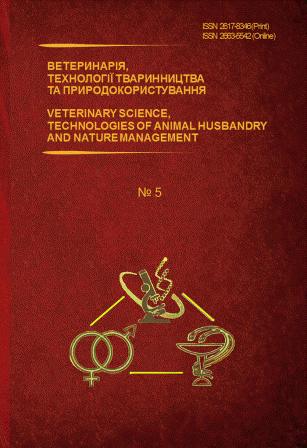 Переглядів анотації: 530 Завантажень PDF: 284
Як цитувати
Byrka, O., Zhigalova, O., Yurchenko, V., & Kushch, M. (2020). Морфологічні особливості селезінки гусей. Ветеринарія, технології тваринництва та природокористування, (5), 7-10. https://doi.org/10.31890/vttp.2020.05.01