Градація патоморфологічних змін у селезінці фазанів за туберкульозу
Ключові слова:
фазани, туберкульоз птиці, селезінка, патоморфологіча характеристика
Анотація
Наведені результати патоморфологічного дослідження селезінки фазанів за туберкульозу. Діагностували дві його морфологічні форми: вогнищеву (субміліарно-міліарну; міліарну – із спленомегалією; нодулярну) та – деструктивну (із завершенням у вигляді тотального некротичного спленіту за типом абсцедуючого із флуктуацією у вузлах вмісту розпаду).
Завантаження
##plugins.generic.usageStats.noStats##
Посилання
Alffenaar, J.-W. C., & Van Ingen, J. (2017). Treatment of Mycobacterium avium-intracellulare complex: a great leap forward. Journal of Antimicrobial Chemotherapy, 72, 2, i1–i2. doi:10.1093/jac/dkx310.
Álvarez, P. P., Moroni, M., & Verdugo, C. (2017). Avian tuberculosis in a Lady. Amherst's pheasant Chrysolophus Austral J. Vet. Sci., 49(3), 213-215. doi:10.4067/S0719-81322017000300213.
Asmolov, O. (Еd.). (2002). Tuberkuloz: Рidruchnyk. Odesa: Odes. derzh. med. un-t. [in Ukrainian].
Basa, J. V., Singh, L., Jaoude, W. A., & Sugiyama, G. (2015). A case of isolated splenic tuberculosis. Int J Surg Case Rep, 8, 117–119. doi: 10.1016/j.ijscr.2014.10.050.
Busatto, C., Vianna, J. S., daSilva, L. V. Junior, Ramis, I. B., & da Silva PEA. (2019). Муcobacterium avium: anoverview. Tuberculosis (Edinb), Jan, (114), 127-134. doi: 10.1016/j.tube.2018.12.004.
Dobin, M. A., & Kokurichev, P. I. (1963). Praktikum po veterinarnoy patologicheskoy anatomii i vskrytiyu. L.-M., Sel'khozizdat, 240. [inRussian].
Eskild, P., Chakaya J., Farah, M., Giuseppe, J. I., & Zumla A. (2019). Latent tuberculosis infection: diagnostic tests and whentotreat. Lancet Infectious Diseases, 19(3), 231-233. doi: 10.1016/S1473-3099(19)30059-3.
Kim, J. W., & Shin, S. S. (2017). Ultrasound-Guided Percutaneous Core Needle Biopsy of Abdominal Viscera: Tips to Ensure Safe and Effective Biopsy. Korean J Radiol. 18(2), 309-322. https://doi.org/10.3348/kjr.2017.18.2.309.
Krasniqi, S., Jakupi, A., Daci, A., Tigani, B., Jupolli-Krasniqi, N., Pira, M. … Neziri, B. (2017). Tuberculosis Treatment Adherence of Patients in Kosovo. Tuberculosis Research and Treatment. Article ID 4850324, 8, doi:10.1155/2017/4850324.
Liakhovych, L., Shchetynskyi, I., Zakhariev, A., Ulianytska, A., Martiemianova, A., Lyulin, P., & Kostyuk, I. (2019). Heparalni patolohii za tuberculosu fasaniv: patomorfolohichnyi analiz. Veterynariia, tekhnolohii tvarynnytstva ta pryrodokorystuvannia, (3), 37-45. doi:10.31890/vttp.2019.03.06. [in Ukrainian].
Liakhovych, L., Shchetynskyi, I., Zakhariev, A., Ulianytska, A., Martiemianova, A., & Tkachova, K. (2018). Tuberkuloz fazaniv ta pavychiv: aspekty tanatohenezu. Veterynariia, tekhnolohii tvarynnytstva ta pryrodokorystuvannia, (2), 56-58. doi:10.31890/vttp.2018.02.08. [inUkrainian].
Lin, S.-F., Zheng, L., & Zhou, L. (2016). Solitary splenic tuberculosis: a case report and review of the literature. World Journal of Surgical Oncologi. 14, 154. doi: 10.1186/s12957-016-0905-6.
Moore, D. A. J. (2016). What can we offer to 3 million MDRTB household contacts in 2016? BMC Med, 14, pp. 64. doi:10.1186/s12916-016-0610-x.
Okusok, O. M., Hryshchuk, L. A., Nebesna, Z. M., Tabas, P. S., & Klos, R. O. Diahnostyka tsytolitychnoho syndromu u khvorykh na tuberkuloz lehen. (2017). Medychna ta klinichna khimiia, 19(1),47-52. doi:10.11603/mcch.2410-681X.2017.v0.i1.7684. [inUkrainian].
Olson, M.C., Atwell. T.D., Harmsen, W.S., Konrad, A., King, R.L., Lin, Y., & Wall, D.J. (2016). Safety and Accuracy of Percutaneous Image-Guided Core Biopsy of the Spleen. AJR Am J Roentgenol. 206(3):655-9. doi: 10.2214/AJR.15.15125.
Patiño, W. LC., Monge, O., Suzán, G., Gutiérrez-Espeleta, G., & Chaves, A. (2018). Molecular Detection of Mycobacterium aviumavium and Mycobacterium genavense in Feces of Free-living Scarlet Macaws (Aramacao) in Costa Rica. JWildlDis, 54(2), 357-361. doi: 10.7589/2017-05-124.
Sevilla, I.A., Molina, E., Elguezabal, N., Perez, V., Garrido, J.M., & Juste, R.A. (2015). Detection of mycobacteria, Mycobacterium avium subspecies, and Mycobacterium tuberculosiscomplex by a novel tetraplex real-time PCR assay. J ClinMicrobiol, 53, 930–40. doi:10.1128/JCM.03168-14.
Slany, M., Ulmann, V., & Slana, I. (2016). Avian Mycobacteriosis: still existing threat to humans. Biomed Research International. doi: 10.1155/2016/4387461.
Stepień-Pyśniak, D., Puk, K., Guz, L., Wawrzyniak, A., Marek, A., & Kosikowska, U. (2016). Avian mycobacteriosis caused by Mycobacterium avium subspecies avium in four ornamental birds and in vitro drug sensitivity testing of isolates. Berl Munch Tierarztl Wochenschr. 129(1-2):65-71.
Tiberi, S., Muñoz-Torrico, M., Duarte, R., Dalcolmo, M., D'Ambrosio, L., & Migliori, G. (2018). New drugs and perspectives for new anti-tuberculosis regimens. Pulmonology.24(2):86-98. doi: 10.1016/j.
Wangai, F, Achieng, L, Otieno, G, Njoroge, J, Wambaire, T, & Rajab, J. (2017). Isolated splenic tuberculosis with subsequent paradoxical deterioration: a case report. BMC Res Notes, 10 (162). doi: 10.1186/s13104-017-2483-2.
Yu, K., Song, L., Zhang, J., & Li, N. (2019). A young boy with disseminated Mycobacterium avium complex infection. Int J Infect Dis., 15(81), 10-11. doi: 10.1016/j.ijid.2019.01.016.
Zhu, L., Peng, Y., Ye, J., Wang, T., Bian, Z., Qin, Y. ... Ding, J. (2017). Isolation, Identification, and Characterization of a New Highly Pathogenic Field Isolate of Mycobacterium avium spp. Avium. Front Vet Sci.4, 243. doi:10.3389/fvets.2017.00243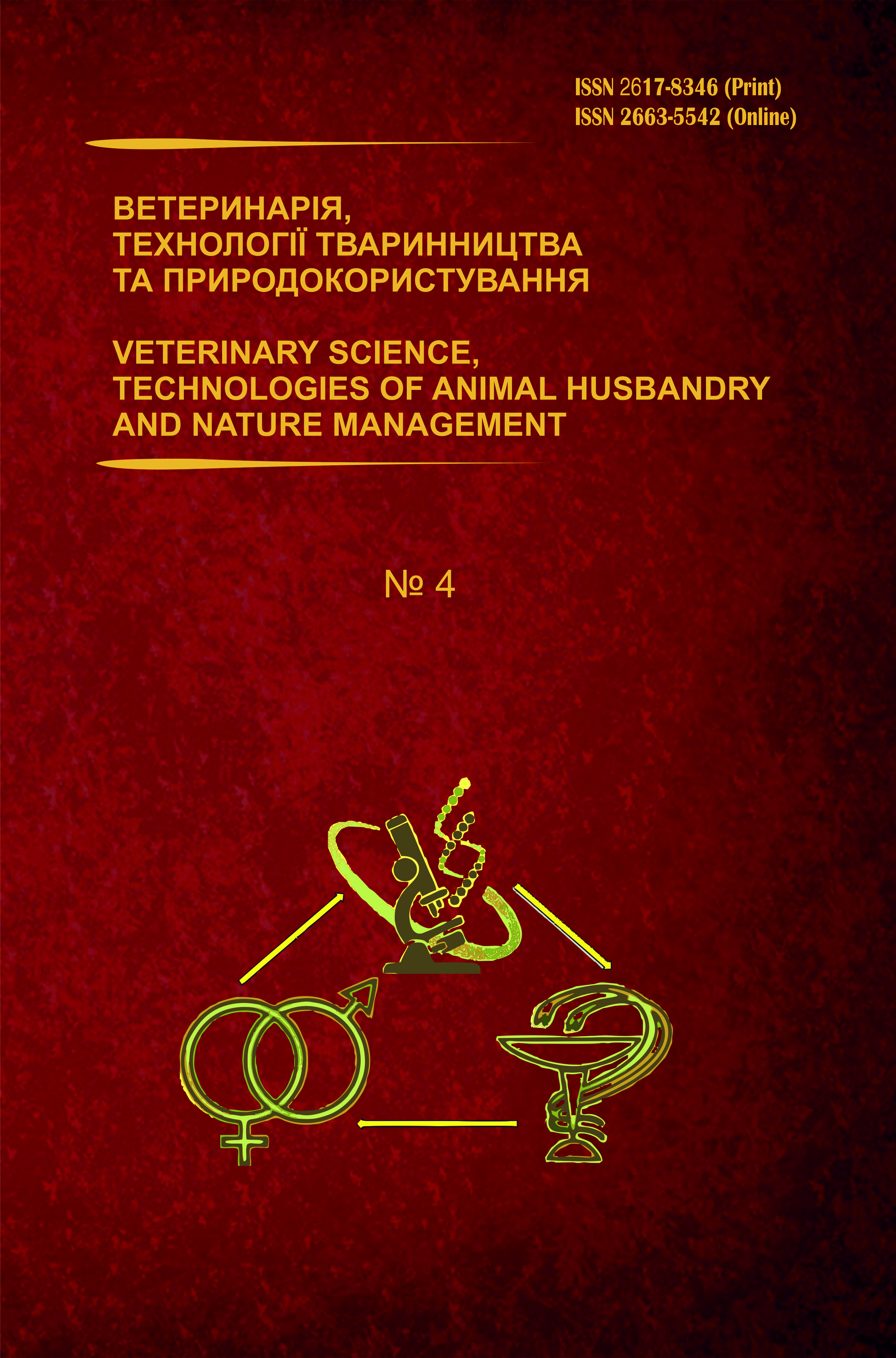 Переглядів анотації: 131 Завантажень PDF: 117
Як цитувати
Lyakhovich, L., Ulyanizka, A., Zakharyev, A., Bondarenko, O., Drebot, Z., Kostyuk, I., Lyulin, P., Petrenko, A., & Logachova, L. (2019). Градація патоморфологічних змін у селезінці фазанів за туберкульозу. Ветеринарія, технології тваринництва та природокористування, (4), 114-117. https://doi.org/10.31890/vttp.2019.04.22