Динаміка клініко-гематологічних, біохімічних та імунологічних показників клінічно здорових собак за впливу антигомотоксичного препарату Траумель
Ключові слова:
собаки, клінічний стан, кров, сироватка крові, морфологічні показники, біохімічні показники, імунологічні показники
Анотація
В статті на основі проведених експериментальних досліджень встановлено вплив антигомотоксичного препарату Траумель на клінічний стан, морфологічні, біохімічні та імунологічні показники крові та сироватки крові клінічно здорових собак.
Завантаження
##plugins.generic.usageStats.noStats##
Посилання
Brune, K., & Lemmer, B. (2000). Is homeopatic medicine on the same level as Diclofenac? Der Orthopäde, 29(3), 271–272. doi:10.1007/s001320050445.
González de Vega, C., Speed, C., Wolfarth, B., & González, J. (2013). Traumeel vs. diclofenac for reducing pain and improving ankle mobility after acute ankle sprain: A multicentre, randomised, blinded, controlled and non-inferiority trial. International Journal of Clinical Practice, 67(10), 979–989. doi:10.1111/ijcp.12219.
Grishan, M. A., Moiseeva, E. I., Sutulova, S. G., & Syr'eva, T. N. (2005). Al'ternativnye podhody k provedeniju profilaktiki grippa i ostryh respiratornyh zabolevanij. Detskie infekcii, 3, 70–73. [in Russian]
Guide to the preparation of specifications. (n.d.). doi:10.3403/02291772.
Il'enko, L. I., Cypin, L. E., Grebennikov, V. A., Koval', G. S., Solov'eva, O. A., & Zhitova, E. P. (2011). Al'ternativnye podhody k vedeniju novorozhdennyh s dyhatel'nymi narushenijami na fone vnutriutrobnogo inficirovanija. Pediatrija, 90, 2, 82–87. [in Russian]
Kaneko, J. J., Harvey, J. W., & Bruss, M. L. (2008). Preface. Clinical Biochemistry of Domestic Animals, ix. doi:10.1016/b978-0-12-370491-7.00031-3.
Krafft, E., Heikkilä, H. P., Jespers, P., Peeters, D., Day, M. ., Rajamäki, M. M., … Clercx, C. (2011). Serum and Bronchoalveolar Lavage Fluid Endothelin-1 Concentrations as Diagnostic Biomarkers of Canine Idiopathic Pulmonary Fibrosis. Journal of Veterinary Internal Medicine, 25(5), 990–996. doi:10.1111/j.1939-1676.2011.0766.x.
Lussignoli, S., Bertani, S., Metelmann, H., Bellavite, P., & Conforti, A. (1999). Effect of Traumeel S®, a homeopathic formulation, on blood-induced inflammation in rats. Complementary Therapies in Medicine, 7(4), 225–230. doi:10.1016/s0965-2299(99)80006-5.
Muders, K., Pilat, C., Deuster, V., Frech, T., Krüger, K., Pons-Kühnemann, J., & Mooren, F.-C. (2017). Effects of Traumeel (Tr14) on recovery and inflammatory immune response after repeated bouts of exercise: a double-blind RCT. European Journal of Applied Physiology, 117(3), 591–605. doi:10.1007/s00421-017-3554-8.
Oberbaum, M., Spira, R. M., Lukasiewicz, E., Armon, Y., Samuels, N., Singer, S. R., … Hersch, M. (2011). Effect of Traumeel S on Cytokine Profile in a Cecal Ligation and Puncture (CLP) Sepsis Model in Rats. The Journal of Alternative and Complementary Medicine, 17(10), 909–913. doi:10.1089/acm.2011.0205.
Oberbaum, M., Yaniv, I., Ben-Gal, Y., Stein, J., Ben-Zvi, N., Freedman, L.S., & Branski, D. (2001). A randomized, controlled clinical trial of the homeopathic medication TRAUMEEL S in the treatment of chemotherapy-induced stomatitis in children undergoing stem cell transplantation. Cancer, 92(3), 684-690.
Perceva, T. O., Kirjejeva, T. V., & Gurzhij, O. V. (2005). Vykorystannja metodyky diagnostyky porushen' mukocyliarnogo klirensu dlja ocinky efektyvnosti antygomotoksychnoi' terapii' u hvoryh na hronichnyj bronhit. Medychni perspektyvy, 10, 4, 67–69.
Pilat, C., Frech, T., Wagner, A., Krüger, K., Hillebrecht, A., Pons-Kühnemann, J., … Mooren, F.-C. (2014). Exploring effects of a natural combination medicine on exercise-induced inflammatory immune response: A double-blind RCT. Scandinavian Journal of Medicine & Science in Sports, 25(4), 534–542. doi:10.1111/sms.12265.
Pilipovich, A. A. (2017). The efficacy of Traumeel® S in terms of evidence-based medicine. Consilium Medicum, 19(2), 157–162. doi:10.26442/2075-1753_19.2.157-162.
Porozov, S., Cahalon, L., Weiser, M., Branski, D., Lider, O., & Oberbaum, M. (2004). Inhibition of IL-1β and TNF-α Secretion from Resting and Activated Human Immunocytes by the Homeopathic Medication Traumeel® Clinical and Developmental Immunology, 11(2), 143–149. doi:10.1080/10446670410001722203.
Sone, K., Akiyoshi, H., Shimizu, J., Cao, Z., LI, Y., Tanaka, T., … Ohashi, F. (2013). Surfactant Protein-A Concentration in Sera from Dogs with Pulmonary Parenchymal Diseases. Journal of Veterinary Medical Science, 75(6), 685–691. doi:10.1292/jvms.12-0255.
Steenekamp, C. S. (1987). Chiropraktyk en homeopatic: 'n Voorbeeld van die legitimering van 'n newe-struktuur. South African Journal of Sociology, 18(2), 66–75. doi:10.1080/02580144.1987.10558350.
Steinmann, D., Eilers, V., & Fink, M. (2007). An observation study of the homoeopathic medication Traumeel S in the treatment of radiotherapy-induced mucositis in head and neck cancer patients. Focus on Alternative and Complementary Therapies, 12, 46–46. doi:10.1111/j.2042-7166.2007.tb05919.x.
Toliopoulos, I. K., Simos, Y., Bougiouklis, D., & Oikonomidis, S. (2013). Stimulation of natural killer cells by homoeopathic complexes: Anin vitroandin vivopilot study in advanced cancer patients. Cell Biochemistry and Function, 31(8), 713–718. doi:10.1002/cbf.2960.
Vakulenko L.O., & Ivanushko, O.V. (2016). Traumel' S: patogeneticheskie bioregulyatornye vozmozhnosti v nevrologii. Neuronews: psikhonevrologiya i neyropsikhiatriya, 6(80), 64–66. [in Russian]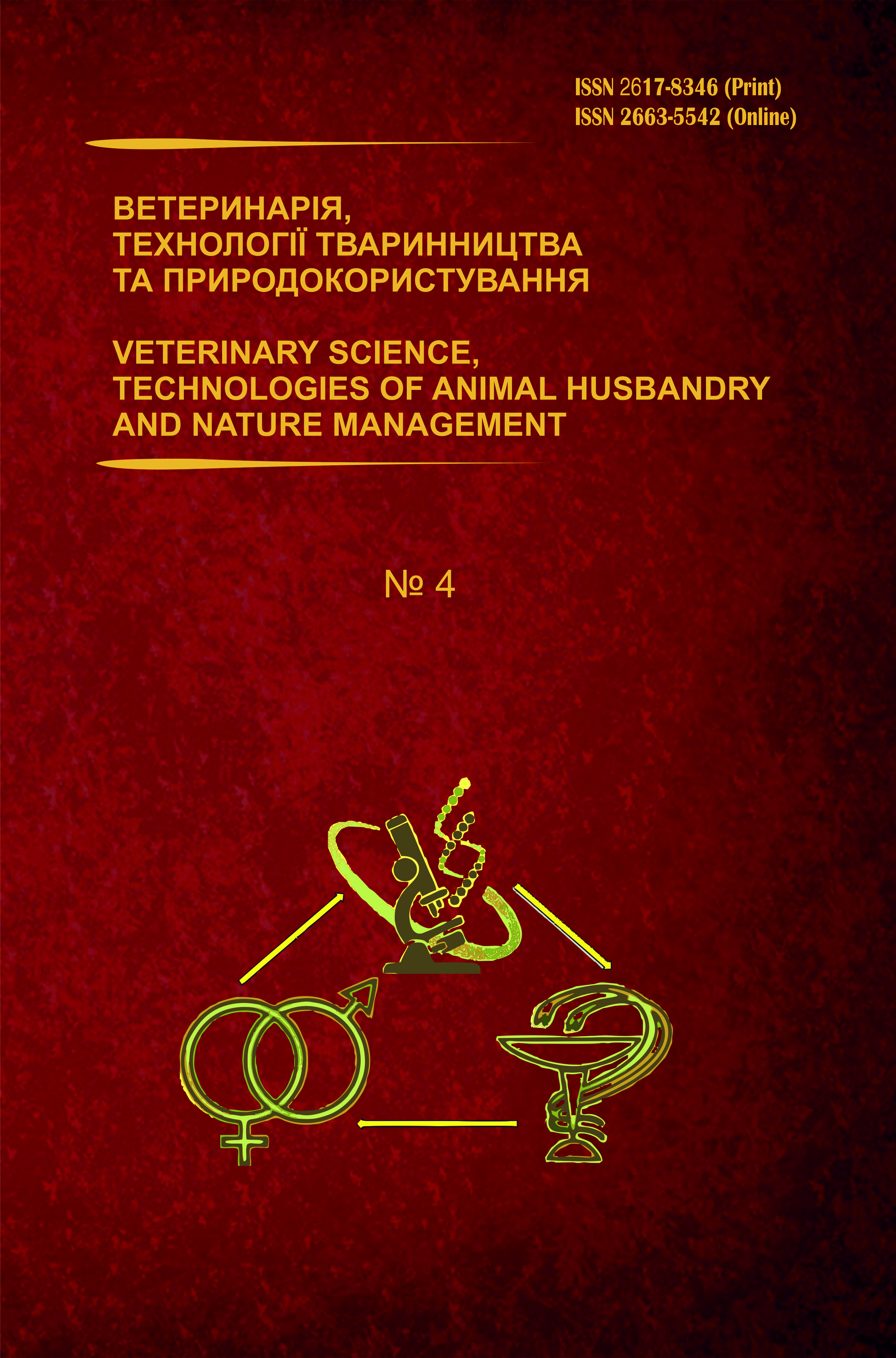 Переглядів анотації: 130 Завантажень PDF: 69
Як цитувати
Kushnir, V., & Todorov, M. (2019). Динаміка клініко-гематологічних, біохімічних та імунологічних показників клінічно здорових собак за впливу антигомотоксичного препарату Траумель. Ветеринарія, технології тваринництва та природокористування, (4), 103-109. https://doi.org/10.31890/vttp.2019.04.20