Тератогенний та ембріотоксичний вплив карбендазиму на ембріони курей
Ключові слова:
курячі ембріони (КЕ), ембріотоксичність, тератогенність, карбендазим (БМК)
Анотація
Згідно з результатами проведеного дослідження, встановлено, що карбендазим проявляв тератогенний та ембріотоксичний вплив на курячі ембріони при введенні в алантоїсну порожнину в дозах 0,05 та 0,01 ЛД50 (500 і 100 мг/кг маси ембріона відповідно). Це явище супроводжується загибеллю ембріонів та розвитком окремих та комбінованих потворностей.
Завантаження
##plugins.generic.usageStats.noStats##
Посилання
Adedara, I. A., Vaithinathana, S., Jubendradassa, R., Mathura, P. P., & Farombib, E. O. (2013). Kolaviron prevents carbendazim-induced steroidogenic dysfunction and apoptosis in testes of rats. Environmental Toxicology and Pharmacology, 35, 3, 444-453. doi.org/10.1016/j.etap..01.010.
Aire, T. A. (2005). Short-term effects of carbendazim on the gross and microscopic features of the testes of Japanese quails (Coturnix coturnix japonica). Anatomy and Embryology, 210 (1), 43-49. doi:10.1007/s00429-005-0001-0.
Barlas, N., Selmanoglu, G., Kockaya, A., & Songür, S. (2002). Effects of carbendazim on rat thyroid, parathyroid, pituitary and adrenal glands and their hormones. Human & Experimental Toxicology, 21(4), 217–221. doi:10.1191/0960327102ht187oa.
Durand, P., Voisin, S., Karim N., Pisani C., Perrard, M-H., Guichaoua, M-R., Bulet, Ph. & Prat, O. (2016). Ex Vivo Assessment of Testicular Toxicity Induced by Carbendazim and Iprodione, Alone or in a Mixture. Alternativen zu Tierexperimenten, 33(4), 393-413. doi: 10.14573/altex.1601253.
Galtier, R. (1991). Metabolism of benzimidazoles; inducing activity of enzymes. Action-Veterinaire, 1174, 23-27.
Golyshin, N. M. (1993). Fungitsidy. Moskov : Kolos, 319. ISBN 5-10-001736-8. [in Russian].
Kochevenko, O.S., & Zhukova, I.O. (2014). Hostra toksychnistʹ karbendazymu dlya kurey. Naukovyy visnyk LNUVMBT, 16, 3(60), 2, 160-5. [in Ukrainian]
Kolyanchuk, YA.V. (2018). Izucheniye gonado- i reproduktivnoy toksichnosti karbendazima tekhnicheskogo na samtsakh i samkakh krys Wistar Han. Ukrainskiy zhurnal sovremennykh problem toksikologii, 4(84). doi:10.33273/2663-4570-2018-84-4-36-41. [in Russian]
Lisovskaya, V. S., Zhmin'ko, P. G., & Shulyak, V. G. (2018). Otsenka toksicheskogo vliyaniya karbendazima na sistemu krovi krys v usloviyakh ostroy peroral'noy intoksikatsii. Vestnik problem biologii i meditsiny, 2(144), 117-122. doi:10.29254/2077-4214-2018-2-144-117-122. [in Russian].
Lu, S. Y., Liao, J. W., Kuo, M. L., Wang, S. C., Hwang, J. S., & Ueng, T. H. (2004). Endocrine-disrupting activity in carbendazim-induced reproductive and developmental toxicity in rats. J Toxicol Environ Health A., 8, 67(19), 1501-15. doi:10.1080/15287390490486833.
Lu, S. Y. (2018). Androgen Receptor Plays a Vital Role in Benomyl- or Carbendazim-Induced Reproductive and Developmental Toxicity and Endocrine-Disrupting Activity in Rats. Endocrine Disruptors. doi: 10.5772/intechopen.78276.
Malinin, O. A., Khmel'nitskiy, G. A., & Kutsan A. T. (2002). Veterinarnaya toksikologiya : ucheb. posobiye [dlya stud. vyssh. uch. zav.], 464. [in Russian]
Mel'nikov, N. N., Novozhilov, K. V. & Belan, S. A. (2001). Pestitsidy i regulyatory rosta rasteniy. Moskov : Khimiya. [in Russian]
Popova, L. M. (2009). Khimicheskiye sredstva zashchity rasteniy. Sankt-Peterburg: SPbGTURP. [in Russian]
Rama, E. M., Bortolanb S., Leivas, M. V., Ceccatto, D. C. G., & Moreirabet, E. G. (2014). Reproductive and possible hormonal effects of carbendazim. Regul. Toxicol. Pharmacol., 69, 3, 476-486. doi.org/10.1016/j.yrtph.2014.05.016.
Sedokur, L. K. (Red.). (1986). Spravochnik po pestitsidam: Gigiyena primeneniya i toksikologiya. Kyiv : Urozhay. [in Russian]
Shepel'skaya, N. R., Ivanova, L. P., Sapozhnikova, S. D., & Grigorenko, L. I. (2013). Reproduktivnaya toksichnoct' fungisida karbendasima v eksperimente na samtsakh I samkakh krys Wistar. Mezhdunarodnyy zhurnal prikladnykh i fundamental'nykh issledovaniy, 10(2), 328-329.
Metodicheskiye ukazaniya po izucheniyu embriotoksicheskogo deystviya farmakologicheskikh veshchestv i vliyaniye ikh na reproduktivnuyu funktsiyu : odobreny Farm. Kom. MZ SSSR 10 yanvarya 1988 g. [in Russian]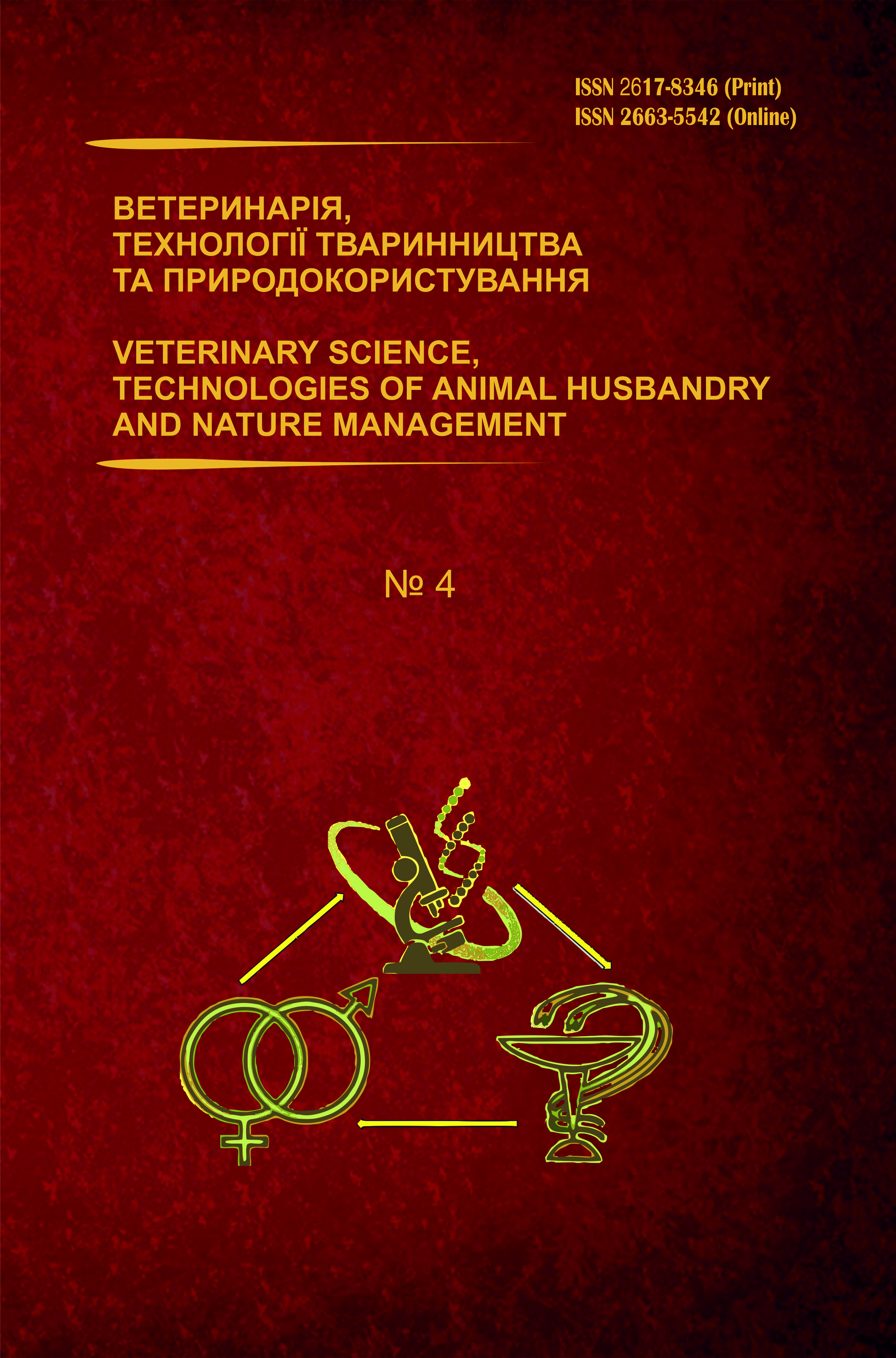 Переглядів анотації: 99 Завантажень PDF: 63
Як цитувати
Zhukova, I., Kochevenko, O., Bobrytska, O., Kostiuk, I., & Antipin, S. (2019). Тератогенний та ембріотоксичний вплив карбендазиму на ембріони курей. Ветеринарія, технології тваринництва та природокористування, (4), 64-68. https://doi.org/10.31890/vttp.2019.04.13