Мікрофлора сечостатевого каналу псів за простатиту та чутливість її до антибіотиків
Ключові слова:
простатит, мікрофлора, антибіотики
Анотація
Висвітлено результати дослідження мікрофлори сечостатевого каналу псів за простатиту та її чутливості до антибіотиків. Змішана мікрофлора, виділена з сечостатевого каналу клінічно здорових псів та уретральних виділень за простатиту представлена стафілококами, стрептококами та кишковою паличкою, які проявляли високу активність до енрофлоксацину, тилозину, пенбексу, цефалексину, цефазоліну.
Завантаження
##plugins.generic.usageStats.noStats##
Посилання
Baert, L., van Poppel, H., & Vandeursen, H. (1991). Review of modern trends in the treatment of chronic bacterial prostatitis (C.B.P.). Infection, 19, 157-159. doi: 10.1007/BF01643688.
Bokemeyer, J., Peppler, C., Thiel, C., Failing, K., Kramer, M., & Gerwing, M. (2011). Prostatic cavitary lesions containing urine in dogs. Journal of Small Animal Practice, 52(3), 132-138. doi: 10.1111/j.1748-5827.2011.01039.x.
Chuprun, L. O. (2011). Piometra kishok: etiolohiia, patohenez, likuvannia : avtoreferat na zdobuttia vchenoho stupenia kand. vet. nauk : spetsialnist 16.00.07. Sumskyi nats. ahrar. un-t. Sumy, 20. (in Ukrainian)
Chvala, A. V., & Pakhmutov, Y. A. (2005). Systemnaia еnzymoterapyia pry prostatyte u sobak. Veterynarnaia patolohyia, 4, 126–129. (in Russian)
Collins, M. M., MacDonald, R., & Wilt, T.J. (2000). Diagnosis and treatment of chronic abacterial prostatitis: a systematic review. Ann Intern Med, 133, 367–381. doi:10.7326/0003-4819-133-5-200009050-00013.
Goto, T., Kawahara, M., Kawahara, K., Mahinose, S., Mizuma, Y., & Sakamoto, N. (1991). Experimental bacterial prostatitis in rats. Urolithiasis, 19(2), 141–144. doi: 10.1007/bf00368193.
Ivakhiv, M. A., Stefanyk, V. Iu., Nizanski,W. (2011). Khvoroby prostaty u psiv: etiolohiia, diahnostyka, likuvannia. Naukovyi visnyk LNUVMBT imeni S.Z. Gzhytskoho, 13, 2(48), 86 – 96. (in Ukrainian)
Johnston, S. D., Kamolpatana, K., Root-Kustritz, M. V., & Johnston, G. R. (2000). Prostatic disorders in the dog. Animal Reproduction Science, 60-61, 405-415. doi: 10.1016/s0378-4320(00)00101-9.
Khadidja , M., & Adel, A. (2017). Canine prostatic disorders. Vet Med Open J., 2(3), 83-90. doi: 10.17140/VMOJ-2-120.
Klausner, J. S., Johnston, S. D., & Bell, F. W. (1995). Canine prostatic disorders. In: Bonagura JD, Kirk RW, eds. Current Veterinary Therapy XII. Small Animal Practice. Philadelphia, PA, USA: WB Saunders Company, 1103-1108.
Leav, I., Schelling, K. H., Adams, J. Y., Merk, F. B., & Alroy, J. (2001) Role of canine basal cells in postnatal prostatic development, induction of hyperplasia, and sex hormone-stimulated growth, and the ductal origin carcinoma. The Prostate, 47, 149–163. doi:10.1002/pros.1100.
Mazo, E. B., Popov, S. V., & Karabak, V. Y. (2004). Antymykrobnaia terapyia khronycheskoho bakteryalnoho prostatyta. Russkyi medytsynskyi zhurnal, 12, 737–740. (in Russian)
Memon, M. A. (2007). Common causes of male dog infertility. Theriogenolog, 68(3), 322-328. doi: 10.1016/j.theriogenology.2007.04.025.
Nelson, R.W., & Guillermo Couto, C. (2003). Disorders of the prostate lland. In: Small Animal Internal Medecine. 3rd ed. St Louis, MO, USA: Elsevier Science Health Science Division, 62, 927–993.
Nickel, J. C., Olson, M. E., Barabas, A., Benediktsson, H., Dasgupta, M. K., & Costerton, J. W. (1990). Pathogenesis of chronic bacterial prostatitis in an animal model, Br. J. Urol, 66 (1), 47–54. doi: 10.1111/j.1464-410x.1990.tb14864.x.
Nizanski, W., Levy, X., Ochota, M., & Pasikowska, J. (2014). Pharmacological Treatment for Common Prostatic Conditions in Dogs – Benign Prostatic Hyperplasia and Prostatitis: an Update. Reprod. Dom. Anim, 49(2), 8–15. doi: 10.1111/rda.12297.
Polisca, A., Troisi, A., Fontaine, E., Menchetti, L., & Fontbonne, A. (2016). A retrospective study of canine prostatic diseases from 2002 to 2009 at the Alfort Veterinary College in France. Theriogenology, 85(5), 835–840. doi: 10.1016/j.theriogenology.2015.10.030.
Read, R. A., & Bryden, S. (1995). Urethral bleeding as a presenting sign of benign prostatic hyperplasia in the dog: A retrospective study (1979-1993). J Am Anim Hosp Assoc, 31(3), 261-267. doi: 10.5326/15473317-31-3-261.
Sirinarumitr, K., Johnston, S. D., Kustritz, M. V., Johnston, G. R., Sarkar, D. K., & Memon, M. A. (2001). Effects of finasteride on size of the prostate gland and semen quality in dogs with benign prostatic hypertrophy. Journal of the American Veterinary Medical Association, 218, 1275–1280. doi:10.2460/javma.2001.218.1275.
Smith, J. (2008). Canine prostatic disease: a review of anatomy, pathology, diagnosis, and treatment. Theriogenology, 70(3), 375–83. doi: 10.1016/j.theriogenology.2008.04.039.
Socha, P., Zduńczyk, S., Tobolski, D., & Janowski, T. (2018). The effects of osaterone acetate on clinical signs and prostate volume in dogs with benign prostatic hyperplasia. Polish journal of veterinary sciences, 21(4), 559-566. doi: 10.24425/pjvs.2018.125601.
Tsutsui, T., Hori, T., Shimizu, M., Orima, H., Kawakami, E., & Fukuda, S. (2000). Regression of prostatic hypertrophy by osaterone acetate in dogs. J Vet Med Sci, 62, 1115–1119. doi:10.1292/jvms.62.1115.
Tsvetkov, Y. S., Makarova, O. V., & Mkhytarov, V. A. (2013). Еksperymentalnie modely khronycheskoho prostatyta. Klynycheskaia y еksperymentalnaia morfolohyia, 1, 60–65 (in Russian).
Vignoli, M., Russo, M., Catone, G., Rossi, F., Attanasi, G., Terragni, R. … England, G. C. (2011). Assessment of vascular perfusion kinetics using contrast-enhanced ultrasound for the diagnosis of prostatic disease in dogs. Reprod Domest Anim, 46, 209–213. doi: 10.1111/j.1439-0531.2010.01629.x.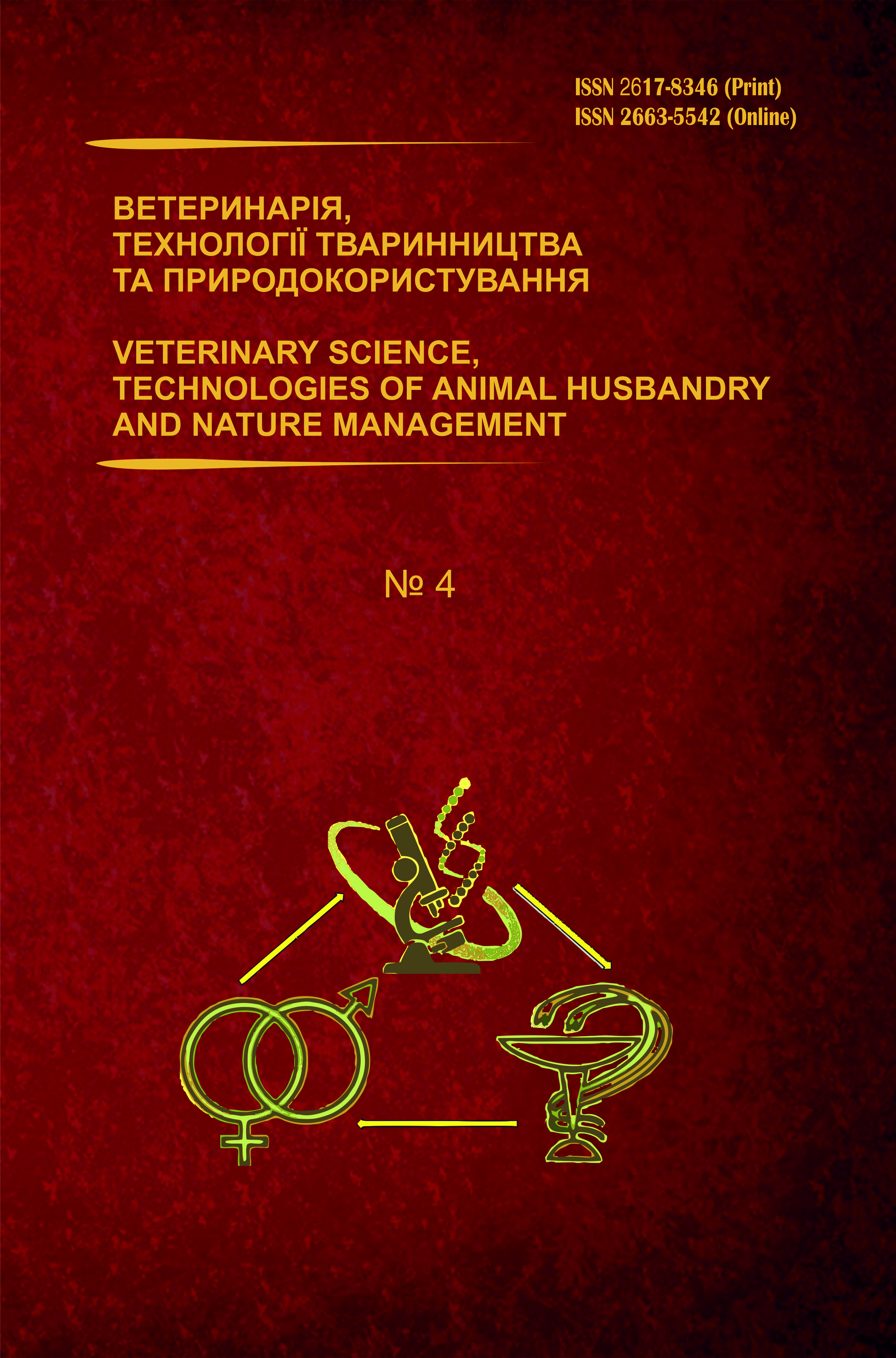 Переглядів анотації: 222 Завантажень PDF: 156
Як цитувати
Bondar, S. (2019). Мікрофлора сечостатевого каналу псів за простатиту та чутливість її до антибіотиків. Ветеринарія, технології тваринництва та природокористування, (4), 19-22. https://doi.org/10.31890/vttp.2019.04.03