Визначення параметрів гострої токсичності кормової добавки «Біостим 40» для щурів
Ключові слова:
щурі, гостра токсичність, білково-мінеральна кормова добавка «Біостим 40»
Анотація
Дослідженнями встановлено, що доза кормової добавки «Біостим 40» у 30000 мг/кг маси тіла білих щурів, за внутрішньошлункового введення, не викликає клінічних ознако отруєння і загибелі тварин і тому, згідно класифікацією хімічних речовин за ступенем небезпечності (ГОСТ 12.1.007 – 76), її можна віднести до 4 класу токсичності – малотоксичні речовини.
Завантаження
##plugins.generic.usageStats.noStats##
Посилання
Ayaso, R., Ghattas, H., Abiad, M., & Obeid, O. (2014). Meal Pattern of Male Rats Maintained on Amino Acid Supplemented Diets: The Effect of Tryptophan, Lysine, Arginine, Proline and Threonine. Nutrients, 6(7), 2509-2522. doi:10.3390/nu6072509.
Beski, S. S. M., Swick, R. A., & Iji, P. A. (2015). Specialized protein products in broiler chicken nutrition: A review. Anim Nutr. 1(2): 47-53. doi:10.1016/j.aninu.2015.05.005.
Biourge, V. C., Fontaine, J., & Vroom, M. W. (2004). Diagnosis of Adverse Reactions to Food in Dogs: Efficacy of a Soy-Isolate Hydrolyzate-Based Diet. The Journal of Nutrition, 134(8), 2062-2064. doi.org/10.1093/jn/134.8.2062S.
Bokova, T. I. (2008). Ispol'zovaniye biologicheski aktivnykh dobavok v ratsione sel'skokhozyaystvennykh zhivotnykh. Kormleniye sel'skokhozyaystvennykh zhivotnykh i kormoproizvodstvo, (9), 61-62 (in Russian).
Elinskaya, O. L. (2011). Gigiyenicheskiye aspekty primeneniya pishchevykh dobavok (spravochno-metodicheskoye posobiye). Tashkent (in Russian).
Kotsyumbas, I. YA. et al. (2006). Doklinichni doslidzhennya veterynarnykh likarsʹkykh zasobiv. Lʹviv : Tryada plyus. 63-85, 136-149 (in Ukrainian).
Lemon, P. W. (1995). Do athletes need more dietary protein and amino acids? International journal of sport nutrition, 5(s1), 39–561. doi:10.1123/ijsn.5.s1.s39.
Lemyaseva, S. V. (2013). Ispol'zovaniye stimulyatorov rosta sel'skokhozyaystvennykh zhivotnykh i bezopasnost' produktov zhivotnovodstva. Problemy veterinarnoy sanitarii, gigiyeny i ekologii, 1(9), 97-101 (in Russian).
Malinin, O. A., Khmel'nitskiy, G. A., & Kutsan, A. T. (2002). Veterinarnaya toksikologiya : ucheb. posobiye. Korsun-Shevchenkovskyi: ChP Maidachenko, 464 (in Russian).
Mosoni, L., Gatineau, E., Gatellier, Ph., Migné, C., Savary-Auzeloux, I., Rémond, D., Rocher, E., & Dardevet, D. (2014). High Whey Protein Intake Delayed the Loss of Lean Body Mass in Healthy Old Rats, whereas Protein Type and Polyphenol/Antioxidant Supplementation Had No Effects. PLoS One, 9(9), e1090-98. doi:10.1371/journal.pone.0109098.
Pressman, P., Clemens, R. A., & Hayes, A. W. (2017). Bioavailability of micronutrients obtained from supplements and food: A survey and case study of the polyphenols. PLoS One, 1, 1-7. doi.org/10.1177/2397847317696366.
Prozorovskiy, V. B. (1962). Ispol'zovaniye metoda naimen'shikh kvadratov dlya probit-analiza krivykh letal'nosti. Farmakologiya i toksikologiya, 1-3, 115-120 (in Russian).
Rotimi1, O. A., Rotimi1, S. O., Oluwafemi, F., Ademuyiwa, O., & Balogun, E. A. (2018). Oxidative Stress in Extrahepatic Tissues of Rats Co-Exposed to Aflatoxin B1 and Low Protein Diet. Toxicological Research, 34, 211-220. doi.org/10.5487/TR.2018.34.3.211.
Rubinskiy, I. A., & Petrova, O. G. (2012). Immunnyye stimulyatory v veterinarii (teoreticheskiye i eksperimental'nyye osnovy) Retrieved from http://www.kniga.com/books/preview_txt.asp?sku=ebooks324510 (in Russian).
Sherkuziyeva, G. F., Sharipova, S. A., & Khaydarov, SH. M. (2016). Rezul'taty izucheniya ostroy toksichnosti «Laktonorm-H (K kaliy)». Molodoy uchenyy, 26, 221-223 (in Russian).
Sobakar, A. V., Zhukova, I. O., & Lonhus, N. I. (2016). Perspektyva zastosuvannya preparatu «Biostym 40» dlya sobak ta kishok. Scientific Messenger of LNU of Veterinary Medicine and Biotechnologies. Series: Veterinary Sciences, 18(1), 154-157. Retrieved із https://nvlvet.com.ua/index.php/journal/article/view/63 (in Ukrainian).
Swanson, K. S., Carter, R. A., Yount, T. P., Aretz, J., & Buff, P. R. (2013). Nutritional Sustainability of Pet Foods. Advances in Nutrition, 4(2), 141-150. doi:10.3945/an.112.003335.
Tarnopolsky, M. A., Atkinson, S. A., MacDougall, J. D., Chesley, A., Phillips, S., & Schwarcz, H. P. (1992). Evaluation of protein requirements for trained strength athletes. Journal of Applied Physiology, 73(5), 1986–1995. doi:10.1152/jappl.1992.73.5.1986.
Wu Guoyao. (2010). Functional Amino Acids in Growth, Reproduction, and Health. Adv Nutr. Nov, 1(1), 31-37. doi:10.3945/an.110.1008.
Yang, Ch., Chowdhury, M. A. K., Hou, Y., & Gong, J. (2015). Phytogenic Compounds as Alternatives to In-Feed Antibiotics: Potentials and Challenges in Application. Pathogens, 4(1), 137–156. doi.org/10.3390/pathogens4010137.
Zapadnyuk, I. P., Zapadnyuk, V. I., & Zakhariya, Ye. A (1974). Laboratornyye zhivotnyye. Razvedeniye, soderzhaniye, ispol'zovaniye v eksperimente, 304 (in Russian).
Zdarilova, A., Vrublova, E., Vostalova, J., Klejdus, B., Stejskal, D., Proskova, J., … Simanek, V. (2008). Natural feed additive of Macleaya cordata: Safety assessment in rats a 90-day feeding experiment. Food and Chemical Toxicology, 46(12), 3721-6. doi: 10.1016/j.fct.2008.09.054.
Zinchenko, D. A. (2014). Vliyaniye tkanevykh biostimulyatorov na organizm zhivotnykh. Mezhdunarodnyy zhurnal prikladnykh i fundamental'nykh issledovaniy, (3-1), 124-125 (in Russian).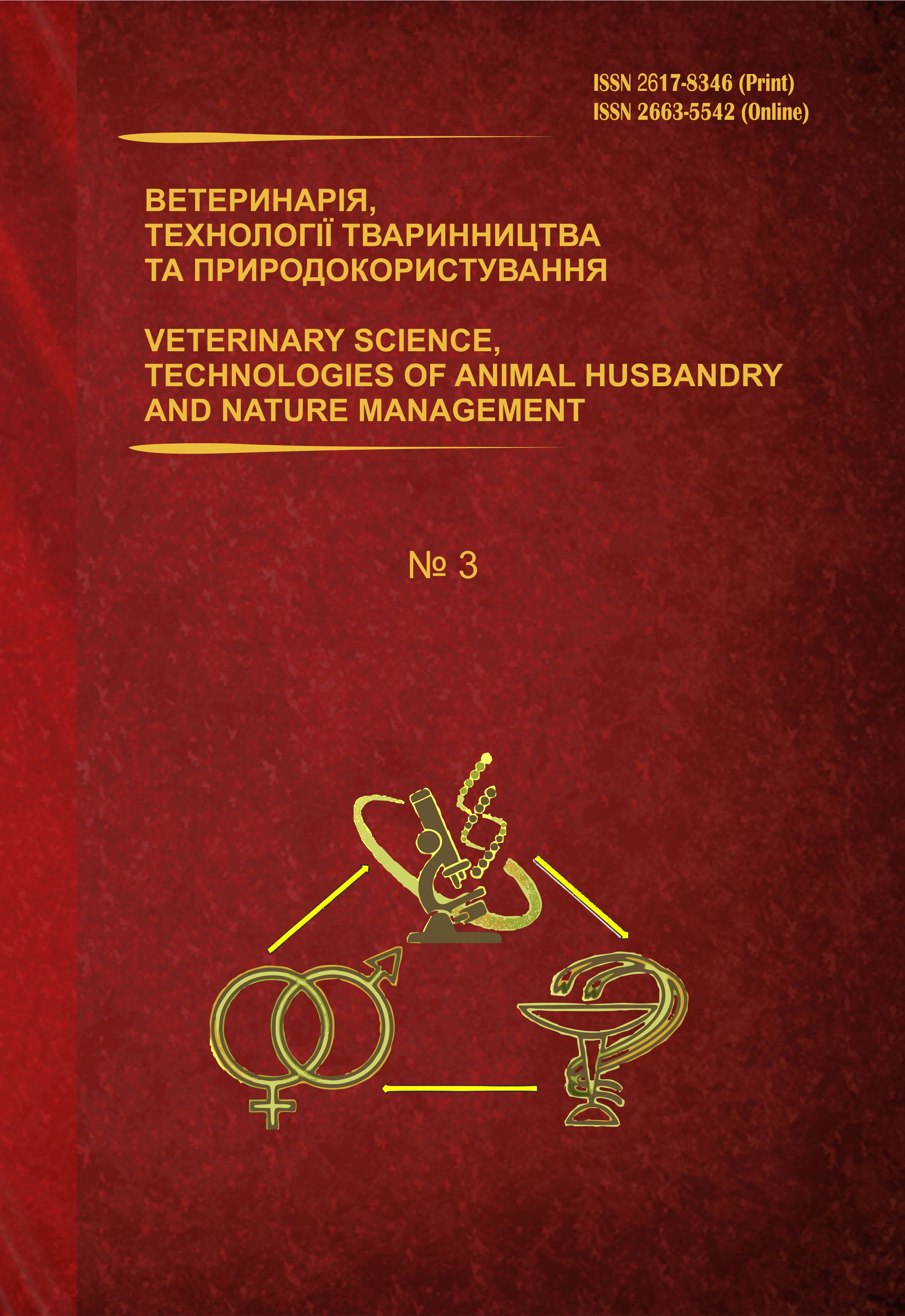 Переглядів анотації: 801 Завантажень PDF: 629
Як цитувати
Zhukona, I., Sobakar, A., Antipin, S., & Kochevenko, O. (2019). Визначення параметрів гострої токсичності кормової добавки «Біостим 40» для щурів. Ветеринарія, технології тваринництва та природокористування, (3), 207-212. https://doi.org/10.31890/vttp.2019.03.28