Комплексна схема профілактики шлунково-кишкових хвороб поросят в умовах фермерського господарства
Ключові слова:
профілактика, антимікробні препарати, пробіотики, підкислювач, шлунково-кишкові хвороби, обмін речовин, поросята
Анотація
Викладені матеріали щодо застосування комплексу  фармакологічних препаратів (антимікробні, пробіотичні, органічні кислоти, цинк) з метою профілактики шлунково-кишкових захворювань у поросят. Встановлено, що введені до складу комбікорму досліджувані препарати відновлювали нормальну мікрофлору кишечнику поросят біологічним шляхом та створювали несприятливі умови для бурхливого розвитку умовно-патогенних мікроорганізмів за зниження резистентності організму поросят у відлучний період. Нормалізація функції кишечнику, зменшення ендогенної інтоксикації сприяли активізації механізмів неспецифічної резистентності молодняку при відлученні, що підвищувало збереженість та прирости поголів'я.
Завантаження
##plugins.generic.usageStats.noStats##
Посилання
«Iadro» svynarskoi haluzi - 50-80 hospodarstv. PigUA.info. Retrieved from http://pigua.info/uk/post/adro-svinarskoi-galuzi-50-80-gospodarstv-uk (in Ukraine).
Akwar, H.T., Poppe, C., Wilson, J., Reid-Smith, R.J., Dyck, M., Waddington, J., & McEwen, S.A. (2008). Prevalence and patterns of antimicrobial resistance of fecal Escherichia coli among pigs on 47 farrow-tofinish farms with different in-feed medication policies in Ontario and British Columbia. Canadian Journal of Veterinary Research, 72, 195–201.
Alakomi, H.-L., Skyttä, E., Saarela, M., Mattila-Sandholm, T., Latva-Kala, K., & Helander, I.M. (2000). Lactic acid permeabilizes gram-negative bacteria by disrupting the outer membrane. Applied and Environmental Microbiology, 66.(5), 2001-2005. doi: 10.1128/AEM.66.5.2001-2005.2000.
Animal Nutrition Products: Bio-Mos®. Retrieved from https://www.alltech.com/bio-mos.
Antimicrobial Resistance. (2019). Retrieved from https://thepigsite.com/focus/amr/4269/antimicrobial-resistance.
Berge, C. (2018). Antibiotic angst: Antimicrobial resistance in pig production. Retrieved from https://www.alltech.com/podcast-blog/dr-cat-berge.
Birkegård A. C., Halasa T., Græsbøll K., Clasen J., Folkesson A., & Toft N. (2017). Association between selected antimicrobial resistance genes and antimicrobial exposure in Danish pig farms. Scientific Reports, 7, 9683. doi:10.1038/s41598-017-10092-9.
Bojkovski, J., Stanković, B., Maletić, M., Dobrosavljević, I., Zdravković, N., Vasić, А., & Delić, N. (2015). Diseases of suckling piglets health and reproduction problem on commercial farm. 4th International Congress New Perspectives and Challenges of Sustainable Livestock Production, 7-9 October. 2015, Belgrade, Serbia. Retrieved from https://www.researchgate.net/publication/283081558_ .
Burch, D. (2014). The Role of Zinc for. Piglet Health. Retrieved from http://www.octagon-services.co.uk/articles/zinc.pdf
Carlson, D., Poulsen, H. D., & Sehested, J. (2004). Influence of weaning and effect of post weaning dietary zinc and copper on electrophysiological response to glucose, theophylline and 5-HT in piglet small intestinal mucosa. Comparative Biochemistry and Physiology. Part A, Molecular & Integrative Physiology, 137(4), 757–765. doi: 10.1016/j.cbpb.2004.02.011.
EU Monthly Pig Meat Production Trends – AHDB. Retrieved from https://pork.ahdb.org.uk/prices-stats/production/eu-monthly-pig-meat-production-trends/
Foisnet, A., Farmer, C., David, C., & Quesnel, H. (2010). Relationships between colostrum production by primiparous sows and sow physiology around parturition. J. Anim Sci., 88(5),1672-1683. doi: 10.2527/jas.2009-2562.
Hollis, W. (2003). Prevention vs. Treatment of Disease. National Hog Farmer. Retrieved from https://www.nationalhogfarmer.com/mag/farming_prevention_vs_treatment.
Kay, Z. (2019). 6 most common pig diseases. Retrieved from https://www.wattagnet.com/articles/25841-most-common-pig-diseases-worldwide.
Kormovyi probiotyk Laktisan Kompleks (Lactisan Complex). Retrieved from https://kormagro-t.ub.ua/ua/goods/view/8602871/all/kormoviy-probiotik-laktisan-kompleks-lactisan-complex.
Liao, S. F., & Nyachoti, M. (2017). Using probiotics to improve swine gut health and nutrient utilization. Animal Nutrition, 3(4), 331-343. do:10.1016/j.aninu.2017.06.007.
Pavlov, M.Ie., Yakovleva, O. H., Mytrofanov, O. V., & Mohilovskyi. V. M. (2005). Biokhimichni doslidzhennia v diahnostytsi vnutrishnikh khvorob tvaryn. Kharkiv. (in Ukrainian).
Penrith, M-L. (2001). Common diseases of small pig herds. Retrieved from http://www.daff.gov.za/daffweb3/Portals/0/InfoPaks/Common%20diseases%20of%20small%20pig%20herds.pdf .
Pork production up in the EU – Eurostat. Retrieved from https://ec.europa.eu/eurostat/en/web/products-eurostat-news/-/DDN-20170919-1.
Proizvodstvo svininyi za rubezhom. Retrieved from https://studbooks.net/831510/agropromyshlennost/proizvodstvo_svininy_rubezhom (in Russian).
Ratsion dlia vidluchentsiv: alternatyvy oksydu tsynku. Retrieved from http://pigua.info/uk/post/technologies/racion-dla-vidlucenciv-alternativi-oksidu-cinku (in Ukrainian).
Rybalko, V. (2010). Svynarstvo - natsionalna haluz. Propozytsiia. Retrieved from https://propozitsiya.com/ua/svinarstvo-nacionalna-galuz (in Ukraine).
Sudakov, M.O., Bereza, B.I.,.Pohurskyi, I.H et al. (1991). Mikroelementozy silskohospodarskykh tvaryn. Kyiv: Urozhai (in Ukrainian).
Swine Respiratory Disease (SRD). (2019). Retrieved from https://www.zoetisus.com/conditions/pork/swine-respiratory-disease-_srd_ aspx.
The best start for piglets. Retrieved from https://www.pigprogress.net/Breeding/ Piglet-Feeding/2011/12/The-best-start-for-piglets-PP008135W.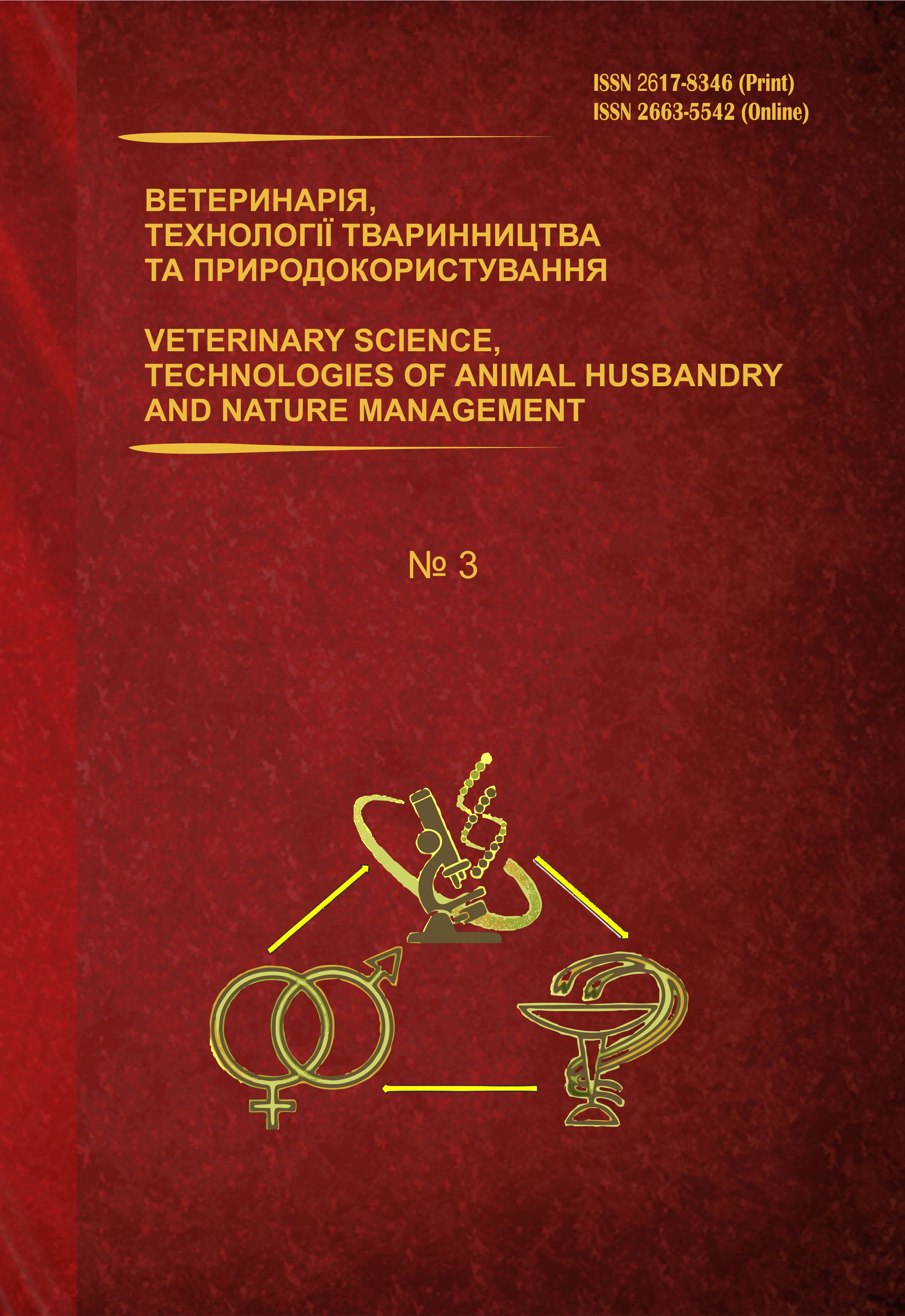 Переглядів анотації: 1228 Завантажень PDF: 700
Як цитувати
Matsenko, O., Mogilyovskyy, V., Mitrofanov, O., Maslak, Y., Shchepetilnikov, Y., Pasechnik, V., & Furda, I. (2019). Комплексна схема профілактики шлунково-кишкових хвороб поросят в умовах фермерського господарства. Ветеринарія, технології тваринництва та природокористування, (3), 144-153. https://doi.org/10.31890/vttp.2019.03.20