Епізоотологічні та епідеміологічні аспекти сказу в Україні за період 1999-2018 рр.
Ключові слова:
епізоотична й епідемічна ситуація, сказ, домашні тварини, дикі тварини, вакцинація, пероральна вакцинація, заходи боротьби
Анотація
Аналіз епізоотичної ситуації зі сказу за період 1999–2018 рр. (таблиця 1) показав, що загалом на сказ захворіло 33079 тварин, із них 19687 (59,5%) тварин – свійські, 13392 (40,5%) – дикі. Вивчення сезонності за цього захворювання показало максимальний його прояв у осінньо-зимовий період.
За аналізований період в Україні від сказу померло 58 людей. Ситуація зі сказу серед собак і котів вимагає більш активного законодавчого втручання щодо повного охоплення цих видів антирабічними щепленнями. Проведення пероральної вакцинації серед диких м'ясоїдних тварин в Україні показало, що частка охоплених щепленнями тварин виявилася недостатньою для контролю й викорінення хвороби у дикій природі.
Завантаження
##plugins.generic.usageStats.noStats##
Посилання
Afonso, C. L., Amarasinghe, G. K., Bányai, K., Bào, Y., Basler, C. F., Bavari, S. … Kuhn J. H. (2016). Taxoma of the order Mononegavirales: update 2016. Archives of Virology, 161(8), 2351–2360. doi: 10.1007/s00705-016-2880-1.
Albertini, A. A., Schoehn, G., Weissenhorn, W., & Ruigrok, R. W. (2008). Structural aspects of rabies virus replication, Cell. Mol. Life Sci, 65(2), 282–294, doi:10.1007/s00018-007-7298-1.
Badrane, H., Bahloul, C., Perrin, P., & Tordo, N. (2001). Evidence of Two Lyssavirus Phylogroups with Distinct Pathogenicity and Immunogenicity. Journal of Virology, 75 (7), 3268–3276. doi: 10.1128/JVI.75.7.3268-3276.2001.
Banyard, A. C., Hayman, D., Johnson, N., McElhinney, L., & Fooks, A. R. (2011). Bats and lyssaviruses. Adv. Virus Res. Advances in Virus Research, 79, 239–289. doi: 10.1016/B978-0-12-387040-7.00012-3.
Belik, E. V., Dudnikov, S. A., Bel'chihina, A. V., Lyadskiy, M. M., & Dudorova, M. V. (2010). Epizooticheskaya situaciya po beshenstvu na territorii Vladimirskoy oblasti (2005–2009gg), Informacionno-analiticheskiy obzor. Vladimir: FGU "VNIIZZh" (in Russian).
Burke, R. L., Kronmann, K. C., Daniels, C. C., Meyers, M., Byarugaba, D. K., Dueger, E. … Vest, K. G. (2012). A review of zoonotic disease surveillance supported by the Armed Forces Health Surveillance Center. Zoonoses Public Health, 59(3),164-75. doi: 10.1111/j.1863-2378.2011.01440.x.
De Pijper, C. A., Stijnis, C., & Grobusch, M. P. (2018). WHO bites back rabies pre-travel vaccination schedules – Implications for travel medicine. Travel Med Infect Dis. 23, 4–5. doi: 10.1016/j.tmaid.2018.04.013.
Finke, S., & Conzelmann, K. K. (2005). Replication strategies of rabies virus. Virus Res. 111 (2), 120–131. doi:10.1016/j.virusres.2005.04.004.
Gigante, C. M., Dettinger, L., Powell, J. W., Seiders, M, Condori, R. E. C., & Griesser, R. (2018). Multi-site evaluation of the LN34 pan-lyssavirus real-time RT-PCR assay for post-mortem rabies diagnostics, PLoS ONE, 13(5). doi: 10.1371/journal.pone.0197074.
Gruzdev, K. N., & Nedosekov, V. V. (2001). Beshenstvo zhivotnyh: prakticheskoe rukovodstvo. Moscow: Akvarium LTD, 303 (in Russian).
Hayman, D. T., Fooks, A. R., Marston, D. A., & Garcia-R, J. C. (2016). The global phylogeography of Lyssaviruses – Challenging the "Out of Africa" hypothesis, PLoS Negl Trop Dis, 10 (12). doi:10.1371/journal.pntd.0005266.
He, W., Zhang, H., Zhang, Y., Wang, R., Lu, S. ... Su S. (2017). Codon usage bias in the N gene of rabies virus. Infect. Genet. Evol., 54, 458–465, doi: 10.1016/j.meegid.2017.08.012.
Kardjadj, M., & Ben-Mahdi, M. H. (2019). Epidemiology of dog-mediated zoonotic diseases in Algeria: a One Health control approach. New Microbes New Infect., 18(28), 17–20. doi: 10.1016/j.nmni.2019.01.001.
Kiselyk, I. O. (2010). Osoblyvosti kliniky ta diahnostyky skazu, Suchasni infektsii, 3, 87–91 (in Ukrainian).
Kuzmin, I., Hughes, G., Botvinkin, A., Orciari, L., & Rupprecht, C. (2005). Phylogenetic relationships of Irkut and West Caucasian bat viruses within the genus and suggested quantitative criteria based on the N gene sequence for lyssavirus genotype definition, Virus Research, 111(1) 28–43. doi: 10.1016/j.virusres.2005.03.008.
Pavlenko, N., & Trocenko, Z. (2000). Nekotorye aspekty epizootologii beshenstva v Ukraine. Veterinarnaya medicina Ukrainy, 2000, 2, 18–19 (in Russian).
Pomirko, T. I., Humennyi, B. M., Perih, Zh. M., Ostrovska L. L., Ivasyk, B. D. … Yatskanych, M. M. (1997). Poshest skazu lysyts ta yii ekolohichni naslidky. Suchasni problemy biolohii, veterynarnoi medytsyny, zooinzhenerii ta tekhnolohii produktiv tvarynnytstva, Lvivska akademiia veterynarnoi medytsyny im. S.Z. Hzhytskoho, 221–222 (in Ukrainian).
Shlim, D. R. (2018) Preventing rabies: the new WHO recommendations and their impact on travel medicine practice. J Travel Med. 1, 25(1). doi:10.1093/jtm/tay119.
Teeling, E. C., Springer, M. S., Madsen, O., Bates, P., O'Brien, S. J., & Murphy, W. J. (2005). A molecular phylogeny for bats illuminates biogeography and the fossil record. Science, 307(5709), 580–584. doi:10.1126/science.1105113.
Wendt, A., Kreienbrock, L., & Campe, A. (2015). Zoonotic disease surveillance – inventory of systems integrating human and animal disease information. Zoonoses Public Health, 62(1), 61–74. doi: 10.1111/zph.12120.
WHO Rabnet/CDC Map Production (2008). Rabies, countries or areas at risk. World Health Organization. Archived from the original on 9 October 2010.
World Health Organization, World Organisation for Animal Health, Food and Agriculture Organization, Global Alliance for Rabies Control. Zero by 30: the Global Strategic Plan to end human deaths from dog-mediated rabies by 2030. (accessed June 18, 2018).
World Health Organization. International partnership to address humananimal-environmental health risks gets a boost. (accessed June 6, 2018).
World Organisation for Animal Health. Rabies (infection with rabies virus and other lyssaviruses). In: Manual of diagnostic tests and vaccines for terrestrial animals 2018. (accessed June 14, 2018).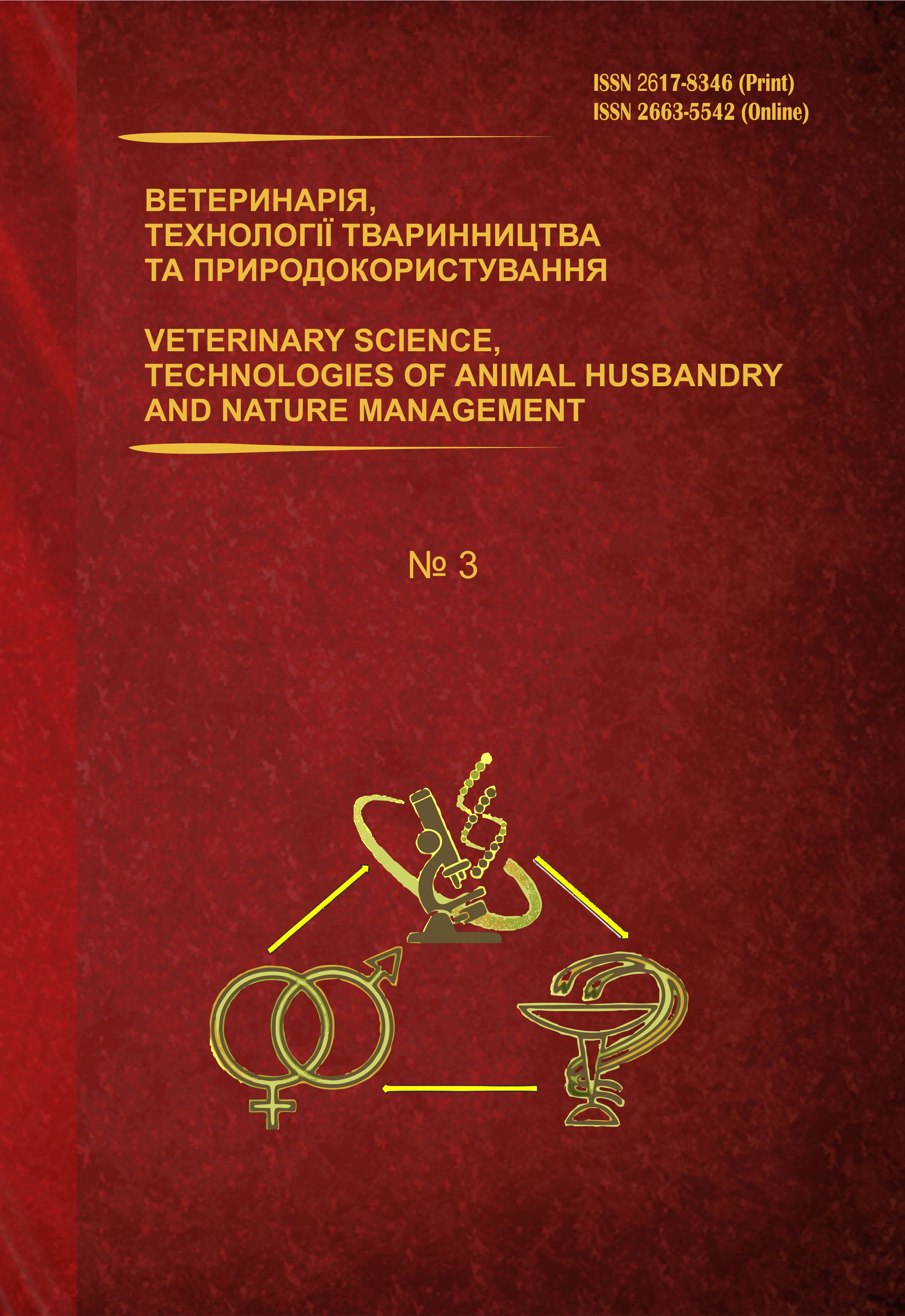 Переглядів анотації: 1372 Завантажень PDF: 783
Як цитувати
Kornienko, L., Moroz, O., Mezhensky, A., Skorokhod, S., Datsenko, R., Karpulenko, M., Polupan, I., Dzyuba, Y., Nedosekov, V., Makovskaya, I., Hibaliuk, Y., Sonko, M., Tsarenko, T., & Pishchanskyi, O. (2019). Епізоотологічні та епідеміологічні аспекти сказу в Україні за період 1999-2018 рр. Ветеринарія, технології тваринництва та природокористування, (3), 90-109. https://doi.org/10.31890/vttp.2019.03.14