Біохімічний склад крові корів за серозного маститу
Y. Baydevlyatova

Сумський національний аграрний університет,Суми, Україна

https://orcid.org/0000-0003-4437-957X

Y. Baydevlyatov

Сумський національний аграрний університет, Суми, Україна
Ключові слова:
корови, серозний мастит, методи лікування, препарати, молочна залоза
Анотація
Нашими дослідженнями встановлено, що захворювання корів на серозний мастит супроводжується зниженням рівня загального білка в крові за рахунок зниження фракції альбумінів, значним зростанням фракції a - глобулінів та тенденцією до незначного зростання фракцій β- та γ – глобулінів. Кращий ефект при лікуванні корів з серозним маститом спостерігався в контрольній і III дослідній групах, про що свідчить зміна біохімічних показників.
Завантаження
##plugins.generic.usageStats.noStats##
Посилання
Akerstedt, M., Forsback, L., Larsen, T., & Sjaunja, K. S. (2011). Natural variation in biomarkers indicating mastitis in normal cows. J. Dairy Res. 78, 88-96.
Ali, F., Hussain, R., Qayyum, A., Gul, S.T., Iqbal, Z., & Hassan, M.F. (2016). Milk somatic cell counts and some hemato-biochemical changes in sub-clinical mastitic dromedary she-camels (Camelus dromedarius). Pak. Vet. J. 36, 405-408.
Guha, A., & Gera, S. (2012). Evaluation of chemical and electrolyte components of milk in subclinical mastitis in Holstein x Haryana cattle. Exp. Anim. Med. Res.1, 140-143.
Hamadani, H., Khan, A. A., Banday, M. T., Ashraf, I., Handoo, N., Bashir, A., & Hamadani, A. (2013). Bovine Mastitis-A Disease of Serious Concern for Dairy Farmers. Int. J. Livest. Res., 3, 42-55.
Hussain, R., Javed, M.T., & Khan, A. (2012). Changes in some biochemical parameters and somatic cell counts in the milk of buffalo and cattle suffering from mastitis. Pak. Vet. J. 32, 418-421.
Kausar, R., Hameed, A., Qureshi Z.I., & Muhammd, G. (2017). Comparative protein profiling of milk of Nili-Ravi buffaloes, Sahiwal and cross bred cows by SDS-PAGE. Pak. Vet. J. 37, 73-77.
Khan, M.Z.,& Khan, A. (2006). Basic facts of mastitis in dairy animals: a review. Pak. Vet. J. 26, 204-208.
Kivaria, F.M., Noordhuizen, J.P.T.M. & Msami, H.M. (2007). Risk factors associated with the incidence rate of clinical mastitis in small holder dairy cows in the Dar es Salaam region of Tanzania. The Vet. J. 173, 623-629.
Leslie, K. (1997). Decision – making in clinical mastitis therapy programmes. Intern. Dairy federation. 330, 21–23 (in Ukrainian).
Levchenko, V.I., Vlizko, V.I., & Kondrahin, I.P. (2002). Veterinary Clinical Biochemistry. [Veterinarna klinichna biohimiya]. B.-Cerkva: BDAU (in Ukrainian).
Malinowski, E. (2004). Mastitis in cows [Mastitis u krów]. Puławy (in Poland).
Malinowski, E., Kłosowska, A., & Lassa, H. (2001). Variability among etiological agents of clinical mastitis in cows. Polish J. Vet. Sciences. 4, 41–44 (in English).
Perederiy, V.G., Hmelevskiy, Y.V., & Konopliova, L.F. (1993). Clinical evaluation of biochemical parameters in diseases of internal organs [Klinichna ocinka biohimichnih pokaznikiv pri hvorobah vnutrishnih organiv]. Kiiv (in Ukrainian).
Qayyum, A., Khan, J. A., Hussain, R., Ahmad, T. I., Zahoor, I., Ahmad, M., … Mubeen, M. (2018). Correlations of blood serum and milk biochemical profiles. Pak. J. Agri. Sci, 55(4), 959-964. doi:10.21162/PAKJAS/18.6682.
Qayyum, A., Khan, J.A., Hussain, R., Avais, M., Ahmad, N., & Khan, M.S. (2016). Investigation of milk and blood serum biochemical profile as an indicator of sub-clinical mastitis in Cholistani cattle. Pak. Vet. J. 36, 275-279.
Shitandi, A., Anakalo, G., Galgalo, T., & Mwangi, M. (2004). Prevalence of bovine mastitis amongst small holder dairy herds in Kenya. Veterynary medicine, 59 (12), 10–11.
Timoshenko, O.P. (2005). Clinical Biochemistry [Klinichna biohimiya]. Kiiv: Profesional (in Ukrainian).
Walawcki, K. (1999). Genetic aspects of mastitis resistance in cattle. J. appl. Genet. 40 (2), 117–128.
Yablonskiy, V.A., Lyubeckiy, V.Y., & Borodinya, V.I. (2004). Patology of mammary gland [Patologiya molochnoi zalozy]. Кiiv (in Ukrainian).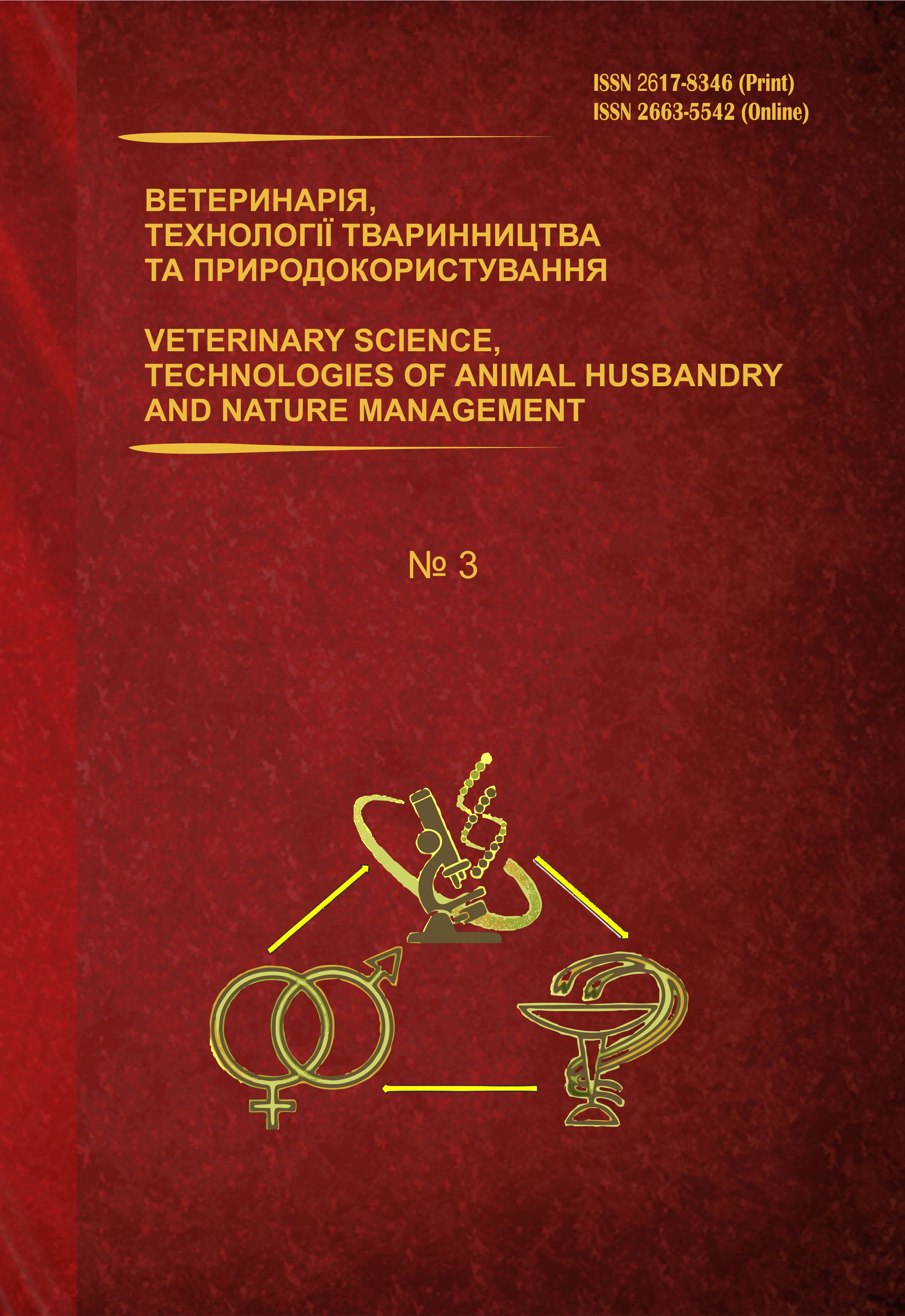 Переглядів анотації: 946 Завантажень PDF: 647
Як цитувати
Baydevlyatova, Y., & Baydevlyatov, Y. (2019). Біохімічний склад крові корів за серозного маститу. Ветеринарія, технології тваринництва та природокористування, (3), 16-21. https://doi.org/10.31890/vttp.2019.03.03